New York City Council Bill Would Tighten Regulations on Airbnb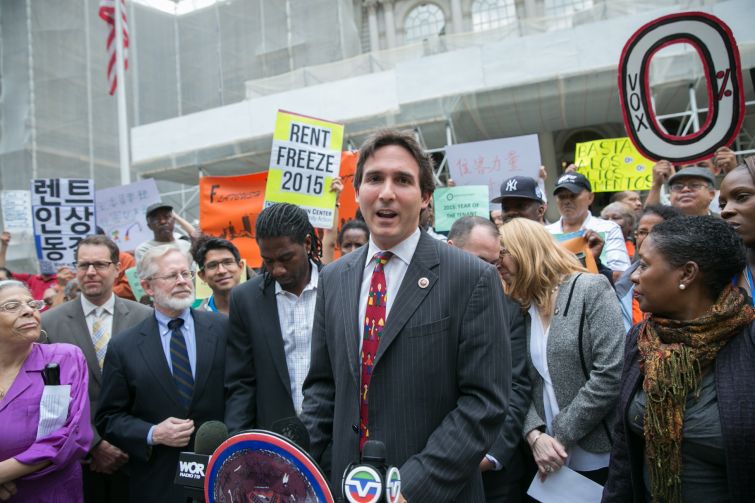 NEW YORK CITY COUNCILMAN BEN KALLOS. PHOTO: WILLIAM ALATRISTE/FOR THE NEW YORK CITY COUNCIL
A new bill introduced to the New York City Council on Wednesday would require homes rented through Airbnb to be registered with the city, in an effort to crack down on illegal listings.
The law would give listings on Airbnb and other home-sharing sites a registration number listed on the platform and would require the host to be the lawful occupant of that property and present during any rental period, the Wall Street Journal first reported. That way, the bill would help prevent the rental of entire homes or apartments — something often illegal under state law.
SEE ALSO: WeWork CEO Catches Flack After Saying 'Least Engaged' Workers Want to Stay Home
The city would then maintain an electronic system that short-term rental sites could use to ensure that a space is registered with the city. People who rent unregistered apartments on the site could be hit with thousands of dollars in penalties, the WSJ reported.
While New York's multiple dwelling law makes it illegal to rent an entire apartment for fewer than 30 days in a building with three or more units, that law is largely only enforced when neighbors complain, WSJ reported. Councilman Ben Kallos introduced the bill to reduce the number of illegal short-term rentals and increase the stock of permanent housing in the city.
Kallos also believes the bill will help the hotel industry recover from the coronavirus pandemic — which saw occupancy labels hit 47 percent in the week ending March 13, compared to 87.1 percent occupancy levels enjoyed in March 2019.
Kallos did not immediately respond to a request for comment.
It's unclear when the City Council will vote on the bill. The Mayor's Office of Special Enforcement handles investigations into illegal rentals, and a spokesman for Mayor Bill de Blasio told WSJ that the city would review the bill to clarify the law, restore housing and eliminate short-term rentals.
Short-term-rental site Vrbo did not respond to requests for comment, but an Airbnb representative told Commercial Observer the proposed legislation was "disappointing" and would limit tourism.
"Airbnb guests have played an important role driving tourism spending in neighborhoods outside of central Manhattan," Alex Dagg, Northeast policy director for Airbnb, said in a statement. "We remain ready and willing to partner with state and city officials to regulate home-sharing across all five boroughs in a responsible and thoughtful way."
Airbnb officials said guests on the platform spent billions of dollars in the city and supported 17,000 jobs in 2019.
The regulation comes after the short-term rental industry has faced numerous legal challenges in the city.
In 2019, the city sued brokerage Metropolitan Property Group for $21 million claiming the property management company was one of the largest operators of illegal Airbnb rentals in New York City. The suit was later settled for $1 million.
Airbnb last year dropped a separate lawsuit against the city after it objected to the city's 2018 information-sharing bill, according to WSJ.
Other major U.S. cities have passed regulations on home-sharing sites, including Los Angeles, which capped the number of days residents can rent out their primary residence annually at 120, CO reported.