Queens Chronicle The LatestSouth Ozone Park woman took off with her son, grandson HomeEditionsQueenswide Making sure every voter has a say by Nicholas Theodorou
The LatestSouth Ozone Park woman took off with her son, grandson HomeEditionsQueenswide Making sure every voter has a say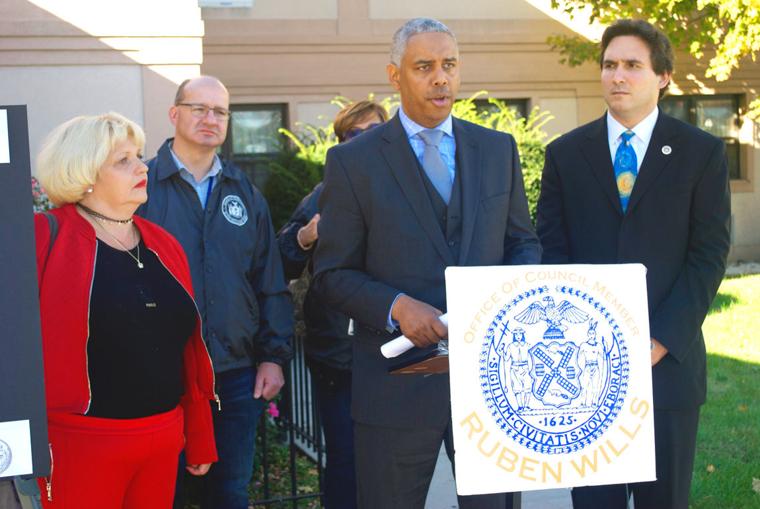 About a month ago, Marianne McCarthy, a homeless woman, went to Councilman Ruben Wills' (D-South Jamaica) office before Election Day to complain about receiving an invalid affidavit letter from the city Board of Elections after trying to vote in the general election via an absentee ballot.
"Three weeks ago, a homeless constituent came into my district office and claimed she had been disenfranchised," Wills said last Friday.
Wills reached out to the BOE and the Department of Homeless Services to solve the problem with McCarthy and to help get the word out on how the homeless can ensure their vote was counted.
Wills said voters living in temporary shelters can cast affidavit ballots from their designated polling site near their residence. If they have internet access they can log onto the NYC Poll Site Locator Web App, while any homeless voters living on the street can call 311 with the name of the nearest street corner to find where they can vote.
Councilman Ben Kallos (D-Manhattan), chairman of the Committee on Governmental Operations, echoed the importance of homeless people being ensured their vote is counted.
"We must ensure that everyone who can vote is voting no matter their housing status," he said.
Kallos and Wills also worked together on a law that allows those being detained in city jails to vote.
"And with so many people awaiting trial with an overwhelming majority of men of color who shouldn't be in our system, they need to be protected and they need their rights protected," Kallos said at the press conference.
Although at the time of the press conference it was too late to register to vote, Matt Borden, of the DHS, wanted to ensure that those who are eligible to cast ballots would be told how to do so.
"We want to make sure that all clients that are eligible to vote know that they can do so at a polling site that is closest to where their current shelter is as long as they do so via affidavit," Borden said.
In McCarthy's case, she received a letter from the BOE that said her affidavit ballot was invalid.
"She wanted to make sure, that in a general election, her vote counted," Wills said.
"Our vote counts. Each time I go from county to county to county I have to vote in different places. This general election is important, it's for the president, and my vote counts. That's my power here," she said.
McCarthy, 58, said this was the first time she got back an invalid affidavit after voting.
"I'm like I can't believe this. I've been voting since the age of 18, 21," she said.
One time she tried to vote she was told she couldn't vote unless she resides in the county but she has moved around to different shelters.
Wills said although she voted at the wrong polling place and may have incorrectly filled out her ballot, it was important that the BOE stepped up to make sure that people were informed on this issue.
"We want to make sure that every person that comes in and needs to do an affidavit ballot is instructed on the proper way to fill out the ballot," Wills said.