November News 2015
Fall has come, and things are moving fast again. In October we continued our
fight against superscrapers
in residential neighborhoods, stepped up efforts to
clean up 86th Street
, and held an info session for
Domestic Violence
Awareness Month where we launched a new
family law clinic
. We also entered next phase of Participatory Budgeting, where you help us
spend $1 million
in our community, and it's not too late to get involved!
November is busy too, and perhaps most importantly, I want to bring to your attention the Mayor's
Zoning for Quality and Affordability
proposal, which would change zoning citywide. How do you think our zoning should change? I believe,
among other issues
, we need to cap building heights in residential neighborhoods and protect historic districts.
I encourage you to testify on this issue at the Borough President's hearing on November 16, 6:00pm-8:00pm at Clinton School at 10 East 15th Street.
Happy Halloween, and have a great Thanksgiving!
Sincerely,

Ben Kallos
TABLE OF CONTENTS
Housing and Zoning
Health and Education
Parks
Good Government
Public Safety
Equality
Community
Office Updates
Community Resources
Fighting Superscrapers and Rallying Against Sutton 58
Our coalition proposed megatower at Sutton Place and 58th Street held a rally in the community this month, which was covered by CBS. Local residents spoke, including Lisa Mercurio of the East River Fifties alliance and Herndon Werth, who was previously covered in the New York Times for refusing to sell his apartment to this development. We were joined by Senator Liz Krueger and representatives from Borough President Gale Brewer, and Council Member Dan Garodnick.
As covered by DNAinfo, we have been working as a coalition of community members and zoning and preservation groups, including the Sutton Area Community and the recently formed East River 50s Alliance to fight this tower and prevent superscrapers in residential neighborhoods. The coalition has been raising money to pay for analysts, planners, and lawyers needed in order to pay for zoning change through the city's Uniform Land-Use Review Process, or ULURP.
Organize your building: If you get ten or more of your neighbors together, I will come to discuss this issue and how we can fight superscrapers.

Cleaning up 86th Street with a Business Improvement District

Our community has raised concerns about the state of 86th Street. While my office has put funds toward cleaning the area with the hard work of DSNY and the Doe Fund, now is the time for a long term, sustainable solution. As covered in the newly launched newspaper, Manhattan Express, I am leading an effort among property owners, community groups, and elected officials to form a Business Improvement District (BID) that will supplement government services and improve quality of life.

This proposed BID has support from local property owners, Council Member Garodnick, State Senator Liz Krueger, Assembly Members Rebecca Seawright and Dan Quart, East 86th Street Merchants & Neighbors, Carnegie Hill Neighbors and the Manhattan Chamber of Commerce.
Learn more about the BID and if your residency or business is in the zip codes 10028 or 10128, please complete the District Needs Survey to tell us what the area needs most.

"Talking Truth" on the Marine Transfer Station
Please watch Pledge 2 Protect's "Talking Truth" documentary, which I was proud to participate in the filming and screening about this troubling project. Congresswoman Carolyn Maloney, State Senator Liz Krueger, Assembly Members Robert Rodriguez and Dan Quart, and I share the screen with many of our community leaders, such as NYCHA South President and Stanley Isaacs Tenant Leader Rose Bergen, NYCHA Holmes Towers Tenant Leader Milagros Velasquez, Matthew Chapman, and Dara Hunt.
"Talking Truth" highlights the dangers and absurdity of building a Marine Transfer Station in a residential neighborhood and reaffirms the importance of sticking to our principles and fighting this project. We moved the ramp and we are waiting on the DEC, but the MTS still doesn't belong in a residential neighborhood, will you join me as we keep fighting?
Become a Participatory Budgeting Delegate
You can help decide how we spend one million dollars in our neighborhood! The idea-gathering phase for Participatory Budgeting concluded last weekend with over a hundred ideas to improve our schools, parks, libraries and housing but we're still looking for more "Delegates" to lead the process of deciding where the funds will ultimately go. Will you volunteer as a delegate to help guide the process and create the ballot?
All residents of City Council District 5 who are age 14 and over may serve as delegates. Learn more by visitingBenKallos.com/PB and sign up by emailing PB
BenKallos [dot] com.
HOUSING AND ZONING
Zoning for Quality and Affordability

As you may have read, the Mayor has proposed a city-wide amendment to our zoning text, called Zoning for Quality and Affordability (ZQA). The stated goal of the amendment is to fix some outdated and poorly planned sections of the zoning code to allow for higher quality development, and to incentivize the creation of affordable housing.

One concerning element of this proposal would have raised the height of the R8-B contextual districts that are common in the Upper East Side's residential neighborhoods. I joined with Borough President Gale Brewer, Senator Liz Krueger, Council Member Dan Garodnick and others in writing a letter to the Department of City Planning raising our concerns about this change, which could have incentivized developers to tear down old, rent-stabilized buildings. I am pleased that the R8-B height increase has since been dropped from the plan, though other concerns remain.
Chief among those is that this proposal does not take steps to stop the superscrapers that have begun to go up in residential neighborhoods, such as the planned tower on Sutton Place and 58th Street. The ZQA should place height caps on residential zoning lots and should remove a loophole that allows certain buildings to double their height by doubling the height of each story.
The ZQA amendment is over 300 pages—you can read full text or view a summary presentation. The Upper East Side and East Harlem planning group, CIVITAS also commissioned a study, funded in part by my office, with recommended changes to the ZQA. Some of those recommendations include:
Capping the height of buildings created through zoning lot mergers
Excluding historic districts from the ZQA changes
Developing community-based 197-a or 197-c plans with urban planner support to drive future zoning changes
We need your input on this important proposal. The Manhattan Borough President will hold a hearing on November 16, 6:00pm-8:00pm at Clinton School at 10 East 15th Street, and I urge to you attend and testify.

FRIENDS of the Upper East Side Historic Districts Report on Zoning
FRIENDS of the Upper East Side Historic Districts (FRIENDS) also released a planning and zoning report, with financial support from my office, earlier this month: "The Upper East Side—A Framework for the Future of Five Neighborhoods." This report addresses ZQA, but also looks at more specific zoning recommendations for the neighborhoods of Lenox Hill, Yorkville, East Harlem, Carnegie Hill, and the Upper East Side.
The approaching opening of the Second Avenue Subway poses risks including the loss of existing small businesses, contextual residential neighborhoods and diverse housing options.
The report, which was prepared with the assistance of BFJ Planning, offers 12 recommendations for balanced growth. Among the findings:
Preserving and protecting contextual zoning
Restricting the height of buildings to 210 feet
Protecting affordable housing
Implementing open space and infrastructure improvements.
Download the report to see how we can preserve and enhance the built environment of our community.
NYCHA "Infill" at Holmes Towers
As you may have read in my newsletter last month, the Mayor has proposed to lease land at the Holmes Towers NYCHA site to a private developer to build 50% affordable/50% market rate housing, as part of his NextGen housing plan for NYCHA. While I support the overall goals of the plan, I testified at a public hearing in August, before Holmes was identified as a potential site, saying that I would only support the plan under the following three conditions:
Tenant Support
Tenant Preference for New Units
100% Affordable Housing
My position remains the same, and over the past month NYCHA representatives have visited Holmes several times to conduct informational sessions with residents. While I appreciate this process, I am concerned that the conversations have been one directional, and I rallied with residents and community activists in calling for a stronger role for community voices in these decisions. You can read about this rally at Our Town and Gothamist.
The city has made one important commitment to the community in this process so far, which is that if this project goes through, any amenity removed to create space for a new building, such as the playground or parking, would be replaced elsewhere on the campus.
NYCHA will hold "Neighborhood Tradeoff Sessions" at the Stanley Isaacs Neighborhood Center, 415 E 93rd Street, on November 4th and 10th, both 6:30-8:30pm.
HEALTH AND EDUCATION

Domestic Violence Event and Clinic

We honored Domestic Violence Awareness Month with an informational session in my office, and starting in November, we are proud to announce that the Urban Justice Center's Domestic Violence Project will provide individuals with specific and confidential free legal consultations on the following: Child/spousal support; custody/visitation; orders of protection; consumer debt and identity theft; options for victims of crimes; financial abuse; info about domestic violence; ACS advocacy and more.If you or someone you know is experiencing domestic violence, or needs legal consultation on other family law issues, I urge you to call my office to reserve an appointment for our family law clinic, the second Monday of every month, 2-6pm.

Comprehensive Health Education Bill
This past week on the steps of City Hall, I joined my colleagues, Council Members Laurie Cumbo, Vanessa Gibson and Daniel Dromm, as well as leaders and activists from NARAL Pro-Choice and New York Planned Parenthood to call on the Council to pass a bill that would impel our schools to provide comprehensive and age-appropriate, K-12 reproductive health education. New York City's children must not reach 12th grade without having had comprehensive health education. Our bill, which we heard in the Women's Issues Committee, would call on schools to modernize our sex-ed program to include age appropriate curriculum and address sexual orientation and gender identity, and would require reporting on school compliance with state regulations.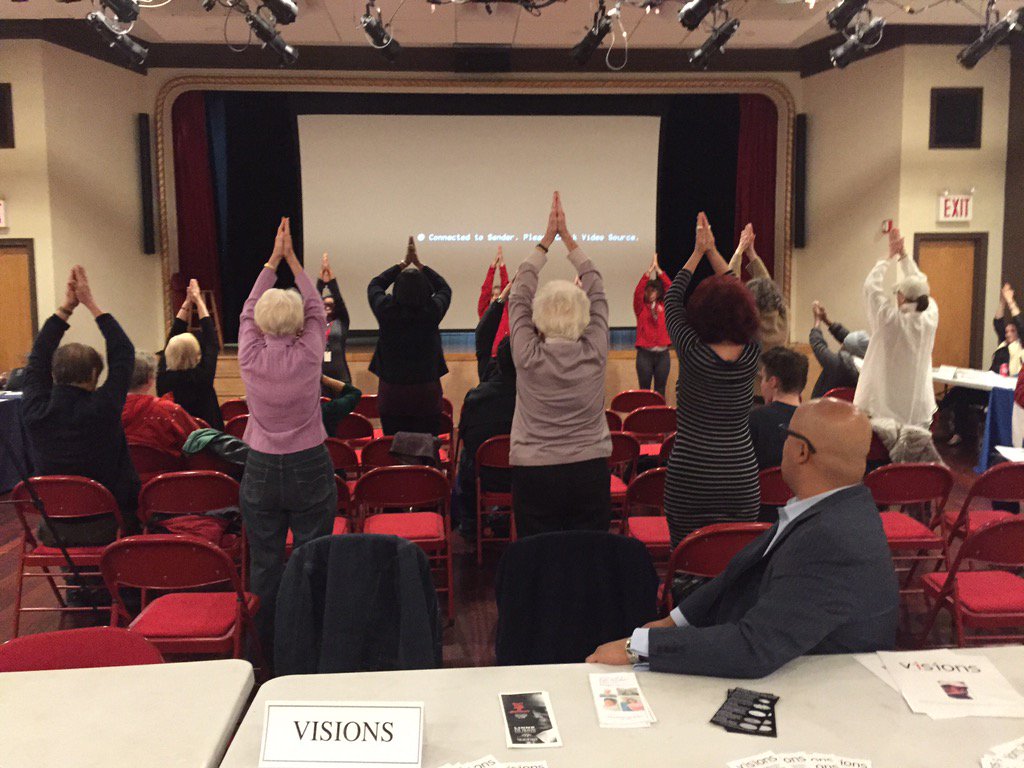 We kicked off flu season with a Health Fair for seniors to increase awareness among seniors in our community about healthcare services and opportunities. Several community groups, institutions, and agencies set up stations providing flu shots at no cost, blood pressure screenings, and more. There were also presentations on Medicare D enrollment, senior fitness, identity theft. As cold and flu season begins make sure to get a flu shot at no cost and be proactive about your health!
Ensuring Our Schools Have the Resources They Need
Following my advocacy for our schools and students I was appointed as a member of the Council's Education Committee, where we held a hearing on the Department of Education's (DOE) proposed restructuring and its implications for our schools, administrators and parents. Under the new structure the 55 support networks would be replaced by seven borough-based centers, and superintendents would be provided with two new "family engagement officers" to assist in parent involvement. At the hearing, I raised concerns that the new system, won't give schools a choice about who to turn to for help, leaving principals with nobody to go to for help other than superintendents, who are also their supervisors. They promised to work with us so that principals can get the help and resources they need, all superintendents. Let my office know if you believe your principal needs additional resources. Details on the plan and our hearing can be found at Chalkbeat.
New Computer Center at Stanley Isaacs Neighborhood Center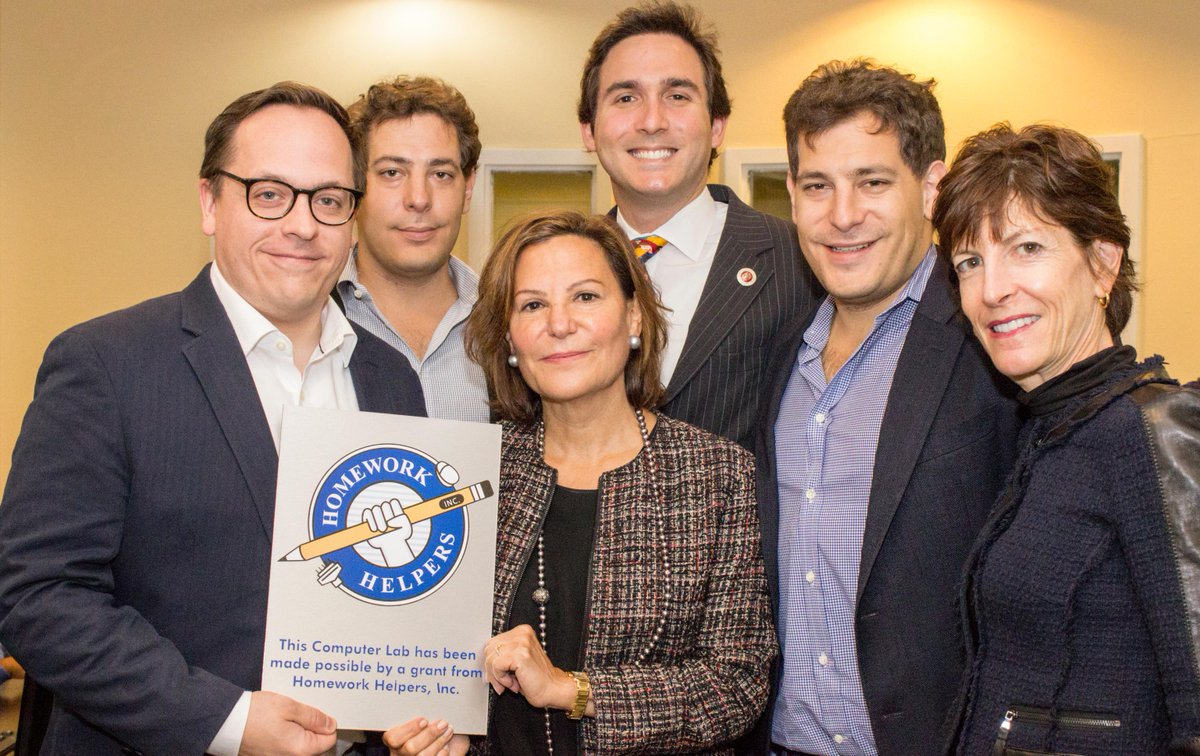 A special thanks to the Homework Helpers, a non-profit that helps students and communities get the tools they need to succeed by setting up computer labs in community centers around the five boroughs. We cut the ribbon on a new computer lab at the Stanley Isaacs Neighborhood Center. Seniors can attend computer classes provided by Older Adults Technology Services, with funding from my office, at the center Tuesdays and Thursdays at 9am for beginners and 10:30am for advanced courses.
PARKS

The East 79th Street Neighborhood Association has worked tirelessly under the leadership of Betty Cooper Wallerstein to create a safe and comfortable space for adult relaxation and fitness at John Jay Park. This month we are pleased to announce several improvements to this space:
ADA accessible water fountain

Signs in saying no dogs and no bikes in this part of the park

Fixed chess tables

Painted white stripe on mat
If you would like to help with John Jay Park or if you have never been to an East 79th Street Neighborhood Association meeting, join us on Thursday, November 12, 6:00pm at Temple Shaaray Tefila, 250 East 79th Street.
Capital Improvements for Carl Schurz Park Playground
Last week, the Parks Department held a public meeting to discuss capital improvements for the Carl Schurz Park playground which needs renovations in order to be in compliance with today's safety regulations. Thank you to Manhattan Parks Commissioner Bill Castro and everyone who participated in this re-visioning. We will get see the first results in a few months when the Parks Department brings design drafts before the public at Community Board 8.
If you did not get a chance to attend this meeting and have any thoughts you'd like to share, please reach out to me at BKallos
BenKallos [dot] com. You can keep track of capital projects at your favorite park online at the Parks Department's capital project tracker.
GOOD GOVERNMENT
According to the New York City Campaign Finance Board (CFB), only 20% of eligible New York City voters cast their ballots in the 2014 General Election, an historic low. Democracy functions best when all citizens participate and we must make our government as inclusive as possible. On October 1st, I chaired a hearing of the Committee on Governmental Operations to address this issue. The legislation discussed would improve the distribution and tracking of voter registration forms, promote absentee voting, and decrease the barriers to entry for those seeking to register.
Do you want Verizon FiOS, but Verizon is telling you they won't set it up in your building? This has happened to me, and countless others in our neighborhood and around the city, even though Verizon's franchise agreement required them to bring fiber-optic service to every household in the city by 2014. At a City Council Technology Committee hearing, I called on Verizon to do what is right and make good on its promises so that all New Yorkers can access fiber-optic Internet. Share your story and take action by requesting FiOS if you are one of the many New Yorkers who wants FiOS and can't get it.
The Commission on Public Information and Communication

Every public meeting held by the New York City government must be streamed online, according to Local Law 103 of 2013, the "Webcasting Law." The Commission on Public Information and Communication (CoPIC), to which I am the Council's representative, has examined which city agencies are in compliance with this law. While most are, some are not and we will continue to push agencies make it easier to follow what is going on in your government. You can start by watching the CoPIC hearing.
Law schools have expertise and energy to help local governments, and my office loves to work in collaboration with institutions like Brooklyn Law School (BLS). Professor Jonathan Askin and BLS are building a coalition with cities and law schools based on this model of collaboration. This month I attended a consortium of government officials and law schools featuring the University of Missouri Law School and the Mayor of Kansas City. Although we have been rivals on the baseball diamond this week, we are partners in this initiative.
Have you ever looked up a bill proposed in the City Council? It's not as easy as it should be to keep track of what your local government is working on. I am pleased to have supported the development of Councilmatic, a new website that makes it easy to browse committee hearings, submissions and legislation. We helped fund this project through my office and I had the chance to personally work with David Moore of the Participatory Politics Foundation in my Civic Tech class at NYU's Gov Lab as he developed it.
PUBLIC SAFETY
Remembering Police Officer Holder and Recognizing Our Police

My thoughts and prayers are with the family of Police Officer Randolph Holder, a member of Police Service Area 5 who was killed in action this month, and I extend my deepest condolences to the entire NYPD. Officer Holder was posthumously promoted to the rank of Detective, a just honor. We all must remember the great risk that all police officers take to keep us safe and appreciate the services that Police Service Area 5 and the 17th, 19th, and 23rd Precincts provide to our district.
You can support public safety in your community by attending your local precinct's community council meeting:
Police Service Area 5: 4th Tuesday, 6pm, 221 East 123rd Street
17th Precinct: 4th Tuesday, 6pm, 225 East 51st Street
19th Precinct: 1st Monday, 7pm, 153 East 67th Street
23rd Precinct: 4th Wednesday, 6pm, 164 East 102nd Street
Carolyn Maloney meeting to Stop Gun Violence

In the wake of continuous and heartbreaking events of gun violence in our country, I had the privilege of joining Congresswoman Carolyn Maloney and a coalition of gun prevention advocates, as well as Public Advocate Letitia James, State Senator Liz Krueger, and Council Member Dan Garodnick, in a community roundtable on senseless gun violence. We discussed the steps our nation needs to take to provide for the safety of our citizens. Ignoring this problem is unacceptable.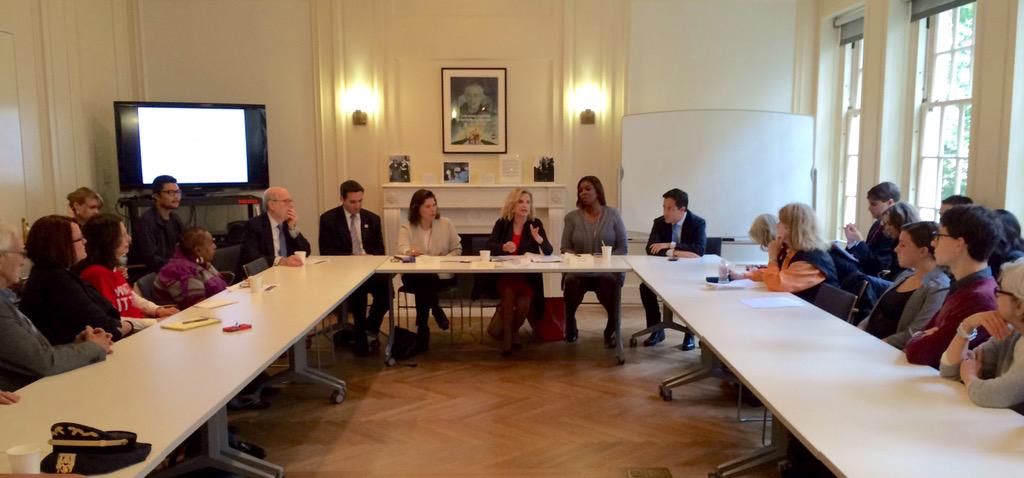 I commend Congresswoman Maloney for her tireless effort to pass commonsense gun control and safety legislation through Congress. She currently has five bills in the House of Representatives:
H.R. 2380: The Gun Show Loophole Closing Act of 2015
H.R. 2612: To authorize $10 million annually to fund gun violence public health research
H.R. 2613: Handgun Trigger Safety Act of 2015
H.R. 2546: Firearm Risk Protection Act of 2015
H.R. 3455: Gun Trafficking Prevention Act of 2015
I urge you to sign the petition to help end gun violence.
My bill seeking to open up the City's interactive crime map data on moving violations was covered in Streetsblog. The bill would make it easier for NYPD and the Department of Transportation to know where crimes, including traffic crimes and violations, are occurring with greater specificity. This would allow the City to more efficiently place resources where they are most needed, improve traffic planning and enforcement, and keep residents safer.
EQUALITY
Safe Staffing Levels for Nurses
I expressed my support for the New York Professional Nurses Union (NYPNU) in their negotiations for a contract with Lenox Hill Hospital that would ensure safe staffing levels. If you have ever had a slow or unsatisfactory experience receiving care at a hospital, it is because nurses are often not staffed at safe levels. I am happy to report that the bargaining was productive and the hard-working nurses of NYPNU will continue to serve our community in good conditions.
PSC CUNY Contract

As a SUNY graduate I know the value of public education professors, and am proud to support PSC-CUNY as they continue to fight for a new contract. CUNY delivers high-quality education to our community and our city, and the employees and professors deserve a fair wage.Follow @PSC_CUNY on twitter for updates and show them your support.
Progressive Caucus Advancement Conference
The Progressive Caucus, where I am the Vice Chair for Policy, hosted an "Advancement Conference" this month, celebrating the legislative success we have had and our goals for the future. As a Caucus we have adopted 26 pieces of legislation, 11 of which have received a committee hearing, and 8 have already passed and become law. Those accomplishments include IDNYC, Credit Checks, Ban the Box, and the expansion of Participatory Budgeting to 27 districts, just to name a few. We have much more to do, including continuing to green our city and finding ways to expand and modernize our government.
4th Annual Heroes of Labor Awards
October also brought the 4th Annual Heroes of Labor Awards. LaborPress honored union members that have distinguished themselves and their union. This year's participating unions included IBT Local237, Ironworkers Local 361, UFCW Local 2013, IUOE 14, IUOE 15, IUOE 94, OSA, BTOBA, and a special tribute to Vincent Pitta. It was an inspiring ceremony and we congratulate and thank all those who were celebrated. We would also like to congratulate and thank the the Communication Workers of America Local 1180 as they celebrate their 50th anniversary.
It is a source of great pride that our former intern Sarah Kim has continued to achieve new heights at Barnard College. Her story was the subject of a story in the Columbia Spector. She currently serves as a junior representative to the Barnard board of trustees, an Athena Scholar, a student advisory board member on the Athena Digital Design Agency, and a scholarship chairwoman for the sorority Gamma Phi Beta. Kim is also an admissions representative and was a New Student Orientation Program crew chief this year. It was clear working with her this summer that Sarah has a bright future ahead of her, and we wish her continued success.
COMMUNITY
The Cornell Tech Task Force hosted a Town Hall presentation on the school's current and future programs and gave construction updates on their new Roosevelt Island campus. Cornell Tech is scheduled to complete Phase I during the summer of 2017, and we've already seen some of the fruits of this partnership as Cornell Tech graduate students mentored PS/IS 217 middle school students while they learned to code. You can learn more by following this event on Twitter: #LetsCodeRI.
I am inspired by the young members of the Junior States of America and was pleased to provide the keynote speech at their convention again this year, in which I discussed the history of voting, civic participation and public service. A special thanks to our former interns Dan Cahn and Danielle Leigh, whose idealism helps keep me hopeful for the future of government.
It's always a great to spend weekend afternoons enjoying the fall weather and meeting constituents at street fairs and block parties!

This month I attended Yorkville Community School's Fall Festival and PS 158's Octoberfest. I also joined the Halloween fun at Carl Schurz Park's Halloween Howl and participated in Roosevelt Island Halloween Parade.
Farewell to Matthew Washington

Last month, Community Board 11 said goodbye to their outgoing Chair, Matthew Washington. I would like to express my appreciation for the service he has provided this community, through his hard work at Community Board 11. We look forward to continuing to work with Matthew and congratulate him on his new role as Deputy Manhattan Borough President.
Homelessness in the Community

We have heard the growing concerns related to the city's increased homeless. I urge you to call 311 or use the app and send us the case number. We want to make sure that in our community everyone is safe and cared for.
AEPi Breakfast

At the SUNY Albany, I founded a new chapter of AEPi, the Jewish Leadership Fraternity. I was pleased to talk to fraternity brothers from all over the country who now live or work in New York about how we can live up to our commitment to the tenets of "Tikkun Olam" to repair the world.
OFFICE UPDATES
Legislative Corner

This month, I co-sponsored two bills related to synthetic marijuana that are now law. Local Law 97 of 2015 prohibits the manufacture, sale, and distribution of a variety of synthetic cannabinoids. The second,Local Law 95 of 2015, suspends a cigarette dealers' license for violating the ban on synthetic forms marijuana for the first offense and revokes the license for the second. These forms of synthetic marijuana, such as K2, have proved to be far more harmful and dangerous than non-synthetic marijuana and these two bills will protect the health and well-being of all New Yorkers.
In the Neighborhood

This month I attended many community meetings, events and celebrations! A few to mention are: CB6, CB11, Lexington Houses Tenants Association, SAC's Monthly Meeting, East Sixties Neighborhood Association, Carnegie Hill Neighbors, East 79th St Neighborhood Association Gracie Square Art Show, SAC's Fall Fundraiser, Stanley Isaacs Computer Lab Ribbon Cutting, Halloween Howl at Carl Schurz Park, The Art of Food at Sotheby's, Young People's Chorus Fall Celebration, Roosevelt Island's Halloween Parade, Pride Agenda's 25th Anniversary Dinner, and Citizens Union 2015 Awards Dinner.
Volunteer

Volunteers at our Council office learn firsthand about city government and work closely with the Upper East Side and Roosevelt Island Communities. Volunteers can work regular business hours or nights and weekends with a focus on attending events and community organizing. If you would like to join the team or have further questions please email Internship
BenKallos [dot] com.
Here to Help

We are here to help. My social work team can help you find out what services you are eligible for, and assist you in your application. Some examples include:
Seniors: Medicare savings, Meals-on-Wheels, Access-A-Ride;
Housing: searching for affordable units, free legal housing clinic at my office;
Jobs: training and assistance, unemployment benefits;
Families: Universal Pre-K, Head Start, After-School programs;
Finances: cash assistance, tax credits, home energy assistance; and
Nutrition: WIC, free meals for all ages.
Please also call us with any unresolved 311 complaints.
Family Law and Domestic Violence Clinic (new this month!)
Second Monday, 2-6pm, District Office
The Urban Justice Center will hold a free family law and domestic violence clinic. Call my office in advance to reserve an appointment.
Housing Clinics
First and third Monday, every Thursday, 3-6pm, District Office
Eviction Intervention Services and CUNY School of Law provide free housing law consultations. Call for your appointment.
Mobile District Hours

Get assistance wherever in the district you are when we bring our office to you. Please join us at monthly mobile district hours from 2-5pm:
Stanley Isaacs Neighborhood Center, 415 East 93rd Street, 2nd Tuesday
Lexington Houses, 1773 Third Avenue, 2nd Wednesday
Lenox Hill Neighborhood House, 331 East 70th Street, 4th Tuesday
Roosevelt Island Senior Center, 546 Main Street, 4th Wednesday
Ben in Your Building

This month I attended two "Ben in Your Building" events. The "Ben in Your Building Program" is a chance to discuss issues of importance to you and your neighbors in person, in your home. If you gather 10 or more friends, I will come to you. Last month, I went to two buildings to discuss matters of importance in the neighborhood, including efforts to fight the marine transfer station, sanitation and condo owner issues. Please call 212-860-1950 or email scheduler
benkallos [dot] com in order to schedule a "Ben in Your Building" event.
11/4: Cooking with Kallos
11am, Lenox Hill Neighborhood House, 331 East 70th Street
Join Council Member Kallos for a demo of how to make barley pilaf and then meet him during lunch at Lenox Hill.
11/11: Citi Bike Safety Class
6:30pm-8:00pm, District Office, 244 East 93rd Street
Citi Bike in conjunction with Bike New York will be teaching a free street skills safety class at the District Office. Participants will receive a free day pass or an additional month on an annual Citi Bike membership. Please call 212-860-1950 or RSVP online.
COMMUNITY RESOURCES
Emergency Snow Laborers Needed

Early registration has begun for emergency snow laborers for the upcoming snow season. Snow laborers are per diem workers who are called upon to remove snow and ice citywide from bus stops, crosswalks, fire hydrants and step streets in the City after heavy snowfalls. Individuals interested in registering with the DSNY can do so at their local district garage, weekdays between 7 a.m. and 3 p.m. The list of garage locations can be found at www.nyc.gov/sanitation. Snow laborers will be paid $13.50 per hour, and $20.25 per hour after 40 hours are worked in a week, an increase from the previous year. Applicants must be at least 18 years of age, be eligible to work in the United States, and capable of performing heavy physical labor. All applicants must bring:
Two small photos (1 ½ square)
Original and copy of two forms of identification
Social Security card
Please feel free to call my office with any further questions.
Lenox Hill Neighborhood House, Advance Directives Project

Our Volunteer Attorneys may be able to assist you with one-on-one counseling and individualized drafting of Advance Directives, including:
Health Care Proxies
Living Wills
Powers of Attorney
Simple, low-asset Wills
If you are interested in being screened for a possible appointment, please call our intake hotline at 212-218-0503 (choose option #4).
Citizen's Committee's Neighborhood Grants
Have a great idea for a community or school improvement project? Citizens Committee awards grants of up to $3,000 to volunteer groups working on projects that address quality of life issues across NYC neighborhoods.
Never applied for a grant before? No problem! Our application is simple to fill out. The 2016 Neighborhood Grants are now available! Learn more and get started: www.CitizensNYC.org, Grants
CitizensNYC [dot] org, 212-822-9563.
Bike New York

Bike New York free bike safety assemblies at schools, youth organizations and summer camps. Any school or youth organization can contact Youth Programs Director, Zoe Cheswick, to schedule a free bike safety session for youth ages 5-18 atzcheswick
bike [dot] nyc or 212-870-2097.
Jewish Association Serving the Aging

JASA's popular NextAct programs engage hundreds of New York's best and brightest (age 55+) who want to explore interesting topics, meet peers, become activists, and make an impact in their communities through Sundays at JASA courses at John Jay College, Advocacy training through theInstitute for Senior Action, Lectures and courses through the Ellie and Martin Lifton Institute of Judaic Studies, and volunteer opportunities. For more information contact nextact
jasa [dot] org or 212-273-5304, or visit www.jasa.org.
Department of Sanitation: E-Waste Recycling and Organics

It is now illegal, to throw electonics out in the trash. You can learn more about e-waste recycling and get recycling options right in your building if it has 10 units or more at the DSNY website. The City is also piloting an organics collection program: read more.
11/2: 96th Street Library Computer Basics, and more!
2:00pm, The New York Public Library, 112 E 96th Street.
Presenting a FREE computer course. After completing this course, you will know how to: Use a mouse and keyboard, use Microsoft Word, create and save documents, create files and folders, cut/copy and paste text, insert pictures, search the Internet, and more! This is a comprehensive 3 day course that meets once a week. Attendance for all three classes is required. Call 212-289-0908 or stop by the branch to register.

11/2: SORT Group Meeting/Workshop for Those Confronting Hoarding
6:15pm, 80 Maiden Lane, 11th Floor, New York, NY 10038
Eviction Intervention Services' SORT Group Meeting/Workshop for those confronting hoarding
Facilitator: Rasheed Brown, MSW, LCMSW, EIS Consultant Social Worker

11/3: Webster Library New York City Kids!
4:00pm, The New York Public Library, 1465 York Avenue.
From very humble beginnings Music for Aardvarks has blossomed over the years into many things: It's 16 original CDs, with over 250 songs and counting. It's music videos airing daily on Nick Jr TV. And it is one of the most imaginative and original interactive music sessions for babies and toddlers out there. The original material uniquely reflect and celebrate the lives of children growing up in New York City. For children ages of all ages. Presented by New York City Kids! Call 212-288-5049 for more info.
11/3: Coping with Fears of Recurrence
5:30-7:00pm, Memorial Sloan Kettering Cancer Center, 105, 417 E 68th Street, Room ZRC.
(1 of 3) Free Resources for Life After Cancer events. It is necessary to register for all programs. Please call 646-888-8106 or email rlac
mskcc [dot] org.
11/5: A Conversation in Spanish: Life After Cancer
12:00-1:30pm, Memorial Sloan-Kettering Cancer Center, 160 East 53rd Street, 11th Floor Conference Room.
(Una conversación en español: La vida después del cáncer, Jueves, 5 de Noviembre, 12:00-1:30pm 160 Calle E 53rd, Salón de Conferencia, Piso 11)
(2 of 3) Free Resources for Life After Cancer events. It is necessary to register for all programs. Please call 646-888-8106 or email rlac
mskcc [dot] org.
11/5: Computer Tutoring Session (Evening)
5:30pm, The New York Public Library, 328 E 67th Street
Tutors can help you with everything from learning how to use a mouse, formatting a resume, setting up an email address, and more. This program will run every following Thursday and Saturday for the month of November. Registration is required. Call 212-734-1717 or stop by the branch to register. Space is limited.
11/5: Retirement Planning and the Modern Economy
8:30pm, Lenox Hill Neighborhood House, 331 E 70th Street
State Senator Liz Krueger hosts the first in a series of roundtable discussions of the issues facing Boomer and seniors today.
11/5-16: Eleanor Roosevelt High School "Canstruction" Exhibition
Brookfield Place, located at 250 Vesey Street
We are seniors at Eleanor Roosevelt High School and wanted to inform you of a project we are participating in. On Wednesday, November 4th, 2015 at 6:00pm we will begin to build our Canstructure at the 23rd Annual NYC CANstuction Competition at Brookfield Place, located at 250 Vesey Street. Our structure will be modeled after the Grand Central Station Clock. All canstructures are on exhibit from November 5th-November 16. The cans will then be donated to City Harvest. We would appreciate your support in our efforts to raise awareness hunger.
11/6: How to Avoid Identity Theft
3:00pm, The New York Public Library, 328 E 67th Street
The fastest growing crime in America is identity theft. Learn how to protect yourself and your assets from thieves who want to steal your information. Anyone can be a victim of this crime. Presented by Jay Stevens.

11/7: Friends of the Upper East Side Historic Districts A Taste of Yorkville
2:30pm. Location will be provided upon ticket purchase.
Engage all five senses, most importantly taste, as you sample sweet and savory specialties from Schaller & Weber and Glaser's Bakeshop, among others, while we visit Old Yorkville on this neighborhood walking tour. $10 members, $20 non-members. Visithttps://www.nycharities.org/events/EventLevels.aspx?ETID=8502 to purchase.

11/7: Free E-Waste Recycling
10:00am-4:00pm, In front of Eleanor Roosevelt High School, East 76th St between 1st Ave and York Avenue
Bring your unwanted and broken electronics to our e-waste collection event! For our FAQs including a list of accepted electronics, please click here. For more information about our e-waste program, click here. This collection event runs from 10 am - 4 pm, rain or shine. For more information about the e-waste recycling law (e-waste recycling is required by law as of January 1st, 2015), click here.

11/7: Animal Care Centers of New York Dog Adoption
11:00am-3:00pm, Biscuits & Bath, Sutton Place location, 1064 First Ave at 58th Street
Anyone who adopts a dog from ACC (all locations) will receive a complimentary Biscuits and Bath Adoption Package, valued at $1,300. The package includes veterinary care, training classes, day care and grooming.
11/8: 94th Street Greenmarket
9:00am-5:00pm, Upper Green Side, 1st Avenue between 94th & 96th Street.
With us will be American Seafood, Bread Alone, Meredith's Bakery, Wager's Cider Mill, Ole Mother Hubbert, Stannard, Norwich Meadows and Phillips Farms! Compost collection will be conducted from 9:00am-1:00pm.
11/8: Friends of the Upper East Side Historic Districts Yorkville Immigration: A Family Tour
1:00pm. Location will be provided upon ticket purchase.
Do you and your family know how to "read" architecture? Learn the language of buildings and how you can discover the remnants of Yorkville's cultural and social history in this interactive walk through the neighborhood with Heidi Carey, Education Coordinator at FRIENDS. Free for members, $10 non-members. Visit https://www.nycharities.org/events/EventLevels.aspx?ETID=8508 to purchase.
11/10: Free Health & Wellness Seminars
6:30-8:00pm, 1300 York Avenue, Weill Cornell Medical Center Uris Auditorium
Food Allergies and Nutrition: Is it Something I Ate?
Amina H. Abdeldaim, M.D., M.P.H.
Alexandra L. Weinstein, R.D., C.D.N.
11/10: Woven Into Mourning: Memorial Hairwork in the 19th Century, Part II
11:00am-4:00pm, Mount Vernon Hotel Museum, 421 East 61st Street
Hairwork has been incorporated into small personal mourning keepsakes since the early colonial period. Come view the progression of hairwork in rings, brooches, pendants, lockets, and wreaths as concepts of death and mourning customs developed throughout the nineteenth century into an industry of mourning. Free with admission. Free for members.

11/14: Volunteer Gardening
9:30am-12:30pm, The Carl Schurz Park Conservancy, 86th Street Mall at East End Avenue.
Join your neighbors and pitch in! Volunteer as a CSPC gardener. PLEASE NOTE: The Carl Schurz Park Volunteer Gardeners are an adult group that meets monthly to work in the park. Students or children who wish to participate must be accompanied by adults or parents who work along with them.
11/17: The Gale and Ira Drukier Lecture in Children's Health
4:00-5:00pm, 1300 York Avenue, Weill Cornell Medical Center Uris Auditorium
Harry "Hal" Dietz, M.D. is the inaugural speaker for the annual Drukier lecture hosted by the Gale and Ira Dukier Insitute for Children's Health and Weill Cornell. For more information and to RSVP, please contact Michelle Fish at 646-317-7396 or email mif2018
med [dot] cornell [dot] edu.
11/17: SORT Group Meeting/Workshop for Those Confronting Hoarding
5:45pm, 80 Maiden Lane, 11th Floor, New York, NY 10038
Eviction Intervention Services' SORT Group Meeting/Workshop for those confronting hoarding
Facilitator: Rasheed Brown, MSW, LCMSW, EIS Consultant Social Worker

11/18: Managing Neuropathy Symptoms with Acupuncture
5:30-7:00pm, Memorial Sloan-Kettering Cancer Center, 417 E 68th Street, Room ZRC 136
(3 of 3) Free Resources for Life After Cancer events. It is necessary to register for all programs. Please call 646-888-8106 or email rlac
mskcc [dot] org.
11/21: Animal Care Centers of New York Dog Adoption
11:00am-3:00pm, Biscuits & Bath, Sutton Place location, 1064 First Ave at 58th Street
Anyone who adopts a dog from ACC (all locations) will receive a complimentary Biscuits and Bath Adoption Package, valued at $1,300. The package includes veterinary care, training classes, day care and grooming.

12/10 - 12/13: Dances Patrelli's Yorkville Nutcracker
The Kaye Playhouse at Hunter College, 695 Park Avenue
Find out more about this year's performances of this neighborhood classic.