July News: Rent Freeze, Funding for Parks & Schools, Fresh Food and More
Dear Friend,

This year's budget reflected years of hard work with hundreds of millions in savings, billions set aside for a rainy day and investments in our district's parks and public schools. I continue to fight to protect our tenants and preserve our neighborhoods helping rent stabilized tenants win a second consecutive rent freeze.

As Co-Chair of the East River Esplanade Taskforce with Congress Member Carolyn Maloney, I've invested nearly $2 million in the Esplanade including adding irrigation, renovating, removing fences, and greening. I am also working with Community Board 8 to de-privatize our Queensboro Oval Park under the bridge and open it for the public, please circulate and sign the petition at BenKallos.com/petition/oval

The Department of Transportation (DOT) will be completing the CitiBike rollout above 86th street, reducing the size of some stations, and infilling with new stations, a process I look forward to working with you to ensure takes you into consideration. DOT will also be painting crosstown bike lanes without taking away any traffic lanes or parking. We are also working with the newly formed East 72nd Street Neighborhood Association to restore the East 72nd stop for M15 Select Bus Service, please circulate and sign the petition at BenKallos.com/petition/m15sbs

As Chair of the Committee on Governmental Operations I continue to fight special interests with legislation to limit their influence, oversight hearings, and stopping lobbyists from running our elections.

Stay-cation with me this July in the city and enjoy free Music at Sunset at Four Freedoms Park and A Midsummer Night's Dream at Carl Schurz Park, both supported with funding from my office and let me know what you think.

On Thursdays from 3:30pm to 6:30pm, starting this July 7 running through November 17, you can now get a GrowNYC Fresh Food Box full of farm fresh produce for only $12 at my district office.

Happy Fourth of July!

Sincerely,

Ben Kallos

Council Member

SPECIAL EVENTS:

July 7, 14, 21, 28:
3:30PM - 6:30PM
Fresh Food Box

July 10, 12PM
Cooking with Kallos

July 12, 14-17, 7PM
A Midsummer Night's Dream

July 16 & 17, 12PM - 4PM
Imagination Playground

July 21 & 28, 6PM
Music at Sunset

UPCOMING EVENTS:

July 12, 6PM
Policy Night

July 28, 6:30PM
CitiBike Street Skills Class
TABLE OF CONTENTS
Transportation and Parks
Education
Good Government
Equality
Community
Office Updates
Events
June 14th, saw New York City's budget pass almost two weeks ahead of the deadline. Here are a few highlights from this year's $82.1 billion budget that I'm particularly proud to have fought for and won with my colleagues:
$430 million of savings in planned spending by the Law Department in its Judgments and Claims division, which I worked with the Law Department to achieve over several budget hearings since I took office.
Fiscal responsibilty means saving in good times to get us through the bad ones, I have advocated each year for saving more in advance of a potential downturn, and I am pleased that the City increased its reserves to an estimated at $8.76 billion:

$1 billion for the general reserve;
$500 million maintained for the capital stabilization reserve; and
$250 million for the Retiree Health Benefits Trust.

$38.5 million was added to Summer Youth Employment Program budget to fund 60,000 summer jobs for the city's youth of which 72 will be working with council members of the Progressive Caucus. Thanks to Youth Services Chair Eugene and Council Member Williams for their leadership and partnership in funding SYEP and expanding it within the Council. I look forward to working with Marielle, Eliane, and Abir, three SYEP participants who will spend their summer in my office as part of a council-wide initiative.
$4.9 million in additional funds for the Emergency Food Assistance Program, which will increase funding for the purchase of food by over 40 percent. This increase will support a demand at 450 food pantries and community kitchens to a total of $16 million.
Open Budget. Finally, I am proud to have worked toward is making New York City's budget open and available to the public. As covered by Politico following my introduction of legislation for the City to post the budget on the open data portal, the city actually did. For the first time anyone who wants to can look at how New York City is spending the $82.1 billion dollars on Open Data.
As part of this year's budget I am proud to have voted in favor of:
$22 million in base lined funding for District Attorneys, including the creation of an alternatives to Incarceration Unit and resources to reduce gun-related and other violent crimes;
$16 million for 6,000 year-round youth jobs with the creation of a joint task force on the SYEP and year-round jobs by the City Council and the Administration to assess current needs and program effectiveness;
$16 million expanding after school programs to create 3,223 additional seats for elementary school children – this investment will bring the total expansion to 6,600;
$17.5 million to fund 26,000 after-school slots for middle-school youth in School's Out NYC;
$43 million in base lined funding for improved library services;
$10 million for cultural organizations;
$2.5 million for Vision Zero education and outreach; and
$1.8 million in base lined funding for the Department of the Aging to address its current waitlist of approximately 1,400 cases
As the Council Member for District 5, I have the privilege of allocating funding for capital improvements and to support services for residents. This year I continued to invest in parks and schools:
Parks
In fiscal year 2017, I plan on spending over $2 million fixing and upgrading our neighborhood parks and securing even more funds from public/private partnerships
$1.2 million, East River Esplanade between 68th through 70 street for irrigation and renovation that will connect public/private partnerships with Rockefeller and Hospital for Special Surgery;
$500,000, John Finley Walk from 81st the 84th Street to fix lighting, add demarcations, remove the unsightly iron fence following recommendations from CIVITAS;
$150,000, East River Esplanade at 96th Street for irrigation system so new plants can survive;
$450,000, Carl Schurz Park playground renovations which are currently underfunded;
$300,000, at Ruppert Park to add terraces to planting to stop erosion; and
$100,000 for 100 new tree guards to be installed as new trees are planted within the district.
Schools
Since coming into office I have been investing millions in science, technology, engineering and match (STEM) education in our schools, this year we see many of the results of those investments.
$500,000, PS 290 Green Roof (Participatory Budgeting - top vote getter), builds on top of $1 million invested from my office, bringing the project funding to $1.5 million just from my office.
$350,000 for 32 laptops per cart for: P.S. 77, P.S. 198, P.S. 290, P.S./I.S. 217, M. 225, Eleanor Roosevelt, Urban Academy, Vanguard, Manhattan International, and Life Sciences, serving over 5,000 students (Participatory Budgeting - winner).
$500,000, PS/IS 217 Green Roof (Participatory Budgeting - runner up), Transform 6,750 square feet of unused P.S./I.S. 217 school roof into an outdoor learning hub for science, math, nutrition and the arts. This investment follows this year's strong showing and last year's victory for Participatory Budgeting.
$300,000 to complete the rooftop greenhouse at the East Side Middle School.
$250,000 for a roof mounted split system air conditioning at PS77/PS198.
$221,000 to provide STEM improvements to PS151, PS158, PS183, MS177 and Talent Unlimited High School including laptops and security upgrades for PS527.
$280,500 in expense funding for academic enrichment both in and after school.
For full details on the City Budget and my office's spending, including expense allocations, visit BenKallos.com/budget/results/2016-17
Celebrating Pride and Controlling Guns
New Yorkers commemorated Pride month this year while mourning with the LGBT community in the face of the horrific massacre that occurred at an Orlando, Florida nightclub frequented by members of the LGBT community. In the City Council, we held a vigil where we lit a candle for each of the 49 victims. We are taking action, led by Congresswoman Carolyn B. Maloney as we pushed for national common sense gun reform with measures like reinstating the Assault Weapons ban and Denying Firearms and Explosives to Dangerous Terrorist Act. This year's Pride March was even bigger than last years with thousands turning out in support. Along the way I found one attendee crying. It was her first Pride and she was overwhelmed. I let her know that I was an elected official, marching with most of my colleagues in the City Council and that we loved her. Finally, we capped off Pride with President Obama's Valerie Jarrett official dedication of the Stonewall Inn as a national monument some 50 years after riots broke out as the LGBT fought back and launched a movement. The historical significance of the uprising is as relevant today as ever before, and it was a poignant moment.
Cleaning Up 86th Street New Trash Cans and BID
NBC 4 covered my ongoing efforts to clean up East 86th Street as I joined Department of Sanitation Commissioner Kathryn Garcia in unveiling one of 38 new large trash cans that have been installed on street corners throughout the district from 70th Street to 98th Street. Through my discretionary funds, I spent $20,710 for these new larger cans with a domed top to prevent spillage of trash on to the street. While some will replace wired bins, others will be added to intersections that did not have enough cans beforehand.I want to thank resident Andrew Fine and the East 72nd Street Neighborhood Association's Valerie Mason and Liz Patrick for their advocacy and support, always keeping me up to date on the conditions of our neighborhood streets. The new trash cans display the words "Provided with Taxpayer funds from Council District 5" on them. Please read the release on BenKallos.com to see where they were installed also please tell my office where should we add new trash cans.
86th Street Business Improvement District
Local business owners, landlords, residents, and community board members met at Shake Shack for the second public meeting of the proposed 86th Street Business Improvement District. The addition of new larger trash cans and addition of twice-a-day garbage pickup is helping us stem the tide of litter on 86th, but for a sustainable solution, we need a Business Improvement District. Learn more about the BID and sign your statement of support at BenKallos.com/BID/Support
Fighting to Protect Our Landmarks
In 2015, soon after New York City celebrated the 50th anniversary of the Landmarks law, legislation that would eviscerate it with a five year moratorium was introduced to the City Council. With strong opposition we thought the legislation had died but last month a new version of the legislation was introduced and calendared for a vote. In partnership with Council Members Rosie Mendez and Corey Johnson as well as preservation groups like Historic Districts Council, Friends of the Upper East Side Historic Districts, and Greenwich Village Society for Historic Preservation we fought the legislation, leading ten members to vote against Introduction 775-A. While we were successful in removing a five year moratorium, I voted "no" on Introduction 775-A because the tight timelines provided no opportunities for extensions, which could leave meritorious items that fell off the calendar vulnerable to demolition.
We Won Another Rent Freeze
As covered by the New York Daily News, another year of strong advocacy has paid off: the Rent Guidelines Board voted for a zero percent increase on one-year lease renewals for rent stabilized apartments and a two percent increase on two year leases. Earlier this month, I testified to the board and authored a letter that was signed by 21 council members calling for a rent rollback. Although we did not get the rollback, we have now won historic rent freezes two years in a row, providing much needed relief to tenants who have seen too-high increases on their rent for years. Thank you to all who came out and testified as well as the Rent Justice Coalition, which is led by tenant rights groups like the Urban Justice Center and the Metropolitan Council on Housing.
TRANSPORTATION AND PARKS
Crosstown Bike Lanes
Following Community Board 8 Manhattan's request for crosstown bike lane proposals from the Department of Transportation ("DOT"), presentations at three Transportation Committee meetings with participation by hundreds of members of the community, and a close vote at the Community Board where no crosstown bike lanes were approved, DOT is moving forward with painting in July of the following crosstown bike lanes:
East 70th and 71st Streets
East 77th and 78th Streets
The crosstown bike lanes will not displace any parking or vehicular traffic lanes and will consist of a line of paint marking a five foot travel lane for bicycles. There are currently no plans for a crosstown bike lane pair on 84th and 85th Streets. Thank you to all the residents who came out for hours of public hearings for meetings over three months.
Bike Share Completion, Infill and Reduction
This August the Department of Transportation is planning to complete the installation of eleven planned stations above 86th Street, add nine "infill" stations, with a reduction in size at seven station throughout the Upper East Side. Please click the image to open the map as a PDF.
Proposed CitiBike Station Dock Reduction:
First Avenue and 62nd Street
67th Street and Park Avenue
Third Avenue and 71st Street
81st Street and York Avenue
East End Avenue and 86th Street
85th Street and York Avenue
84th Street and Park Avenue
Proposed CitiBike Station "Infill":
North side of 65th Street midblock between Second and Third Avenues
South side of 66th Street west of Madison Avenue
North side of 68th Street east of Madison Avenue
West side of Third Avenue north of 72nd Street
South side of 74th Street east of First Avenue
North side of 78th Street west of Second A venue
East side of Madison Avenue between 81st and 82nd Streets
South side of 83rd Street west of East End Avenue
South side of 92nd Street between Lexington and Third Avenues
I look forward to working with the Department of Transportation, Citi Bike (Motivate), Community Board 8, and residents like you to ensure that the placement of new stations is a benefit to the community.
Our Town reported on increased bike safety enforcement by police officers from the 19th Precinct as part of my "Bike Safety" program by coupling warnings and education through distributing flyers with issuing violations at busy intersection on the Upper East Side such as at East 79th Street and First Avenue. Since the summer of 2015, the Bike Safety program has succeeded in its goal of helping pedestrians and cyclists safely enjoy city streets, as covered by CBS, NBC, Our Town, and amNY. Following last August's Bike Safety program, the NYPD's 19th Precinct reported a year-to-date 15% decrease in bike and pedestrian collisions. Our mission for safer streets is in partnership with Council Member Dan Garodnick, the New York Police Department's (NYPD)17th and 19th Precincts, the NYPD Transit Bureau, the Department of Transportation, Citi Bike (Motivate), Transportation Alternatives, and Bike New York. Learn more at BenKallos.com/BikeSafety
Restore the M15 SBS Stop at 72nd Street
When Select Bus Service was implemented for the M15 it replaced the Limited Bus Service which had stops at 67th, 72nd, 79th, 86th, and 96th Streets, which were maintained except for East 72nd Street. The closest M15 Select Bus stop for the East 72nd Street neighborhood is now at 67th Street. I support the East 72nd Street Neighborhood Association in requesting that the MTA and the Department of Transportation (DOT) add an East 72nd Street stop to the M15 Select Bus Service. Sign the
petition to bring back the M15 SBS stop at 72nd Street
at
BenKallos.com/petition/m15sbs
Rally to Open the Queensboro Oval
Community Board 8 Parks Committee Co-Chairs Peggy Price and Susan Evans have been working with my office to "Open the Oval" by taking back the Queensboro Oval (on York Avenue between 59th and 60th Street). The Sutton East Tennis Club leases the 1.25 acres from the Parks Department for the below market rate of $2.5 million from September through June, while charging as much as $225 an hour, leaving the community with muddy field for the few months a year it is open to the public. Congress Member Carolyn Maloney, Manhattan Borough President Gale Brewer, State Senator Liz Krueger and State Assembly Member Seawright joined us for a rally to try "Open the Oval" to the public year-round. Watch my remarks or read more in Manhattan Express.
Sign the petition to Open the Oval: BenKallos.com/petition/oval
EDUCATION
Pre-K Seats for the East Side and Roosevelt Island
Recent coverage by FOX 5 and DNAinfo has highlighted my fight for more school seats in the district and the fact that hundreds of four year-olds on the Upper East Side don't have a pre-kindergarten seat in the neighborhood. At hearing after hearing I have pressured the Mayor and Chancellor Farina for more school seats. Working together with the Department of Education (DOE), parents and providers I helped secure 90 new seats and we have seen our total seat count quadruple since the first year of the program with 36 seats at the Upper East Side's Manhattan School House and 54 seats at the Roosevelt Island Day Nursery. Thank you to Eva Bosbach at Roosevelt Island Parent's Network and Susana del Campo for their hard work and dedication on Roosevelt Island as well as Ariel Chesler who has shared his family's story. Although we have made some progress, much more work is left to be done. The Upper East Side's 4-year-olds should not be forced to commute 45 minutes into the Financial District for Universal Pre-K. The DOE is putting out Requests for Proposals (RFP) in order to get more Pre-K slots to the Upper East Side. If you know of a possible location or are interested in working with me to make a difference, please contact my office with the information by emailing upk
benkallos [dot] com.
As we face new construction throughout the neighborhood, I do my best to work with the community and developers to minimize negative impacts on quality of life. As Chapin expands with three additional floors within its 210 foot allowed height, I won a Community Construction Committee where I have been working with Chapin, neighbors, agencies and other electeds to address concerns about after hours construction noise. After hours construction is necessary in school construction where day time construction would interfere with instruction. I am proud to have brokered an agreement this month where Chapin has voluntarily agreed to limit exterior construction. You can learn more below or in Our Town.
New Exterior Construction Schedule (interior work will continue throughout the evenings, but should not be audible for neighbors):
7am - 8pm - Weekdays (hoist will cease at 9pm or earlier)

9am - 5pm - Saturday (hoist will cease at 5pm)

No exterior work on Sunday
Two NYPD patrol cars will be paid for by Chapin in the mornings and evenings to prevent:
Bottlenecks,

Double parking, and

Vehicles on sidewalks.
You can learn more on Chapin's Building Project page at Chapin.edu. Please report noise or other construction related complaints to Chapin at 212-606-3225 or email project
chapin [dot] edu, call 311 or 911 in emergencies and keep me in the loop at 212-860-1950 or bkallos
benkallos [dot] com.
The New York Daily News and CBS covered Global Sampling Day as I joined geneticist Dr. Christopher Mason of Weill Cornell Medical College and his #MetaSub International Consortium team comprised of recent Macaulay Honors College graduates Sofia Ahsanuddin and Ebrahim Afshinnekoo. On June 21, over 400 volunteers in 54 cities collected 12,000 samples alongside scientific investigators. Dr. Mason and I headed into subways with latex gloves and swabs in hand to launch this year's sampling, which has already identified over 600 varieties of microbes. As the results come in investigators hope to share the results with the city for better public health.
Rockefeller University's Expansion Begins
When I was first elected I was proud to support Rockefeller University's $500 million campus expansion over the FDR drive that will maintain the medical research corridor in my district as foremost in the nation. Rockefeller University has been a good partner working with me to secure $35 million in public funds and adding $8 million of their funds to renovate the East River Esplanade with an additional $1 million to care for the improvements along their property in perpetuity. Throughout their expansion Rockefeller University has continued in their partnership using creative solutions covered in The New New York Times to minimize impact on the community by prefabricating the new buildings in 19 modules and dropping them into place over the FDR during a series of 19 evening closures of the FDR drive through July 19. It was a pleasure to join Rockefeller University's Executive Vice President Timothy O'Connor for the placement of the first piece of the campus.
Food Policy Award & Free School Lunch Support from Rachael Ray
The New York City Food Policy Center at Hunter College included me in their "40 Under 40" for Food Policy recognizing my work to fight hunger, particularly in our public schools where I am fighting for Universal Free Lunch which would be almost entirely funded by the Federal government. Rachael Ray who was quoted in People magazine saying "Any human, young or old, deserves the means to a nutritious meal….It's scary to think that there are families and children that wake up in the morning and don't know where their next meal is coming from," has launched a petition to support Universal Free Lunch at Change.org.
Cultural After School Adventures Performances
Our city's children need free after school activities that not only provide a safe environment with adult supervision while their parents are at work but also provide enrichment. One such programs that I am proud to support is the New York City Councils Cultural After School Adventures (CASA) initiative which I have offered and awarded to schools in my district with partners selected by Principals and PTAs:
It was a pleasure to join parents and students at PS151, PS/IS 217, and PS 290 for their CASA performances. Please let me know if your school is interested in participating and I hope to see you at the next performance.
Congratulations Graduates!
Every June I get to fulfill one of my foremost duties honoring our school children as they graduate. This year, I had the privilege of speaking at twelve graduations where I shared the secret of life and challenged our graduates to inspire. I am available to speak and honor your children as they graduate, just let me know when and where and I will do my best to be there. Congratulations again to this year's graduates!
GOOD GOVERNMENT
The New York Times highlighted the work I'm doing to limit the influence of special interests on our city government.
An Uphill Fight to Curb the Pull of New York City's Lobbyists
..."The city should not be providing public dollars to amplify the already strong voices of special interests," said Ben Kallos, a Democratic councilman who is the chairman of the committee on governmental operations. In May, he held a hearing on a bill that would eliminate the matching contributions for money bundled by someone doing city business. Read more in the New York Times.
..."I want to get to the bottom of what happened at Rivington, St. Nicholas and other sites," said Councilman Ben Kallos, an Upper East Side Democrat whose committee oversees the Department of Citywide Administrative Services, which grants deed restrictions. "The Council has a responsibility to hold an oversight hearing on deed restrictions." Read more in the New York Times.
Keeping Lobbyists from Running Elections
The Daily News covered that a lobbyist was nominated to serve as one of ten commissioners who run the New York City Board of Elections (BOE). At the initial public hearing, I was dismayed that after questions from me and others, the appointee, a registered lobbyist, refused to give up her lobbying activities if she was appointed to the BOE. No elected official should be lobbied by someone with a vote on whether they can get on the ballot or have a winning vote counted. Fortunately, following coverage in the Daily News with pressure from the Rules Committee Chair Brad Lander, other committee members, and me, the appointee agreed to give up all lobbying activities.
Fighting Corruption at All Levels
I joined State Assembly Member Sandy Galef, Paul Feiner, a town supervisor in Westchester County, Mark Davies, the former executive director of the New York City Conflicts of Interest Board, and Citizen's Union Executive Director Dick Dadey to call for ethics reforms at all levels of government. Read more in City and State.
Opening the Legislative Process to Comments Online
I introduced Resolution 1104 this month with Technology Committee Chair James Vacca to allow New Yorkers to comment on bills introduced in the New York City Council. Currently, residents are invited to spend hours waiting to testify for two minutes at City Hall on a weekday during business hours. New Yorkers should be able to engage their government and improve upon legislation both offline and online. In the mean time, you can comment on my bills on BenKallos.com/Legislation, GitHub.com/BenKallos. Learn more in coverage by Fast Company.
I authored Introduction 1220-2016 with Council Member's Lander and Vacca that would require the City to utilize "public analytics" in order to measure the effectiveness of its online information and resources. As New York City government invests more in new websites, apps, livestreams, videos and other online tools, the public facing analytics required by would help residents and government see what's working and what's not to improve accessibility to government online. Analytics drive the private sector to better serve their customers and government should do the same for our residents. Read more in Politico.
The Gotham Gazette profiled the current New York City Council's voting record dating back to 2014, the year I was elected. The article centered around how different Council Members use "abstentions." From the article:
"I have one job. That job is to vote," said City Council Member Ben Kallos, who has not abstained on a vote since joining the Council in 2014. "It is the one power, the one privilege that I have that no one else has and I take it seriously, and come to a decision every time. I was elected by the people to vote and for constituents to know where I stand on these issues."
Read more in Gotham Gazette.
Voter Information Portal Becomes Law
On June 5th, my Voter Information Portal bill was enacted into law. The portal which will allow a user to look up their voter registration status, poll site location, and voting history. It allows users to track the status of an absentee ballot from request to submission, ensuring that even if someone can't physically vote at a poll site, they can still ensure their ballot gets counted. Had this voter portal been in place for April's Primary Election, hundreds of thousands of voters would not have had to find out they could not vote at their poll sites, when, for many, it was too late to do anything to fix it.
EQUALITY
The Gotham Gazette reported on the pay gap between men and women in civil service positions and City jobs despite laws that make public employee salaries available to the public. As the only man on the Women's Issues committee of the City Council, gender equity in pay is very important to me. According to a 2013 Department of Administrative Services (DCAS) report, women make up more than half the city workforce. Why should our mothers, sisters, wives and co workers make any less than men? To address this problem in public sector positions I have called for an internal audit comparing employees to their collective bargaining so that people get paid what they are supposed to get paid and not a penny less. Read more in the Gotham Gazette.
Free Feminine Hygiene Products
The City Council passed legislation introduced by Speaker Melissa Mark-Viverito and Julissa Ferreras-Copeland that I sponsored that will require the city to provide free feminine hygiene products in schools, correctional facilities and shelters. I was proud to vote for this legislation as the only man on the Women's Issues Committee.
Supporting the Striking Workers at the Hamilton
Our Town covered the workers strike I joined at the Hamilton building located at 1735 York Avenue on the Upper East Side with Manhattan Borough President Gale Brewer and 32BJ Union President Hector Figueroa. Together we called for the reinstatement of worker benefits and full salaries by the new management company Bonjour Capital which bought the building in May from longtime owner Glenwood. Since Bonjour has taken over workers have lost their benefits and had their wages slashed in half from $23 an hour to $12. Currently 17 employees have gone on strike in protest over losing their benefits, wages and what they call attempts to silence their freedom of speech as they began to organize against Bonjour Capital. 32BJ employees at the Hamilton have my full support during this strike. Luxury buildings charging tenants upwards of $6,000 a month in rent should not be paying employees wages that leave them living in poverty. Watch the rally or read more in Our Town.
As soon as members of Retail, Wholesale and Department Store Union informed me that they were in a bargaining dispute with retail giant Macy's one month ago, I joined the fight on their side. One month is a long time to be negotiating for basic requests such as living wages and basic benefits. This had been the case at the time and members of RWDSU Local 1-S took to the streets of Herald Square threatening to strike, just days before the contract deadline was set to expire in mid June. I also signed onto a letter with my fellow elected officials urging Macy's to continue its history of providing industry-leading wages, hours, and working conditions for their workforce. We, elected officials, were sure to note that despite the recent decrease in sales revenues, Macy's still remains a leader in the retail sales industry. The Department Store is still profitable and thus, the Macy's workforce at the 34th Street, Parkchester, Rego Park and White Plains stores deserve fair treatment and compensation for their dedicated service to the Macy's brand and its customers. Happily, Macy's and the union reached a deal to help keep the 4,000 union employees working with fair wages and benefits.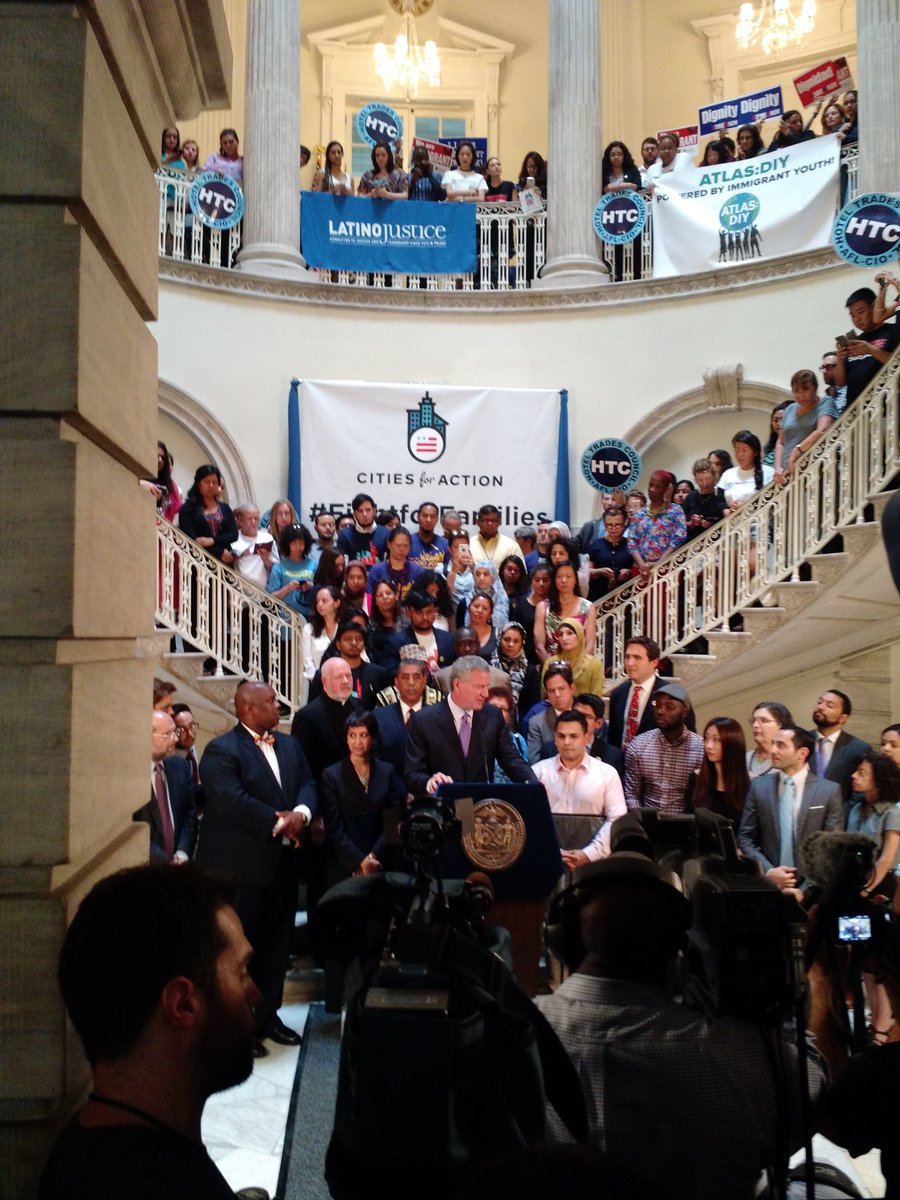 Verizon Workers Strike Ends in Success
June 17th marked the end of the Verizon CWA workers strike. The 54 day ordeal had 40,000 Verizon CWA workers on strike protesting and fighting Verizon for what they called basic living wages and benefits. The new four year contract ends the labor standoff and is an accomplishment for the union as I personally met these men and women who went on strike as I attended several of the rallies they held throughout New York City over the last two months.
Supporting Our Immigrant Families
The Supreme Court reached a 4-4 tie on President Obama's Deferred Action Childhood Arrival (DACA) program. A tie in the Supreme Court kicks the decision back to the lower court which in this case had ruled against DACA. DACA allows children of unauthorized immigrants to attend schools in this country and shields them from deportation. After this decision was reached by the Supreme Court I joined Mayor de Blasio and several other Council Members in expressing our disappointment in the Supreme Court decision and support for our city's immigrants community.
Get Your Fresh Food Box at My District Office
I am proud to announce a pilot with Grow NYC to offer a Fresh Food Box at my district office on Thursdays between 3:30pm and 6:30pm, where you can place your order and pay just $12 (cash, credit/debit, SNAP/food stamps, greenmarket bucks) and pick up a bag of farm fresh produce the following week.
Fresh Food Box
Thursdays, 7/7, 7/14, 7/21, 7/28, 3:30PM - 6:30PM
Office of Council Member Ben Kallos, 244 East 93rd Street
$12 paid a week in advance (cash, credit/debit, SNAP, greenmarket bucks)
GrowNYC's Fresh Food Box Program let's customers benefit from fresh farm to table produce from a Community Supported Agriculture (CSA) share, with the flexibility of week-to-week purchasing.
Sign-ups will begin July 7th and the first pickup will be July 14th and will continue through November 17th. Contact your site coordinator, Abby Lee at alee
nycgrow [dot] org or to learn more visit http://www.grownyc.org/greenmarketco/foodbox
Please join me for one of five free performances of "Shakespeare in Our Park" of "A Midsummer Night's Dream" by the New York Classical Theatre at Carl Schurz Park on July 12, 14, 15, 16 and 17 from 7PM to 9PM.
7/12, 7/14-7/17: A Midsummer Night's Dream
7pm - 9pm, Carl Schurz Park, enter at East 86th Street
This is the first year that I have invested funding from my office to bring this production to Carl Schurz Park, so please let me know what you think of the performance.
180 East 88th Street Skyscraper Update
The New York Daily News editorial board wrote about the stop work order for the skyscraper on 180 East 88th Street that followed a letter that I sent with Manhattan President Gale Brewer, which showed that it violated the zoning:
"Both of those fails came to light only because community boards and City Council members Margaret Chin and Ben Kallos sprang into action at the behest of constituents who had gotten the cold shoulder from the mayor's side of City Hall."

The stop work order remains in place and now The Real Deal reports that DDG the developer is being forced by Attorney General Eric Schneiderman to re-submit its offer plan and let buyers who had already purchased condos to get out of their contracts due to new blueprints being re submitted. Any units that had been sold will have to be resold. DDG is expected to submit new plans to the Department of Buildings.
Roosevelt Island Town Hall and 911
The Roosevelt Islander covered our Roosevelt Island Town Hall hosted with Congress Member Carolyn Maloney and Assembly Member Seawright and sponsored by Public Advocate Letitia James and State Senator Jose Serrano. Given recent concerns relating to 911 service to Roosevelt Island, we've been hard at work alongside the Roosevelt Island Operating Corporation (RIOC) with the NYPD, FDNY, and OEM who joined the forum to answer questions. Thank you to Mayor de Blasio's office of operations for working with us to add information for 911 operators to indicate that addresses are on Roosevelt Island and geotagging each address on Roosevelt Island so that emergency services are routed to the correct location. Despite decades of problems on Roosevelt Island with 911, we hope that 911 has finally fixed the problem. Please let me know how 911 is working for you on Roosevelt Island following the resolution of an emergency should you have one.
New Literary Landmarks Dedicated to Remarque and Doctorow
I am proud to support the Empire State Center for the Book with funding from my office to help identify and designate Literary Landmarks in my council district and recently dedicated two on the same block.
Erich Maria Remarque - a resident of 320 East 57th Street, which was literary landmarked in his honor to commemorate his classic works of literature including All Quiet on the Western Front, Shadows in Paradise, and Arch of Triumph. The pre-war NYC apartment building with metal artwork by the famed artist George Bryant now features a distinguished plaque as a physical reminder of Remarque's timeless creations. Watch to Ceremony.
Edgar Lawrence (E. L.) Doctorow - a resident of 333 East 57th Street, which was literary landmarked in honor of this venerated novelist and professor. His works, like Ragtime and Welcome to Hard Times, have helped readers connect with American and New York City history. Members of the Doctorow family attended the dedication and two childhood friends spoke about Doctorow's early years. One of the friends was the actor Dominic Chianese best known for his role as Uncle Junior in the Sopranos. Watch the Ceremony.
I hope that these Literary Landmarks will inspire, remind, and generate conversation about the considerable contributions that these novelists have made to New York. Learn more at the Empire State Center for the Book.
Since its founding 40 years ago DOROT has concerned itself with the struggles of elderly women living alone in New York City. Since 1976 thousands of volunteers have provided services and assistance to the elderly across and outside the our great city. On its 40th anniversary, I honored DOROT and its leadership with a Proclamation. DOROT's services to the aging population are now a part of the fabric of New York City and for that I thanked this wonderful organization with this well deserved honor. I had the pleasure of handing DOROT's Executive Director Mark Meridy and Donna Jakubovitz Board President the Proclamation. I hope DOROT will enjoy another 40 years of service and care for our City's elderly.
It was more than a pleasure to join Chabad of Roosevelt Island for their Shabbat 100 Dinner lead by Rabbi Zalman and Nechama Duchman, with over 100 residents in attendance. I look forward to attending next year's dinner and continuing to work closely with the Jewish community on Roosevelt Island.
Throughout the summer and fall, my staff and I will be at street fairs on the Upper East Side and Roosevelt Island, and in parades throughout the city. I encourage you to join us! This month we were at the First Avenue Festival, Roosevelt Island Day, and PS198's Spring Carnival. We also marched in the Celebrate Israel Day Parade and the Pride Parade, two of my favorite events of the year!
Join us:
July 10 - Disability Pride parade
September 11 - Third Avenue Community Benefit Festival
September 18 - 92Y Street Fair on Lexington Avenue
Will you stop to say hi at the street fair or volunteer join us in providing information at our table?
OFFICE UPDATES
Participatory Budgeting: The Next Million Dollars
Starting this summer, you will be empowered through direct democracy to decide on how $1 million in capital funding gets spent to make our community even better through participatory budgeting.
Tell us what projects you might like to see on the ballot next year!
In previous years, the winning projects received $640,000 for bus countdown timers to display wait times at bus stops, $250,000 for local senior centers improvements, $600,000 for school technology upgrades and $2,000,000 for green roofs at PS 217, PS290 and PS151. We hope to see you at events throughout the summer as well as at our neighborhood assemblies in the fall.
Please consider volunteering to be a budget delegate and shaping this process for the future.
As a student, I was always more inclined to work with computers than to read books. In fact, because of learning struggles, I faced challenges catching up with my peers in reading and writing. When I discovered science fiction, I learned to love literature — and started to spend lots of time at New York City's world-class public libraries. Now, I want to share that passion for books with you and your family.
Join my summer reading challenge: Students in grades K - 12 who read five books from the New York Public Library Summer Reading List for their age will be honored at an end-of-summer ceremony and receive a certificate from my office. To sign up call 212-860-1950 or email me at BKallos
BenKallos [dot] com (subject: Summer%20Reading%20Challenge) .
Join Coro's New York City Youth Council
The New York City Youth Council (NYCYC) is a partnership between the New York City Council and Coro New York Leadership Center to enhance youth-adult partnerships and elevate youth voice in decision-making related to policy and practice. The 10-month program builds participants' capacity for individual and collaborative leadership and includes a $900 stipend. Youth Council Members also learn about the structure and function of NYC government, specifically City Council and how policies are made and implemented. Most importantly, NYCYC involves young people as valued and active participants working side by side with their adult Council Members and within their district to bring participatory youth voice to policy and practice. Learn more at CoroNewYork.org. Only students who live and attend a high school in Council District 5 and are entering the 10th, 11th, or 12th grade in Fall 2016 may apply by submitting a resume and cover letter expressing interest in the NYC Youth Council to internship
benkallos [dot] com (subject: NYC%20Youth%20Council) .
June marked the first month of summer and a busy month it was! This month I attended the 19th Precinct Community Council, 17th Precinct's Community Council Community and Police Appreciation Awards Ceremony and Reception, Neighborhood Coalition for Shelter's Spring Gala, the Chashama Gala, 145 East 84th Street's Annual Board Meeting, CECD2's June Meeting, Community Board 8 Full Board, The Center's Garden Party, and much more!
This month, I cosponsored two bills that became law:
1. Local Law 67 of 2016 establishes a Commission on Gender Equity. The Commission would study the nature and extent of inequities facing women and girls in the city as well their impact on the economic, civic, and social well-being of women and girls. The Commission would also make recommendations to the Mayor and the Council for the reduction of gender-based inequality.
As was reported by Public Advocate James, women working for the City of New York currently make 18% less than men. This is larger than the 6% disparity for jobs at for-profit companies and the 7% disparity at non-profits. That is unacceptable. Government should be leading the way toward pay equity, not be behind the curve. This Council has made closing the pay gap a top priority and passing this bill will further those efforts.
2. I also cosponsored two other voter information bills, which I was proud to pass through the Committee on Governmental Operations, which I chair. Local Law 62 of 2016 requires the NYC Board of Elections to post a notice on each building that was, but is no longer, a poll site. The notice will direct voters to the current poll site. It can be frustrating when the poll site you've been voting at for decades changes; it's even more frustrating when you don't know where the new site is located. This bill will fix that.
Lastly, Local Law 64 of 2016 requires the NYC Board of Elections to send email and text message notifications regarding local, state and federal elections to registered NYC voters who provide their email address or mobile phone number to the BOE. This will allows voters to get information like the dates and hours of elections, poll site locations, absentee voting requirements and deadlines, and more sent directly to their smartphones.
Family Law and Domestic Violence Clinic
Second Monday, 1-6pm, District Office
Housing Clinics (New schedule!)
First and third Monday, 3-6pm, Consultations by Phone
Please call my office at 212-860-1950 in advance to schedule your appointment.
We are here to help. My social work team can help you find out what services you are eligible for, and assist you in your application. Some examples include:
Seniors: Medicare savings, Meals-on-Wheels, Access-A-Ride
Housing: searching for affordable units, free legal housing clinic at my office
Jobs: training resources and assistance, unemployment benefits
Families: Universal Pre-K, Head Start, After-School programs
Finances: cash assistance, tax credits, home energy assistance
Nutrition: WIC, free meals for all ages
Please also call us at 212-860-1950 or email at bkallos
benkallos [dot] com with any unresolved 311 complaints.
Get assistance wherever in the district you are when we bring our office to you. Please join us at monthly mobile district hours from 11:30am-2pm:
Stanley Isaacs Neighborhood Center, 415 East 93rd Street, 2nd Tuesday
Carter Burden Center for the Aging, 351 East 74th Street, 3rd Wednesday
Roosevelt Island Senior Center, 546 Main Street, 4th Wednesday
The "Ben in Your Building Program" is a chance to discuss issues of importance to you and your neighbors in person, in your home. If you gather 10 or more friends, I will come to you. Over the past year, I have visited several buildings to discuss matters of importance in the neighborhood, including efforts to fight the marine transfer station, sanitation and condo owner issues. Please schedule a "Ben in Your Building" today by calling 212-860-1950 or email Scheduler
BenKallos [dot] com.
7/1: First Friday
8 -10am, District Office, 244 East 93rd Street
7/7, 7/14, 7/21, 7/28: Fresh Food Box
3:30 - 6:30pm, Outside District Office, 244 East 93rd Street
7/10: Cooking with Kallos
12 -1pm, 92nd Street Greenmarket, 1st Avenue between 92nd and 93rd Streets
7/12: Policy Night
6 -7pm, District Office, 244 East 93rd Street
7/28: CitiBike Street Skills Class
6:30 -7:30pm, District Office, 244 East 93rd Street
7/12, 7/14-7/17: A Midsummer Night's Dream
7pm - 9pm, Carl Schurz Park, enter at East 86th Street
EVENTS FUNDED BY COUNCIL MEMBER KALLOS
7/16 & 7/17: Imagination Playground & the Uni Project
12pm - 4pm, Franklin D. Roosevelt Four Freedoms Park
At Imagination Playground, channel Louis Kahn by building whatever you imagine with oversized, architectural blocks on the lawn. At the Uni Project, our pop-up reading room, come sit, read, draw, and explore a curated collection of books and hands-on materials.
7/21: Music at Sunset: Harlem Renaissance Jazz with Art Baron and Friends
6pm, Franklin D. Roosevelt Four Freedoms Park
Come join us and listen to renowned jazz musician, Art Baron. Event is free and no registration is required. Food, beer, and wine will be available for sale. Members will receive 2 complimentary drinks.
7/28: Music at Sunset: Salsa Lessons & Dance Party with Rodney Lopez ft. Funky Guajiro
6pm, Franklin D. Roosevelt Four Freedoms Park
Learn how to dance Salsa from Mad Hot Ballroom's Rodney Lopez and then apply those dance moves to the music of Cuban dance band, Funky Guajiro. Event is free and no registration required.
7/1, 7/8, 7/22, 7/29: We are New York (WANY) English Conversation Groups
10:30am- 12:30pm, Roosevelt Island Library, 524 Main Street
Intermediate Level English for Speakers of Other Languages (ESOL) learners will have the opportunity to learn English by watching We Are New York videos. Limited space: 15 Seats; First come, first served.
7/1, 7/18: MS PowerPoint 2010 for Beginners
1pm, 67th Street Library Computer Classroom, 328 East 67th Street
Learn how to create a slideshow presentation using Microsoft PowerPoint 2012. Session is first come, first served.
Every Friday: Hatha Yoga with Keren
6pm, Franklin D. Roosevelt Four Freedoms Park Lawn
No registration required but there is a suggested donation of $5. Class is free for members.
7/2, 7/9, 7/23, 7/30: Vinyasa Yoga with Jax
10am, Franklin D. Roosevelt Four Freedoms Park Lawn
No registration required but there is a suggested donation of $5. Class is free for members.
7/2, 7/9, 7/23, 7/30: English Conversation Group
11am, 67th Street Library, 328 East 67th Street
Adults ages 16 years old or older are invited to practice their language skills and have meaningful conversations with native speakers and other language learners.
7/2, 7/9, 7/23, 7/30: Matinee
12:30/2:30pm, Health Advocates for Older People, 341 East 87th St
Movies for seniors.
7/4: Celebrate July 4th with Alexander Hamilton
10am-6pm, New York Historical Society, Central Park West at 77th Street
Children under 17 are free, all events free with museum admission.
7/4: Fourth of July Family Fireworks Celebration
5pm, Southpoint Park & Franklin D. Roosevelt Four Freedoms Park
Come celebrate the Fourth of July and enjoy fireworks with the family. All attendees must register online to receive a free ticket. No tickets will be available at the door. Attendees may register for up to 4 tickets. Children ages 4 and under do not need tickets.
7/5: Family Film – Hotel Transylvania 2
2pm, 96th Street Library, 112 East 96th Street
Admission is free.
7/6: El Museo Coqui Club Body Language
9:30 am - 12:00 pm; 2nd Session: 11:00am-12:00pm. Admission is Free.
Learn, play, explore, and grow at El Museo's bilingual program for our tiniest visitors. Join us on the first Wednesday of each month as we embark on an adventure to discover new ways of interacting with art and each other.
7/6, 7/9, 7/13, 7/16, 7/20, 7/23, 7/27, and 7/30: Read to a New York Therapy Dog
11am, Yorkville Library, 222 East 79th St, Children's Room
Pre-registration required for each 15-minute slot, registration opens a week in advance.
7/7: Movers and Shakers
11-11:30am, Roosevelt Island Library, 524 Main Street
Toddlers from 1 to 4 years old and their parents/caregivers will shake it together! Sing, dance and enjoy music, movement and fun! First come first served.
7/7: Film – Murder by Contract, 1958
2pm, 96th Street Library, 112 East 96th Street
Admission is free.
7/7: Glaucoma: What Do You Need to Know?
2:30-3:30pm, Myra Mahon Patient Resource Center, 1305 York Ave
Come hear Dr. Stephanie Muylart speak about some of the latest treatments for glaucoma, a serious condition of concern to many older adults. No cost.
7/7: The Grand Victorian Garden Tea Party
4-8pm, Mount Vernon Hotel Museum and Garden, 421 East 61st Street
Mount Bernon Hotel Museum and Garden are teaming up with Gemini and Scorpio to host a proper tea party. Dress code:1800s- 1910s. All white, cream, and pastel colors encouraged. $40 all ages. Rain or shine.
7/7: Women's Writing Group
4:30pm, 67th Street Library, 328 East 67th Street
Hannelore Hahn, who directed the International Women's Writing Guild for 37 years, leads a monthly informal women's writing and discussion group.
7/7: Book Discussion Group - Eleanor & Park
6pm, Webster Library, 1645 York Avenue, Auditorium
Reserve your book through the library's catalogue system, admission is free.
7/8, 7/15, 7/29: Yorkville Summer Series: Puzzles
11am, Yorkville Library, 222 East 79th St, Children's Room
Children of all ages.
7/9: Zoning Scavenger Hunt
10am-7:30pm, Open House New York, 1133 Broadway 2nd Floor
Register in advance, tickets $30.
7/9: New York Opera Forum Concert
1:30pm, 67th Street Library, 328 East 67th Street
The New York Opera Forum performs Le Nozze Di Figaro by Wolfgang Amadeus Mozart this month.
7/9: RIOC
7:00:pm Outdoor Movie Screening 405-425 Main St, New York, NY 10044
Labyrinth
7/11-7/15: History Week Session 1 Summer 2016
9am- 12pm, Mount Vernon Hotel Museum and Garden, 421 East 61st Street
Children explore life in 19th-century New York City. Ages 9-12. Call the Museum at 212-838-6878 or email
n [dot] sokolova
mvhm [dot] org to register.
7/11: Mystery Mondays: Book discussion featuring stories of suspense, secrets, and lies
4pm, 67th Street Library, 328 East 67th Street
This month, come discuss The Widow by Fiona Barton. Pre-register by phone or in-person.
7/12: Housing Issues and Your Rights
1:30pm, Health Advocates for Older People, Holy Trinity (Call for Exact Address)
No information on website.
7/12: Loony Life Labs Series, "Ready, Set, SCIENCE!"
2pm, Roosevelt Island Library, 524 Main Street
Explore Isaac Newton's laws of motion with us in this abundantly engaging physics performance. Presented by Mad Science. For ages 5 and older.
7/12: Manhattanhenge
7pm, Franklin D. Roosevelt Four Freedoms Park
View Manhattanhenge and listen to Mitch Frohman's Latin Jazz Quartet. Food, beer, and wine will be available for sale. Event is free but registration is required, space is limited.
7/12: Free Immigration Legal Clinic at MFY
6-8 pm at 299 Broadway in Manhattan
Attendees will Receive Help with Naturalization and Citizenship, DACA,Replacing Green Cards, Petitioning Family abroad
7/13: Upper Eeast Side Story Oral History Project Geneology
530 pm @67th Street Library
Learn about the Library's resources for geneology research, try them all out.
7/13: Bilingual Birdies: Spanish
3pm, 96th Street Library, 112 East 96th Street
Our Bilingual Teaching Musicians will teach basic Spanish vocabulary. Program is geared towards children newborn through six years old.
7/13: Magical Mandalas: Worlds of Art
4pm, Yorkville Library, 222 East 79th St
Summer reading and art program for teens age 12-18.
7/14: Throwback Thursday Film Series
2pm @ 67th Street Library
1950s: To Catch a Thief (1955) When a reformed jewel thief is suspected of returning to his former occupation, he must ferret out the real thief in order to prove his innocence. Dir: Alfred Hitchcock
7/14: Magic Tricks and the History of Deception
3pm, 96th Street Library, 112 East 96th Street
Teens ages 12 to 18 are invited to experience a magic show and then learn how the tricks are done.
7/15, 7/16, 7/17: New York International Mandolin Festival
7:30pm on Friday and 10am on weekends, Lenox Hill Neighborhood House, 331 East 70th Street
Listen to some of the finest mandolin ensembles performing twelve concerts and offering a variety of workshops. Tickets are available for purchase at www.nymandofest.org.
7/16: Volunteer Gardening
9:30am, 86th Street Mall at East End Avenue
Adults are welcome to join this group who meets monthly to work in the park. Students or children who wish to participate must be accompanied by adults or parents.
7/16: Be Happy Now! How to Cultivate High Levels of Happiness
2pm, Yorkville Library, 222 East 79th St, Meeting Room
People of all ages welcome.
7/18: Learn to use Fuji Instax Cameras and make instant photographs. Ages 10-18.
3pm @ 67th Street Library
Fuji Instax Workshop
7/18: Summer Reading: African Dancing and Folktales
4pm, Webster Library, 1645 York Avenue
Children of all ages.
7/18: Meditation for Stress Free Living
5:30pm, Yorkville Library, 222 East 79th St, Meeting Room
All ages welcome, no prior meditation experience required.
7/20: Lincoln Center Local: Sinatra: Voice for a Century
5pm, 67th Street Library, 328 East 67th Street
Come watch a screening of SINATRA: Voice for a Century. Runtime is 1 hour and 25 minutes.
7/20: Summer Sounds
7pm, John Finley Walk, Carl Schurz Park
Swingtime Big Band returns for a summer concert overlooking the East River.
7/21: Sensory Storytime
11-11:30am, Roosevelt Island Library, 524 Main Street
Sensory Storytime is a fun new interactive library literacy program, designed to engage kids through movement, music, stories and Program is open to all and is ideal for children with autism spectrum disorders, sensory integration challenges or children who have difficulty sitting still. Space is limited.
7/21: East River Crew Benefit
7pm-9pm, Merrion Square, 1840 2nd Avenue at East 94th Street
Suggested donation $30.
7/22: RIOC
7:00pm Outdoor Movie Screening 405-425 Main St, New York, NY 10044
Inside Out
7/24: Kid Flicks
4pm, Yorkville Library, 222 East 79th St, Meeting Room
Showing Madeline, Make Way for Ducklings, and Harold and the Purple Crown.
7/25: Author Talk with Albin Sadar
1:30-2:30pm, Roosevelt Island Library, 524 Main Street
Come meet children's book author Albin Sadar as he shares his new children's book series Hamster Holmes. All ages welcome. For children.
7/25: Sensory Storytime for Children
330pm @ 67th Street Library Ideal for children with autism spectrum disorders, sensory integration challenges or children who have difficulty sitting still. Pre-register by phone or in person.
7/26: Sunset Film Festival: Inside Out
8:30pm, Hockey/Basketball Court of Carl Schurz Park at East 84th Street
Come watch a screening of Inside Out overlooking the East River.
7/27: Bereavement Support Group
5:30pm, Rockefeller Research Laboratories, 430 East 67th Street
For those who have lost a family member or friend to cancer at Memorial Sloan Kettering.
7/28: Throwback Thursday Film Series
2pm @67th Street Library
1960s: The Odd Couple (1968) Two friends try sharing an apartment, but their ideas of housekeeping and lifestyles are as different as night and day. Dir: Gene Saks
7/29: In the Footsteps of Hamilton Walking Tour
6:30pm, New York Historical Society, Central Park West at 77th Street
Admission is free.
7/30: Music – Mozart's LE NOZZE DI FIGARO recital by New York Opera Forum
1pm, 96th Street Library, 112 East 96th Street.
Admission is free.
7/30: Time Management: Practical Strategies That Can Change Your Life
2pm, Yorkville Library, 222 East 79th St, Meeting Room
People of all ages.
In June the Department of Sanitation also announced donateNYC a program which intends to increase the Reuse of second-hand goods. It will consist of an application and website that will make it easier for New Yorkers to give goods and find goods. Each year New Yorkers throw out six million tons of waste. By using this programs some of this waste will be identified as reusable and will help in reducing waste, conserving energy and and money. The goal of donateNYC is help toward New York City Zero waste to landfills by 2030.Partner organizations will include thrift stores, clothing banks, social service providers. To use donateNYC the app is available in iOS and android; search "donateNYC." the donateNYC website is nyc.gov/donate.
New York City Housing Opportunity
NYC Housing Connect is accepting applications for 55 Newly Constructed Units in Murray Hill-Kips Bay section of Manhattan are now being accepted. To learn more visit NYC Housing Connect.