February News: Stopping Superscrapers, Health Education, Fighting Hunger and More
Thank you to everyone who was a part of my State of the District. Our numerous accomplishments are the result of collaboration with you and it was a nice opportunity to celebrate the great work we have done together fighting for our community and city.
The big news this month was our rezoning proposal to stop superscrapers in residential neighborhoods. We also passed a law to improve health education, held two hearings on my legislation to fight children's hunger and obesity, and introduced legislation to end the corrupting influence of stipends and outside income.
In February, we will hold an energy forum, where you can hear from experts on how to save on your bills and save the environment. The City Council will also hold two hearings on the Mayor's housing and zoning plans. What do you want the East Side to look like fifty years from now?
Sincerely,
Ben Kallos
Council Member
P.S. Join me in celebrating my 35th Birthday at First Friday on February 5, 8am - 10am. RSVP to reserve your slice of birthday cake.
TABLE OF CONTENTS
YOUTH AND EDUCATION
TRANSPORTATION
HOUSING
PARKS AND ENVIRONMENT
JOBS AND EQUALITY
TECHNOLOGY
COMMUNITY
OFFICE UPDATES
EVENTS
COMMUNITY RESOURCES
We marked my midterm with a second State of the District report. It was a great moment to recognize our accomplishments over the past two years along with the community leaders who helped make them possible and set the agenda for the next year and beyond. Thank you to all who joined us, including 150 residents, Public Advocate Tish James, Comptroller Scott Stringer, Borough President Gale Brewer, State Senator Liz Krueger, Assembly Member Rebecca Seawright and other community leaders. I remain true to my goal of meeting every person who lives in my district and has a question, comment or concern. Read about the State of the District in Our Town, read, or watch online.
Limiting Corruption with a Full Time Legislature
Government should work for the people, not special interests, and I have been dedicated to cleaning up the system. As an advocate I put Albany's voting and outside income online, so we could hold our elected officials accountable for how they voted and from whom they took their money. Years later we've seen the leader of the Assembly convicted for corruption from outside income. Sadly, all to often, people change once elected, forgetting their campaign promises. In the City Council, I was one of only 12 of the 34 members who pledged not to take "lulus" (stipends that have in the past been used as political favors) who actually did not.
I hope my election has given you a seat at the table, where I have been able to help author City Council Rule Reforms, author and co-prime sponsor laws increasing transparency around our public notices, laws, and election information. Last week, I introduced legislation to make the City Council full time, limiting full-time outside income, and banning "lulus," and I co-prime sponsored legislation to put outside income disclosures online. Read more in our release.
We Filed to Stop the Superscrapers
Bloomberg News and the Daily News covered our filing of the most sweeping residential re-zoning plan by a community group in New York City history. I was proud to lead the effort with the East River Fifties Alliance, with co-applications to the Department of City Planning by Council Member Daniel Garodnick, Manhattan Borough President Gale Brewer, and State Senator Liz Krueger.
The new zoning plan for the Manhattan area between 52nd Street and 59th Street, east of 1st Avenue, will restrict supertowers and over-development in the neighborhood with a contextual height cap of up to 260 feet, incentives for schools, and a requirement for mandatory inclusionary housing.
Community members and I acted fast in response to the proposed Bauhouse tower. After Our Town newspaper covered the Bauhouse plan on April 7, I published an opinion editorial in opposition to the out-of-scale tower, and circulated a petition opposing superscrapers in residential neighborhoods. Community Board 6 passed a resolution calling for height caps in the neighborhood which was sent to the Department of City Planning for consideration on May 13, within 45 days of the news. Over the following months, I visited buildings throughout the neighborhood and spoke with residents about what they could do, including making donations to the newly formed ERFA. In August, The New York Times covered ERFA and my efforts against the tower and highlighted the story of Herndon Werth, a rent-stabilized tenant refusing to sell his apartment to the Bauhouse Group in order to save his home and the neighborhood.
There are also early signs that the ultra-luxury housing market may be cooling in New York City, as another superscraper hit a setback. If you want to learn more, ERFA will present the plan at Community Board 6 on Wednesday, February 3, at 7pm, at Beth Israel-Mt Sinai Medical Center, Nathan B. Perlman Pl. between E. 15 & 16th Sts, Podell Hall.
Sign the petition against superscrapers at BenKallos.com/Petition/StopSuperScrapers.
The New York Times and Daily News have covered my advocacy with Public Advocate Tish James and Manhattan Borough President Gale Brewer for affordable broadband for low-income New Yorkers as a condition to any merger with Time Warner Cable in New York City.
Following our advocacy the Public Service Commission ordered Charter, which will replace Time Warner Cable, to provide affordable broadband at 30 MBPS for $14.99 a month to 875,601 low-income students receiving free and reduced school lunch, and 174,646 seniors receiving Social Security Supplemental Income in New York City. This will be coupled with subsidized laptops for $199 and free training, which all together will help eliminate the "homework gap" and go a long way towards bridging the digital divide for over one million low-income New Yorkers and their families. Read the release.
Community boards are our most grass-roots level of government, and elected officials rely on our committed board members to be the voice of the neighborhood on important community issues. The New York Times covered a bill I cosponsored to ensure our boards accurately reflect New York City's diverse neighborhoods:
"Councilman Ben Kallos, a Democrat who represents the Upper East Side of Manhattan and is one of the four other council members besides Mr. Torres who are sponsors of the bill, called it a step toward 'transparency and reform at the boards.' New Yorkers, Mr. Kallos said, deserve to know 'the demographics of who represents them at the community board level, their voice in city government.'"
Previously I've worked to provide support and transparency to the boards, perhaps most excitingly by passing a law to allow 16 and 17 year olds to serve, and I was then excited to appoint high schooler Zoe Markowitz upon the law's implementation. I am also fighting to add urban planners to the board staffs and have published a report on best practices for appointments. Read more in DNAInfo.
To learn more about community boards please visit BenKallos.com/CB.
YOUTH AND EDUCATION
When I ran for office, I doubled down on my lifetime commitment to freedom of choice and access to reproductive health, receiving the endorsement of Planned Parenthood of New York City and the National Organization for Women. Upon my election, I joined the women's issues committee as its only male member to ensure our city's children learn about health from experts and was a co-prime sponsor with Women's Issues Committee Chair Laurie Cumbo of Introduction 952, that passed last month that requires the New York City Department of Education to produce a yearly report on school compliance with state regulations governing comprehensive health education and HIV/AIDS education for students in grades six through twelve. Comprehensive, age-appropriate health education for students is proven to improve student health and equip our kids with useful knowledge about proper health and hygiene.
School Food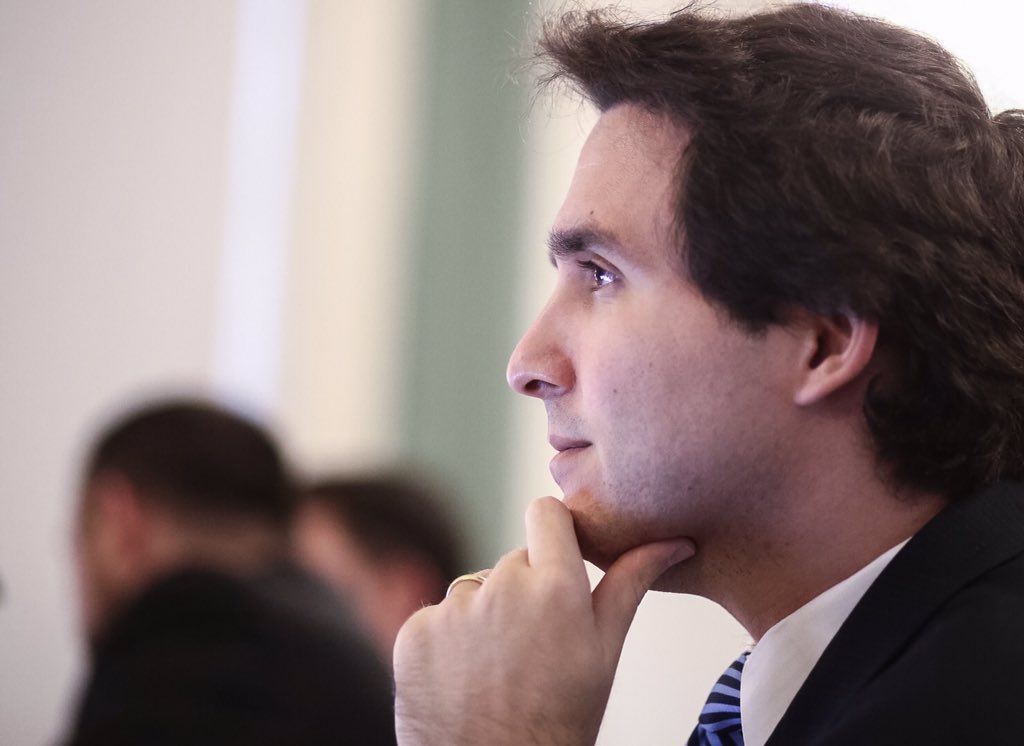 One quarter of New York City children are food insecure. For too many kids, breakfast of any kind, let alone a nutritious one, isn't available at home. School breakfast is their best, and often only chance to start their day with a full stomach. Yet New York City ranks second-to-last among 62 large school districts in effectiveness in reaching children eligible for free breakfast.
I have introduced legislation, Introduction 773, heard in the Education Committee, that requires schools to provide participation rates and information on what kinds of food our children are being served under school food programs like breakfast before and after the bell, salad bars, as well as after school supper and providing clear goals and strategies to maximize participation and eliminate hunger.
Healthy Happy Meals
Forbes has covered medical studies that show that my "Health Happy Meals" legislation, Introduction 442, would reduce calories children eat, helping us fight childhood obesity. The New York Post and Daily News covered a hearing on the legislation where the Council slammed the Mayor for not having an enforcement plan or any plan to fight the obesity epidemic. According to The New York City Department of Health, half of elementary school children are overweight, while one fifth of kindergarten students and one fourth of head start students are obese. The "Health Happy Meals" legislation, Introduction 442, is slightly more stringent than National Restaurant Association "Kid's Live Well" guidelines followed by 155 fast food restaurants including Burger King and Wendy's with incentives marketed to children tied to these standards and a serving of fruit, vegetables, or whole grain.
As a lover of the arts, I am proud to host an annual public school art show featuring student work at Sotheby's, in partnership with P.S. 183. Students throughout District 5 had the opportunity to have their artwork showcased at Sotheby's for two days and recognized at a reception for parents and family. I hope you will stop by to experience the talents of the generation of our future. This year the students' artwork will be displayed on February 23rd and 24th and the reception will take place on February 23rd from 5-7pm. Learn more at BenKallos.com/ArtShow.

TRANSPORTATION
NY1 covered the Department of Transportation new plans for the new Second Avenue presented last month at Community Board 8. The plans include a dedicated rush hour bus lane, designated loading and unloading zones for businesses, and a protected bike lane to minimize cyclists riding the wrong way on 1st Avenue.
Vision Zero has been one of the administration's most successful policies, making our city safer one intersection at a time. But more needs to be done to meet Vision Zero's goals. As I said at a press conference with safe streets advocates, as covered on WFUV, "we can invest dollars into saving lives. And a life is priceless."
In December, Community Board 8 passed a resolution requesting the Department of Transportation (DOT) present a proposal for crosstown bike lanes on the East Side, so pedestrians, cyclists, and cars can coexist more safely on our side streets.
On February 3rd, DOT will present its proposal to the CB8 Transportation Committee. The proposed bike lanes will be painted and will not cause the removal of parking spaces or vehicular traffic lanes.
The proposed locations are:
East 67th and 68th Streets between York and Fifth Avenues,

East 77th and 78th Streets between Cherokee Place and Fifth Avenue,

East 84th Street between FDR Drive and Fifth Avenue, and East 85th Street between East End and Fifth Avenue.
Please join the discussion on February 3rd, 6:30pm, at Rockefeller University, 1230 Fifth Avenue, Caspary Auditorium.
HOUSING
The City Council held a hearing at Holmes Towers in my district about the Mayor's plan to lease land owned by the New York City Housing Authority (NYCHA) to private developers to build a mix of affordable and market-rate housing. Although NYCHA has held numerous community meetings at Holmes Towers, which is planned for one of the first developments, the information provided has been thin. At the hearing, Public Housing Chair Ritchie Torres and I questioned NYCHA Chair Shola Olatoye and learned:
Even if tenants say "no" to the plan at community meetings, NYCHA intends to go forward;

There are up to 40 sites where NYCHA might build market-rate housing, while Mayor Bloomberg shared all 18 sites planned for infill, Mayor de Blasio and NYCHA refuse make the 40 sites public;

NYCHA plans to build 50% luxury marketrate housing instead of 100% affordable housing in order to bring in more revenue, but projected finances are not public; and

NYCHA will still proceed with infill even if the $300 million they could raise was received from the Battery Park City Authority.
Following the hearing, I joined Community Voices Heard for a rally, covered by the Daily News, asking the Mayor to make more information about the infill plan public and calling on the City and the State to commit $400 million to NYCHA over the next 10 years so our public housing tenants can get the repairs they need and we can use our public land for affordable housing only. NYC Comptroller Scott Stringer and Governor Cuomo have already endorsed the plan, which would use revenues from Battery Park City.
Affordable Housing Legislation
I continue to work with ProPublica on its investigation into the $1 billion in tax breaks provided to landlords for affordable housing and the 200,000 units that haven't been registered with the state. Following their reporting I introduced legislation, Introduction 1015, requiring owners of affordable housing to register those units with the Department of Housing Preservation and Development (HPD). I discussed this on the ProPublica podcast for an episode titled "Meet the People Taking on New York City Landlords." Take a listen.
On February 9th and 10th starting at 9:30am at City Hall the City Council's Land Use Committee on which I serve's Subcommittee on Zoning will hear two parts of the Mayor's housing and zoning plan: Zoning for Quality and Affordability (ZQA) and Mandatory Inclusionary Housing (MIH). You can read in my testimony to The City Planning Commission. As we consider these two proposals, we must do so with the goal of protecting the character of our neighborhoods. That means preventing out-of-scale development and building a city that is affordable for all New Yorkers. This is your last chance and I urge you to come out and have your voice heard.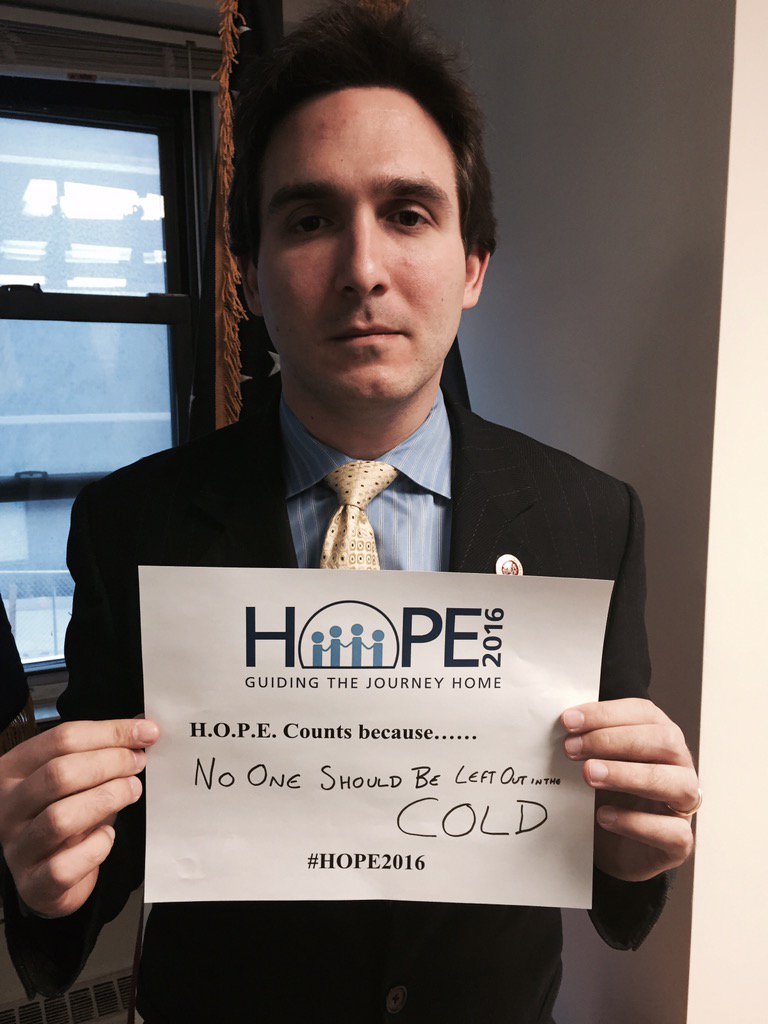 Please join me and the Department of Homeless Services (DHS) for the annual Homeless Outreach Population Estimate (HOPE) on Monday, February 8th, 2016 from 10pm in the evening to 4am in the morning. Volunteer today.
Homelessness has been on the rise with 23,416 children, 17,071 parents, and 12,845 single adults in our shelter system and the more than 3,100 people on our streets as of this Christmas. The HOPE Count is the City's annual effort, relying on volunteers, to get a more accurate count of our street homeless population.
Whether or not you volunteer for HOPE, you can help: If you see someone sleeping on the street whom you think is homeless, please call 311 within one hour and ask for them to dispatch a "homeless outreach team." The operator will connect you with the Department of Homeless Services (DHS) who will ask about where you saw the person, what they looked like, and offer you a call back to report on the status of your call. The whole process should take less than five minutes. Download the NYC 311 App (Android/iPhone) to do the same in 30 seconds or less by pressing "Make a Complaint," then "Homeless Assistance," entering information about the person, then click submit and you can even get a call back.
On January 5th my colleagues Council Members Garodnick and Mendez organized a forum which I was pleased to cosponsor, along with Community Board 6 and Manhattan Borough President Gale Brewer. At the forum, which was covered by Gotham Gazette, the Department of Homeless Services and Human Resources Administration Commissioner Steven Banks discussed the City's plans to improve homelessness throughout New York City and educated us on the processes in place to assist them homeless and hungry. We then opened a dialogue to discuss how to can improve the homelessness crisis in New York City. I thank my colleagues and fellow New Yorkers for organizing and participating in this important conversation.
MS 177 Yorkville East completed an 11-week theater residency program with Marquis Studios that was funded by my office. The 6th grade students wrote and performed an original piece on the current crisis in homelessness and refugees in our city and county. I was amazed not only at the talent of our young New Yorkers, but also with their empathy and call to action to help those who are less privileged. I reminded them that even at a young age they can not only inspire others to change the world, but also be the force to make it happen.
PARKS AND ENVIRONMENT
The Pocket Parks in the Sutton Area have a new conservancy, thanks to local neighbors including president Jack Barnett. I was pleased to support the City Council's Parks Equity Initiative that granted $6,000 to this new conservancy so we can make the most of our limited park space on the East Side. I hope we can grow full conservancies at John Jay Park and Stanley Isaacs so that every park in Council District Five will have a conservancy invested in its long-term well being.
I was proud to have stood on the steps of City Hall with the Beyond Coal campaign hosted by Senator Liz Kruger and the Sierra Club back in November. This month Governor Andrew Cuomo heeded our calls and announced the phasing out of coal plants by 2020. I look forward to a cleaner and greener New York.
Top Scores from Environmental Group NYLCV
For the second year in a row, I received a near perfect score from the New York League of Conservation Voters for my support and advocacy for a greener and more sustainable city. You can view the organization's report covering 2015 to learn about the efforts the City has begun to reduce waste, improve building energy efficiency, and increase recycling.
The Upper East Side suffers from one of the smallest percentages of park land throughout New York City, and one of my goals as your Council Member is to ensure that our green spaces serve the community. The Queensboro Oval, located under the Queensboro Bridge, serves as a ball field in the spring and summer, and in the remaining months the Queensboro Tennis Club covers the land with an inflatable bubble and charges rates for community usage.
As covered by Manhattan Express, I am working with Community Board 8 Parks Committee to bring this park back to the community once the Queensboro Tennis Club's lease expires. We hope to see this park become a space that New Yorkers can utilize for a variety of uses, free of charge.
JOBS AND EQUALITY
This month, I joined Governor Cuomo and Service Employees International Union 1199 to call for a statewide minimum wage of $15/hour. I also attended a rally hosted by Governor Cuomo with special guest Vice President Joe Biden calling for Paid Family Leave in New York State. This is a special moment for fair wages and equality in New York, and I hope these policies will become a reality this year. Thank you to our East Side Senator Liz Krueger for her long-time advocacy of these issues in the State Legislature.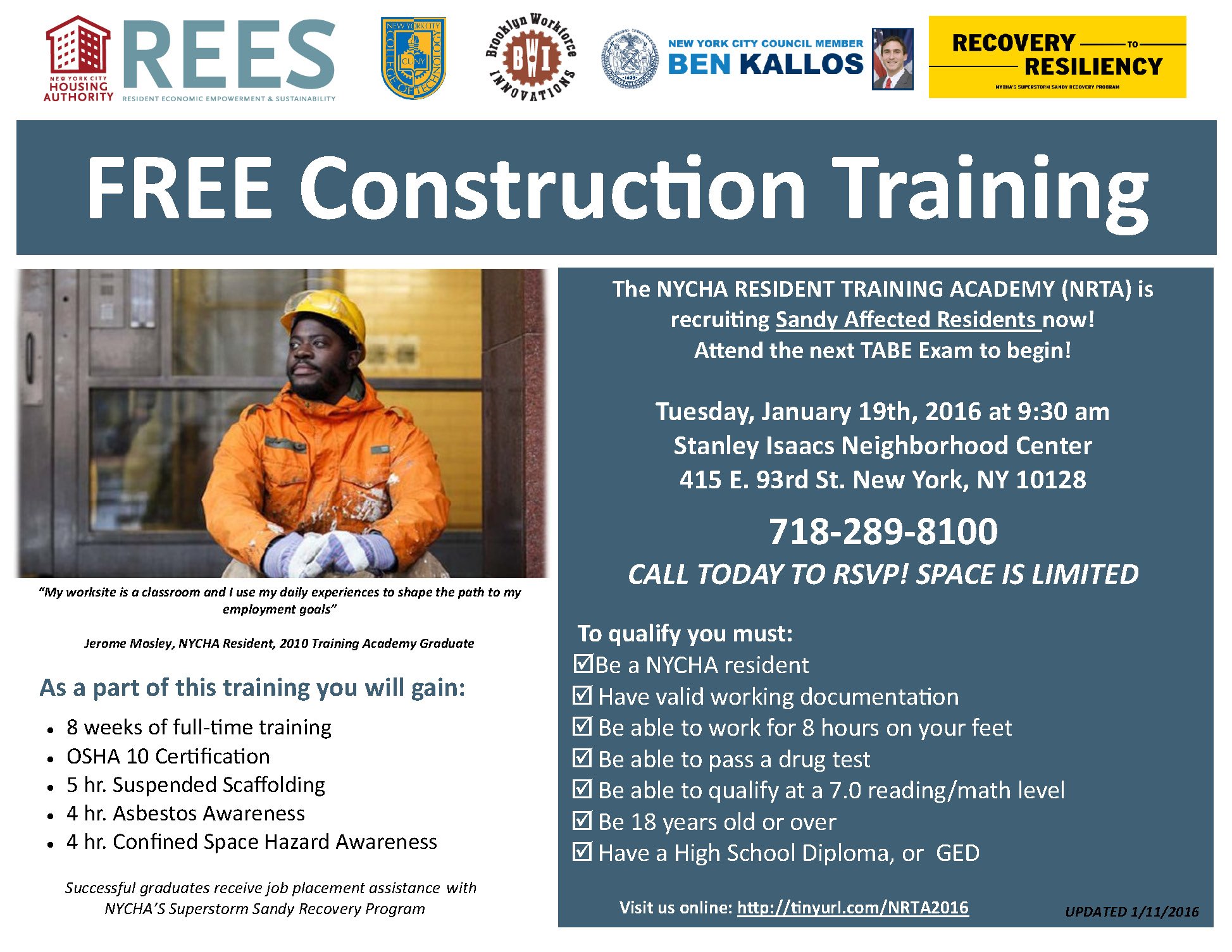 This past month I was pleased to bring the NYCHA Resident Training Academy (NRTA) to Stanley Isaacs Neighborhood Center for a TABE Exam. The TABE Exam is this first step to enroll in an 8 week construction training program that offers graduates an OSHA 10 certificate. Following graduation from the program, residents receive job placements at one of the Hurricane Sandy construction sites. NRTA is currently recruiting NYCHA residents who were impacted by Hurricane Sandy.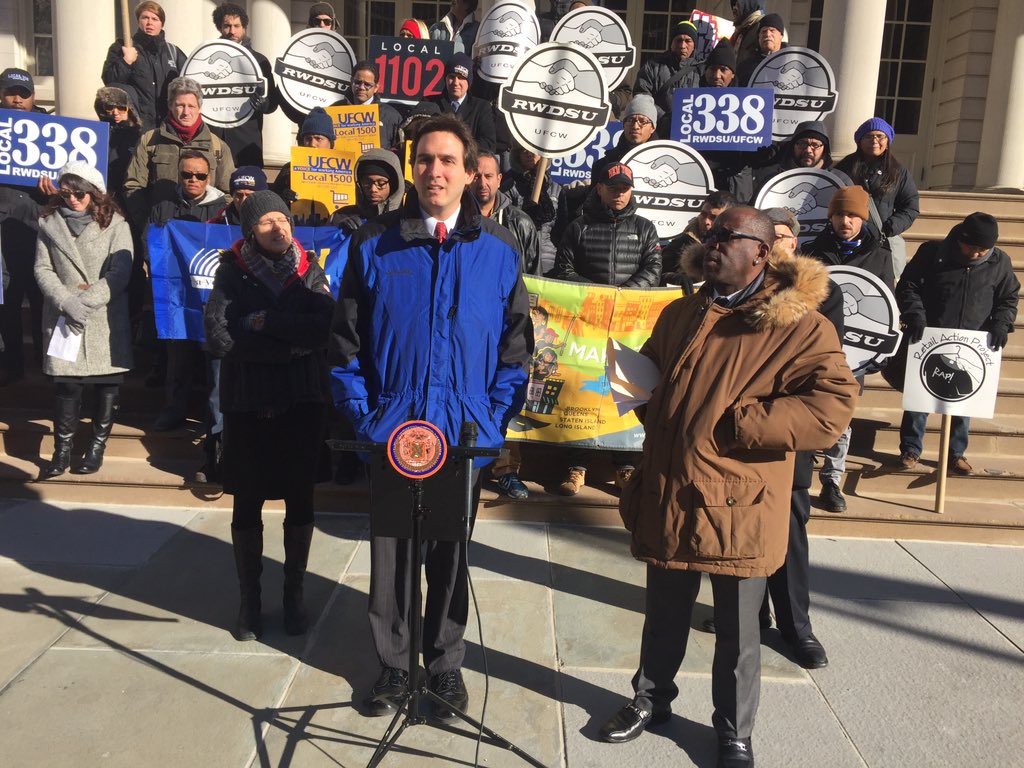 On January 19th, the City Council passed landmark legislation to protect hard working New Yorkers at risk of being displaced at their place of employment. The Grocery Worker Retention Act, of which I was a proud cosponsor, ensures that when a business changes ownership, workers have a fair chance to show their value and hopefully keep their jobs. Our workers deserve to know their knowledge, experience, and service to the neighborhoods they live and work in matters. The Grocery Worker Retention Act provides working families with financial stability and ensures communities will continue to be served by an experienced workforce.

TECHNOLOGY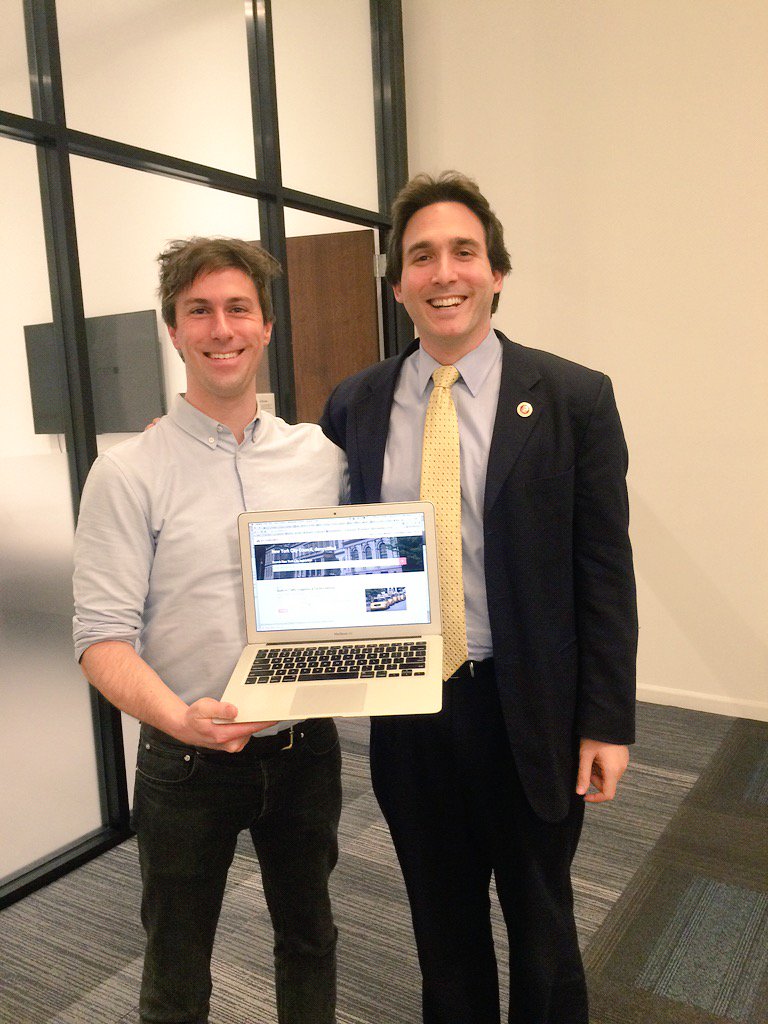 Ahead of it's one year anniversary, I held office hours at Civic Hall. Civic Hall is a place where social entrepreneurs, change-makers, government employees, hackers, academics, journalists, and artists gather to discuss creative solutions to complex problems. Democracy is about engaging people, not only in the thought making process, but in the implementation of ideas. This a was a great opportunity for me to talk and work with some of our City's most creative minds. Learn more about the innovative work being done at Civic Hall.
Free Law Founders on WashingTECH Podcast
I went on Joe Miller's WashingTECH podcast to discuss the Free Law Founders, an initiative I co-founded to develop open government solutions nationwide. We discussed the Free Law Founders' achievements opening up the law in New York, San Francisco, and Chicago, our goals for 2016 and why it will improve governments' effectiveness to make our legislation, law, and code public and online. Take a listen.
COMMUNITY
Asphalt Green Snowman Showdown
The first snow of the season is always the most fun! I had a blast partaking in a great community event, the Snowman Showdown at Asphalt Green. The 30+ inches of snow we received provided more than enough building material and the results were so creative. Sometimes it's nice for things to slow down and enjoy our neighbors and have some fun
Roosevelt Island Library Visioning Session
The New York Pubic Library is building a new, larger building to replace its current Roosevelt Island branch, with an expected opening in late 2017 / early 2018. The 5,200-square-foot building, which will add much-needed public programming space, will more than double the current building. I co-hosted a visioning session with the NYPL on January 14 with members of the public. View a schematic design presentation and public survey results which were presented at the meeting.

OFFICE UPDATES
On January 5th, the Mayor signed into law two bills I cosponsored:
The first, Int. 108-A, adds "caregiver" as a protected class under the New York City Human Rights Law; prohibiting employers from denying someone a job solely because he or she is a caregiver to a child, parent, spouse, or other family member. Many New Yorkers, including myself, are or have been the primary caregiver for a family member. Now, those individuals will not be denied a job because they sought, or are perceived to seek, reasonable accommodations to care for anther.
The second bill, Int. 124, requires the New York City Economic Development Corporation (EDC) to submit annual job creation reports to community planning boards. When projects occur with a community board, it is important for those boards to have the same reports as other city entities and to know the projected and actual jobs created and retained by that project.
January has been a busy month in the neighborhood and I've had the opportunity to attend many community meetings and events. Here are a few: Community Board 8, Community Board 6, Community Board 11, Community Board 8 Transportation Committee, 19th Precinct Community Council, 17th Precinct Community Council, Holmes Tenants Association, Stanley Isaacs Tenants Association, East 79th Street Neighborhood Association, East 72nd Street Neighborhood Association Inaugural Meeting, and Sutton Area Community's Annual Meeting.
Volunteers at our Council office learn firsthand about city government and work closely with the East Side and Roosevelt Island Communities. Volunteers can work regular business hours or nights and weekends with a focus on attending events and community organizing. If you would like to join the team or have further questions please email internship
BenKallos [dot] com (internship
BenKallos [dot] com).
Family Law and Domestic Violence Clinic
Second Monday, 2-6pm, District Office
The Urban Justice Center will hold a free family law and domestic violence clinic. Call my office in advance to reserve an appointment.
Housing Clinics (New schedule!)
First and third Monday, second and fourth Thursday, 3-6pm, District Office
Eviction Intervention Services and CUNY School of Law provide free housing law consultations. Call for your appointment.
Get assistance wherever in the district you are when we bring our office to you. Please join us at monthly mobile district hours from 2-5pm:
Stanley Isaacs Neighborhood Center, 415 East 93rd Street, 2nd Tuesday

Carter Burden Center for the Aging, 351 East 74th Street, 3rd Wednesday

Lenox Hill Neighborhood House, 331 East 70th Street, 4th Tuesday

Roosevelt Island Senior Center, 546 Main Street, 4th Wednesday
The "Ben in Your Building Program" is a chance to discuss issues of importance to you and your neighbors in person, in your home. If you gather 10 or more friends, I will come to you. Over the past year, I have visited several buildings to discuss matters of importance in the neighborhood, including efforts to fight the marine transfer station, sanitation and condo owner issues. Please call 212-860-1950 or email scheduler
BenKallos [dot] com in order to schedule a "Ben in Your Building" event.
2/5: February First Friday and Birthday Party
8-10am, Office of Council Member Kallos, 244 East 93rd Street
Please join Council Member Ben Kallos for a very special First Friday celebrating his 35th Birthday with party favors and birthday cake. RSVP to join the party.
2/9: February Policy Night
6pm, Office of Council Member Kallos, 244 East 93rd Street
RSVP to share your ideas.
2/18: Energy Forum
6:30pm, Lenox Hill Neighborhood House, 331 East 70th Street
Hear from experts in the environmental field, learn how to save money on your utilities bills, and easy ways to save energy. Please note the location is tentative. Participants who RSVP will receive an update if anything changes.
2/23: FDNY Free Smoke/CO Alarm Installation Program
11am-2pm, Office of Council Member Kallos, 244 East 93rd Street
Keep your family safe! Visit our office and get a free Smoke/CO alarm installed in your home. Please RSVP.
2/23: District 5 Art Show Reception
5-7pm, Sotheby's, 1334 York Avenue, New York, NY
Join us for a reception featuring the artwork of students throughout District 5 Public Schools. Please RSVP.
Saturdays and Sundays: Romance Tours
11am-4pm, Mount Vernon Hotel Museum and Garden, 421 East 61st Street
Celebrate the spirit of Valentine's Day throughout the month with a special tour focusing on men and women's relationships and courtship in the 1800s. Included with admission but reservations required.
2/8: Historic Districts Council Preservation School Zoning 101 Class
6pm, Neighborhood Preservation Center, 232 East 11th Street
Upzoning, downzoning, Floor Area Ratio, oh my! Participants will learn the basics of zoning vocabulary and policies. HDC advisory board member, Hunter Armstrong will illuminate what zoning and changes in zoning regulations mean for your community's historic built environment. Register here.
2/13: Family Saturdays with New York City Ballet
11am-12pm, David H. Koch Theater, Lincoln Center, Columbus Avenue and West 63rd Street
Family Saturdays is an exciting one hour presentation for families with children ages 5 and above that features short works and excerpts performed by NYCB dancers and orchestra members. This program is the perfect introduction to New York City Ballet and the world of classical dance.
A limited number of specially discounted $5 tickets are available for the February 13th program (regular price is $22). To purchase discounted tickets for Family Saturdays visit: http://www.nycballet.com/Educate/Public-Programs/Family-Saturdays.aspx, click on the Buy Tickets option, and enter the promo code: 5FAMILY. You can also purchase tickets by calling the NYCB Call Center at 212-496-0600 and mentioning the 5FAMILY promo code.
2/20: Upper Green Side Shred-A-Thon
10am-2pm, 82nd Street Greenmarket, Between First Avenue & York Avenue
Bring your old documents, correspondences, bills, etc. to safely dispose of them.
2/21: Washington's Birthday Ball
1-3pm, Mount Vernon Hotel Museum and Garden, 421 East 61st Street
Bring the family to celebrate the birthday of our Nation's First President as New Yorkers did in the 19th century. Costumed dancers will perform and teach traditional country dances and encourage visitors to join in. Festivities include toasts to George Washington and historic refreshments. Museum tour and a family scavenger hunt will also be offered. Reservations requested. $15 Adults, $10 Members and Children under 12.
Wednesdays: AARP Tax Prep
9am-1pm, Lenox Hill Neighborhood House, 331 East 70th Street
AARP will provide free tax preparation for low and middle income New Yorkers of all ages. First come, first served.
2/1: Advanced PowerPoint Computer Class
1-3pm, 67th Street Library, 328 East 67th Street
2/4: NYLAG Free Naturalization Clinic
10am-3pm, DLA Piper LLP, 1251 Avenue of the Americas, New York, NY
Space is limited and you must call to sign up for this event: 212-946-0345.
2/5: AARP Tax Aide
10am-2pm, 67th Street Library, 328 East 67th Street
Must bring all 2015 Documents
2/6: Volunteer Gardening
9:30am-12:30pm, Carl Schurz Park, 86th Street and East End Ave
2/8: Google Drive & Docs Computer Class
1-3pm, 67th Street Library, 328 East 67th Street
2/9: Superhero Workshop (Teens)
3:30-4:30pm, 67th Street Library, 328 East 67th Street
2/12: AARP Tax Aide
10am-2pm, 67th Street Library, 328 East 67th Street
Must bring all 2015 Documents
2/14: Argentine Tango
1:30pm, Lenox Hill Neighborhood House Auditorium, 331 East 70th Street
"Argentine Night" featuring the Alexander Wu and Tango X Piano Trio, brings to life the rich culture and history of Argentina through its music, particularly the Tango. Free to members of Lenox Hill Neighborhood House programs and children aged 12 and under; all others $5 suggested donation.
2/19: AARP Tax Aide
10am-2pm, 67th Street Library, 328 East 67th Street
Must bring all 2015 Documents
2/20: Green Park Gardeners Presentation: Creating Pollinator Victory Gardens
2-4:30pm, 67th Street Library, 328 East 67th Street
2/22: MS Excel for Beginners Class
1-3pm, 67th Street Library, 328 East 67th Street
2/24: Upper East Side Story Oral History Project Interviewer Orientation
6-8pm, 67th Street Library, 328 East 67th Street
2/26: AARP Tax Aide
10am-2pm, 67th Street Library, 328 East 67th Street
Must bring all 2015 Documents
2/27: Upper East Side Story Oral History Project Interviewer Orientation
6-8pm, 67th Street Library, 328 East 67th Street
Same as 2/24 session.
2/29: MS Word for Beginners Class
1-3pm, 67th Street Library, 328 East 67th Street
COMMUNITY RESOURCES
Volunteers of Legal Service (VOLS) Elderly Project Legal Clinic
Volunteers of Legal Service, Inc. Elderly Project Legal Clinics on the Upper East Side are held at the Carter Burden Center for the Aging (351 East 74th Street) on the second Friday at 2pm and at the Stanley Isaacs Senior Center (415 East 93rd Street) on the 3rd Friday at 10am. Contact information is as follows:
At Carter Burden: Velda Murad, LMSW at 212-879-7400 (fax 212-879-9864)
At Stanley Isaacs: Amy Loewenberg, LCSW, ACSW at 212-360-7620 ext 112 (fax 212-360-7629)
El Museo del Barrio Group Visits for Schools
El Museo offers a variety of free guided visits facilitated by museum educators for grades Pre-K – 12. All of their programs are offered in English, Spanish, or as bilingual programs. K-12 Guided visits and hands-on workshops align with NYS Learning Standards, NYC Blueprint for the Arts, National Visual Arts Standards, and Common Core State Standards.
During their inquiry-based guided visits, museum educators facilitate interactive discussions while encouraging observation and discovery, analysis and interpretation as well as the sharing of individual perspectives. Groups have the option of a sixty-minute art making workshop to enhance their guided visit. Hands-on workshops can include a variety of materials and forms such as printmaking, painting, collage, drawing, creative writing, and movement.
For additional information and to book a visit please visit their website.
Metropolitan Coordinating Council on Jewish Poverty (Met Council) Hotline
Met Council provides immediate aid to people in crisis and creates pathways to self-sufficiency through: the largest kosher food pantry system in America, emergency financial assistance, domestic violence intervention, home repairs, homecare, benefits enrollment and affordable housing.
You can call their hotline at 212-453-9539 to receive information and referrals, case management, and if necessary financial assistance to mitigate pending eviction or utility shut off.
It's getting cold out there. If you have an old jacket, let's not forget about those out there who are cold. There are many coat drives throughout the district. Please check out the drop of locations and help keep New York warm.

DOROT – Serving Older Adults for 40 Years

Interested in participating in a lively discussion from the comfort of your own home? Join us on DOROT's University Without Walls, our teleconference program that offers hundreds of classes and conversations each year on the arts, history, current events, wellness and more. Experts facilitate lively discussions and classes are always kept small so everyone can participate.

DOROT offers a diverse range of programs for older adults, including our Door To Door program, where specially-trained travel companions escort seniors to medical appointments. To learn more, please visit our website at www.dorotusa.org or call 212-769-2850.