Happy Labor Day, welcome back to school, and for those who celebrate it, Happy Jewish New Year.

New York City is the first city in the country to guarantee legal representation to tenants facing eviction with a new "Right to Counsel." We also enacted laws I authored to protect tenant safety from landlords who fail to make repairs or never finish.

Commutes are getting better. We launched a ferry service on Roosevelt Island, after years of advocacy, travel is now available by air (by tram), land (by car, bus, and train) and now water (by ferry), all offering improved commutes. Ferry service will be coming to the Upper East Side next year. You may have noticed new bus countdown clocks throughout the neighborhood. I also proposed solutions for the MTA to improve subway service and hope you will join our fight to cuts to crosstown bus service.

I hope you will join us for our annual Town Hall with city agencies and free reusable bags, as well as our Emergency Preparedness Event with Free Go Bags.

Sincerely,


Ben Kallos

P.S. Brain Storm with Ben is canceled in September so it does not conflict with the Primary Election.
First Friday is canceled in October for Religious Observance of Sukkot.

SPECIAL EVENTS

September 19, 6PM
Annual Town Hall

September 27, 6PM
Emergency Preparedness
with FREE Go Bags

DISTRICT OFFICE EVETS

September 1, 8AM-10AM
First Friday

September 7, 14, 21, 28,
3:30PM - 6:30PM
Fresh Food Box

Septmber 12, 20, 27, 11AM - 2PM
Mobile Hours

September 4, 5, 11, 18, 20, 25,
3PM - 6PM
Free Legal Clinics

September 28, 6:30PM
CitiBike Street Skills Class
TRANSPORTATION
FIGHTING FOR TENANTS
INVESTING IN OUR ECONOMY
RESOURCES
EVENTS
As I wrap up my first term in the City Council, City and State reported "a comprehensive ranking of the best – and worst – members of the New York City Council." There are 51 Council Members that represent New Yorkers in the City Council who were rated on attendance, number of bills introduced, number of bills passed and even how responsive each office is to the press and to constituents. I am proud to report that whether it was best overall, attendance, or bills introduced and passed into law, my office and I consistently ranked among the best as the top 5.
Come hear the latest updates on projects in our community from these agencies and ask them any questions you have. The agencies that will be in attendance and the topics they will discuss are listed below.
9/19: Annual Townhall with Free Reusable Bags
6pm Memorial Sloan Kettering, 430 East 67th Street
Department of Education - Pre-K for All
New York City Parks Department - East River Esplanade
Fire Department of New York - Fire Safety
and more...
Every household should have a Go Bag, so that in the event of an emergency, you can grab what you really need and go. To stay up to date on potential hazardous weather affecting our area, my office has teamed up with the Office of Emergency Mangement to distribute Go Bags to the community.
Go Bag Giveaway Office of Emergency Management
Wednesday, September 27
6pm Jan Hus,351 East 74th St, New York, NY 10021
RSVP
TRANSPORTATION
Launching the Roosevelt Island Ferry
Since 2012, before I was elected, I have been advocating for ferry service for Roosevelt Island as a part of the Roosevelt Island Community Coalition. I was proud to join Congress Member Maloney, Senator Gianaris, Council Members Constantinides, Van Bramer and Rodriguez, Transportation Commissioner Polly Trottenberg, RIOC President Susan Rosenthal as well as community leaders for the innaugural ride from Astoria to Rooseevlt Island to Lower Manhattan. Roosevelt Island Ferries will run every 25 minutes during rush hours. Making the trip from Roosevelt Island to East 34th Street in just 19 minutes. Now Roosevelt Islanders can travel by tram, land, and now water, all offering improved commutes. I am proud to be a part of a City government that finally made it a reality. Thank you to Mayor Bill de Blasio and the Economic Development Corporation for reclaiming our waterways and bringing ferry service citywide and to the Department of Transportation for helping make this come to reality. For more information read the release at BenKallos.com/press-releases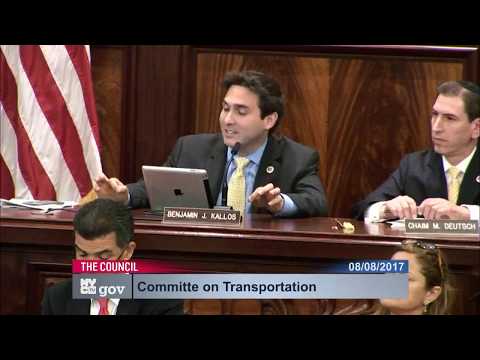 amNY covered the City Council's August Transportation Committee hearing, held to discuss the conditions of the subways and what could be done to improve them. At this hearing, I was able to question the MTA specifically about performance metrics, accessibility, how subways in Moscow run more frequently than here in New York City and pressed them to hold off on planned bus service cuts until the subway crisis is resolved. You can watch the 6 minutes of questions and answers held during this hearing.
As I mentioned to you in my August newsletter, we continue to fight planned service cuts by MTA to crosstown bus service on the M31, M66, M57 and M72, which will be cut by as much as 33%. Please join us and the East 72nd Street Neighborhood Association in our petition at BenKallos.com/share/crosstownbus
In 2014, bus countdown clocks were your choice in Participatory Budgeting, and just a few years later its gone from an idea to a reality with the installation at 15 bus stops across the district, as covered by DNAinfo. We also placed the final Upper East Side CitiBike station on 93rd street.
You can find out which bus stops already have countdown clocks or are being considered at BenKallos.com/press-releases
FIGHTING FOR TENANTS
Tenants will now be protected from unscrupulous landlords who never make or finish repairs through legislation signed into law on August 30, known as the Stand for Tenant Safety (STS). It consists of 11 bills authored mainly by members of the Progressive Caucus that I am proud to lead. Landlords often fail to make repairs or use never ending construction to harass and force rent-regualted tenants out. Introductions 930 and 931, which I authored, will ensure that when the city issues violations, landlords not only pay them, but also address the issues and actually improve quality of life. If a landlord won't fix problems then the city should step in and find a landlord who will. Read more in the release at BenKallos.com/press-releases
Right to Counsel Signed into Law
Housing is a right that will now be protected by providing every New Yorker facing eviction with consultation or representation by a lawyer. Right to Counsel legislation was signed into law guarunteeing this new right. As Vice-Chair for Policy of the Progressive Caucus, I am proud to have fought for this legislation that will keep many families, who would have otherwise have been evicted, off the streets, out of our shelter system and in their homes. Thank you to Speaker Melissa Mark-Vivertio as well as Council Members Levine and Gibson for their tireless commitment to getting this legislation passed by the City Council and signed into law. Read more in the the release at BenKallos.com/press-releases
INVESTING IN OUR ECONOMY
Cornell Tech Roosevelt Island Community Day
Cornell Tech on Roosevelt Island is set to officially open up in September. In August I had the opportunity to join Congress Member Maloney, Senator Serrano, Assembly Member Seawright, RIOC President Susan Rosenthan, school administrators and families of incoming students as Cornell Tech hosted Roosevelt Island Community Day. I am excited and am looking forward to Cornell Tech becoming a tech and jobs hub on Roosevelt Island. I am proud of the work we have done with the community to ensure that much of Cornell NYC Tech's construction was done by barge and stayed on track without harming the Island. We've also worked to foster partnerships between Cornell NYC Tech and P.S./I.S. 217 as well as the Roosevelt Island Senior Center. I look forward to cutting the ribbon in September.
7 Open Source Myths Debunked Gov Loop
Gov Loop featured legislation I have introduced to increase the use and access to Free and Open Source Software (FOSS) in City government in its special printed edition 7 Open Source Myths Debunked. Using software with a FOSS license means that if one city or agency improves software code, everyone benefits – a smart, collective approach that represents the future of tech-savvy government. New York City can save millions – if not billions – by collectively financing the development of software for government use by the federal, state, as well as more than 289 other cities. My legislation requires the city to consider FOSS before purchasing proprietary software that belongs to a vendor such as Microsoft – in order to escape the current system of waste where different agencies pay multiple times for the same software from a single vendor. For more information read the bill at BenKallos.com/legislation
Bridging the Digital Divide at Personal Democracy Forum 2017
Back in June as part of Personal Democracy Forum 2017, I participated in a panel discussion with Charter Communications executives and other industry experts moderated by New York 1 anchor Cheryl Wills. The conversation centered around the importance of bridging the digital divide by providing low-income New Yorkers with access to low-cost high-speed Internet. Charter Communications and I have been leading this effort through a partnership that goes back to 2015. After years of working together earlier this year, Spectrum Internet Assist became reality. For more information on Spectrum Internet Assist and my work with Charter Communication read the release at BenKallos.com/press-releases
Legislation to Respond to Noise
Fox 5 reported on legislation I introduced in June of this year designed to improve the way New York City responds to the number one 311 complaint; noise. The legislation I authored was introduced with Environmental Committee Chair Costa Constantinides to require timely responses to noise complaints. According to a 2016 analysis of 311 data, it takes the Department of Environmental Protection (DEP) an average of four and a half days to close a noise complaint. Under this bill, the DEP would have to send an inspector within two hours, or at a later date, but within an hour of the time a noise complaint about construction or commercial establishment is received. For more information on the bill read the release, the legislation or the original coverage in the New York Times.
Chasing News covered my scaffolding legislation that would require building owners to keep facade work going non-stop and set a limit on landlords to get the work done in months, not years, or else the city would do the work and make bad landlords pay the cost. There are nearly 9,000 scaffolds that cover almost 200 miles of the City's sidewalks. We all know scaffolding is supposed to be temporary to protect pedestrians from dangerous conditions, but since it is cheaper in many cases to keep scaffolding up, rather than do the work, some landlords have been abusing the system leading to unnecessary scaffolding in many parts of the City. My legislation will fix that problem and correct the behavior of such building owners. For more information on the bill read the release or past coverage on the legislation by The New York Times.
National Night Out Against Crime
I had a great time with the local residents as we celebrated National Night Out Against Crime with the 17th, 19th and 23rd precincts in early August. Hundreds of residents came out to the streets to get to know their local police. There was music, food, and prizes for those who came out, but what is most important about National Night Out Against Crime events are the relationships that are forged during these festive encounters between children, teenagers, adults and the police officers that patrol their neighborhoods. Events like this are the textbook definitions of what community policing is and I am proud to have been there to support it.
Protecting the East 91st Street Plaza
Since my election in 2014, I have been working with Community Board 8 Member Rita Popper and David Rosenstein with support from RY Management and the DeMatteis Organizations to make the East 91st Street play street (also known as James Cagney Place), which has been closed to traffic for as long as I've been alive, an official plaza in order to protect it from ever being re-opened for garbage trucks or other vehicles. Part of becoming an official plaza includes introducing year round programming, and with support from Department of Transportation, we've hosted jazz nights and a movie screening in August. Let me know if you enjoyed the events or want to support our plaza.
Protecting and Strengthening the Affordable Care Act with Congress Member Maloney
It was my pleasure to join Congress Member Carolyn B. Maloney in August for a roundtable at NYC + Health Hospitals/Bellevue to discuss the importance of protecting and strengthening the Affordable Care Act. The Roundtable consisted of healthcare professionals and experts as well as concerned patient advocates and residents who wanted to learn about the topic. Many amendments were necessary to pass this historic legislation through Congress, but now is the time to revisit those amendments and make the law even stronger. Thank you to Congress member Carolyn Maloney for leading the charge on protecting and improving the Affordable Care Act. For more information on the event and on what can be done to protect the Affordable Care Act read the release.
RESOURCES
We are here to help. My social work team can help you find out what services you are eligible for and assist you in your application. Some examples include:
Seniors: Medicare savings, Meals-on-Wheels, Access-A-Ride
Housing: searching for affordable units, free legal housing clinic at my office
Jobs: training resources and assistance, unemployment benefits
Families: Universal Pre-K, Head Start, After-School programs
Finances: cash assistance, tax credits, home energy assistance
Nutrition: WIC, free meals for all ages
Please also call us at 212-860-1950 or email at bkallos@benkallos.com with any unresolved 311 complaints.
Need a lawyer? Every month I sponsor legal clinics where you can get free legal advice in my District Office at 244 East 93rd Street from 3pm-6pm:
Housing Clinics, Every Monday
Family Law and Domestic Violence, 1st Tuesday
Life Planning Clinic, 3rd Wednesday
Please call my office at 212-860-1950 in advance to schedule your appointment.
Get assistance wherever in the district you are when we bring our office to you. Please join us at monthly mobile district hours from 11am-2pm:
Each year my office provides discretionary funding to non-profit 501(c)(3) organizations that serve residents of Council District 5. We have curated a list of resources funded in part by my office so that you can take advantage of them for free.
The "Ben in Your Building Program" is a chance to discuss issues of importance to you and your neighbors in person, in your home. If you gather 10 or more friends, I will come to you. Over the past year, I have visited several buildings to discuss matters of importance in the neighborhood, including efforts to fight the Marine Transfer Station, sanitation and condo owner issues. Please schedule a "Ben in Your Building" today by calling 212-860-1950 or email scheduler@benkallos.com.
EVENTS
9/1: First Friday
8:00am-10:00am, District Office, 244 East 93rd Street
Meet Ben in person and meet with your neighbors to discuss what's important to you. Feel free to drop in or leave at any time during First Friday. Learn about what is happening in your community and how to get involved in working together to make our neighborhood a better place to live.
(Cancelled in October Due to Religious Observance of Sukkot)
RSVP
9/12: CANCELED: Brainstorm with Ben (Cancelled Due to Conflict with Primary Election)
9/7, 9/14, 9/21, 9/28: Fresh Foodbox
3:30pm – 6:30pm, District Office, 244 East 93rd Street
The GrowNYC's Fresh Food Box at my district office continues to see growing turnout as more and more residents sign up each week for a $14 bag of locally farmed produce to pick up the following week. If you are interested come to my office any Thursday between 3:30PM and 6:30PM. Learn more at BenKallos.com/FreshFoodBox
9/19: Annual Townhall with Free Reusable Bags
6pm Memorial Sloan Kettering, 430 East 67th Street
Come hear the latest updates on projects in our community from these agencies and ask them any questions you have. The agencies that will be in attendance are the topics they will discuss are listed below.
Department of Education - Pre-K for All
New York City Parks Department - ast River Esplanade
Fire Department of New York - Fire Safety
and more...
9/27: Go Bag Giveaway Office of Emergency Management
6pm Jan Hus,351 East 74th St, New York, NY 10021
Every household should have a Go Bag, so that in the event of an emergency, you can grab what you really need and go. To stay up to date on potential hazardous weather affecting out area, my office has teamed up with the Office of Emergency Mangement to distribute Go Bags to the community.
RSVP
9/28: CitiBike Safety Class
6:30pm - 8:00pm, District Office, 244 East 93rd Street
RSVP