Gotham Gazette Federal Government Paves Way for City-Backed Retirement Savings Program by Ben Max
Federal Government Paves Way for City-Backed Retirement Savings Program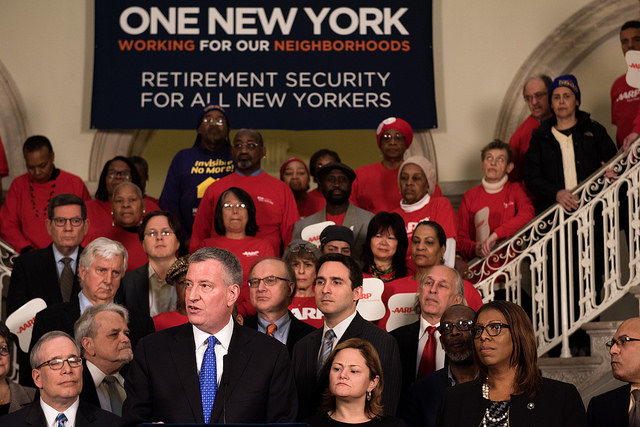 Mayor de Blasio at a February rally (Demetrius Freeman/Mayor's Office)
Responding to interest from cities including New York, the federal Department of Labor has ruled that certain municipalities can establish publicly-run retirement savings programs for private-sector workers whose employers do not offer such a program.
In February, Mayor Bill de Blasio announced his intention to create a new retirement-savings program during his State of the City speech, citing the fact that more than half of private sector workers in New York City do not have access to a retirement savings program through their place of work. New York City could become the first city in the country to launch such a program, which exist in five states.
The de Blasio administration hailed the Department of Labor ruling, which was posted December 19, as a key step in making the plan a reality.
"We applaud the United States Department of Labor for taking this important step toward building retirement security for everyday Americans," said de Blasio spokesperson Freddi Goldstein, in a statement to Gotham Gazette. "For the better part of the year, we have been advocating and preparing to become the first city in the country to create a retirement savings program for private sector employees, and with the recent DOL rule, we are one step closer."
Soon after de Blasio's February announcement, the mayor rallied at City Hall with other top elected officials and advocates in support of creating a private-sector retirement-savings program in New York City. The mayor said he would be working with City Council Speaker Melissa Mark-Viverito, Public Advocate Letitia James, and City Council Member Ben Kallos on legislation. In June 2015 Public Advocate James released a reporting highlighting gaps in retirement savings for many New Yorkers. City Comptroller Scott Stringer, who oversees the city's public pension system and was at the time studying the best path for a private sector program, also attended the rally in support.