Gotham Gazette Election Commissioner's Rant Prompts Dispute Over IDNYC and Voter ID in New York by Samar Khurshid
Election Commissioner's Rant Prompts Dispute Over IDNYC and Voter ID in New York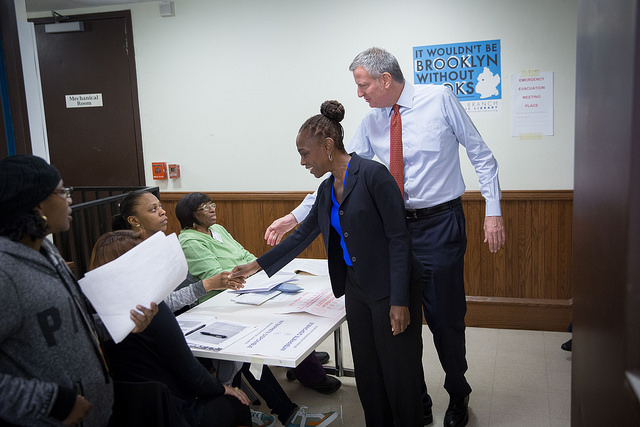 Mayor de Blasio & First Lady McCray arrive to vote (photo: Michael Appleton/Mayor's Office)
---
City Council Member Joe Borelli, one of three Republicans in the 51-seat City Council, on Tuesday called for a hearing on voter fraud and said that he supports a statewide voter identification law to combat potential fraud. Borelli's calls came after the release of a secretly-recorded video that showed a Democratic Commissioner for the city Board of Elections claiming significant voting fraud and criticizing the city's municipal identification program for contributing to it.
Borelli, who sits on the Council's governmental operations committee, which has oversight of the Board of Elections, wrote to committee chair Ben Kallos, a Democrat from Manhattan, requesting the hearing. Kallos told Gotham Gazette on Thursday that he disagrees with Borelli about the need for a state voter identification law and said that he will bring up the fraud allegations by BOE Commissioner Alan Schulkin at an already-planned elections oversight hearing in October.
Schulkin's comments and the call for a voter identification law also prompted strong rebukes from the offices of Mayor Bill de Blasio and City Council Speaker Melissa Mark-Viverito.
The video in question, first reported by the New York Post, is the work of Project Veritas, a conservative group that purports to investigate corruption in public institutions through hidden camera exposes. The group's founder, James O'Keefe, has a checkered history of using 'gotcha' tactics and manipulated videos to pursue his agenda.