Gotham Gazette City Council Members Question BOE Boss Ahead of Election Day by Samar Khurshid
City Council Members Question BOE Boss Ahead of Election Day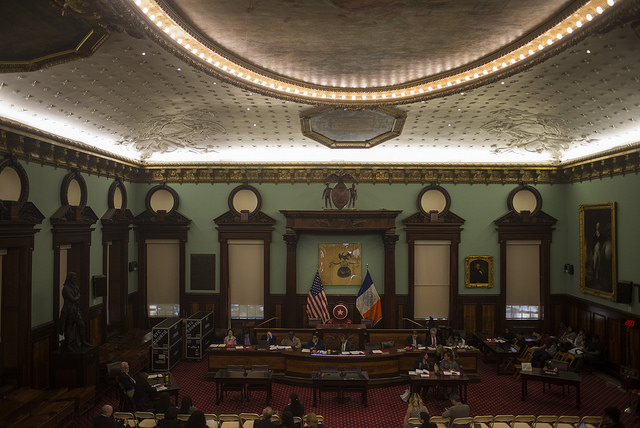 The New York City Board of Elections is well prepared for the upcoming general election save for minor hiccups, its executive director testified on Wednesday at the City Council.
At an oversight hearing held by the Council's Committee on Governmental Operations, BOE Executive Director Michael Ryan laid out the board's preparations for the November 8 Election Day and fielded a variety of questions from Council members on topics like voter fraud allegations, helping homeless New Yorkers vote if eligible, and modernizing the voting process.
It'll be a herculean task for the board as it installs 68,001 individual pieces of equipment at 1,205 poll sites across the city, manned by more than 36,000 poll workers armed with 2,952 tablets to quickly and effectively communicate issues as they come up as well as results at the end of the day. The tablet pilot program, Ryan said, is now a full-fledged unit that has been integrated into election management.
It's been a busy year for the BOE, which has been dogged for years by issues related to staffing, cronyism, and incompetence. There have been multiple elections this year already -- the presidential primary in April, the congressional primary in June, and the September state level primary. It also managed a special election for a City Council seat in February. Taking lessons from those elections, the board has stepped up efforts to ensure the November 8 general runs smoothly. It has focused on making poll sites comply with the Americans with Disabilities Act, hiring ADA coordinators for the election. The board has also increased its outreach and recruitment efforts, according to Ryan. Nearly 5,000 poll workers were recruited just through ads on the city's mass transit system.
So far, across the five boroughs, between 79 and 93 percent of poll worker positions have been filled, Ryan said. The BOE has also taken steps to make certain that polling sites do not run short on ballots, printing more ballots than the number of voters registered and also providing ballot-on-demand printing machines at certain sites in case of emergencies. The board also distributed 34,145 absentee ballots for federal and military personnel, of which 11,432 have already been returned.