April News: Quality of Life, a Better Budget, and Still Time to Vote on $1 Million
Friend,

We continued our fight against the construction of the Marine Transfer Station as the tragic death of East Sider Jodi McGrath further substantiated concerns about garbage trucks driving down side streets in this dense residential neighborhood. `

I introduced legislation this month to empower residents to engage our government and participate in our democracy. Government should work for its residents, not special interests. By reforming antiquated ballot access laws and making large campaign donations unnecessary, we can increase the pool of viable candidates for office and give voters real choice on the ballot. By centralizing the City's websites and information into a single app through Single Sign On legislation, we are streamlining a vast bureaucracy and allowing residents to access the information they need.

On the affordable housing front, I helped negotiate significant amendments into the Mandatory Inclusionary Housing and Zoning for Quality and Affordability proposals and saw an encouraging update in our fight against the superscraper at Sutton Place.

Join more than 2,000 residents who have already voted in deciding how $1 Million is spent on projects in the community. Vote online today or in person in my office or at the remaining sites by April 3.

For free reusable bags and helpful information, sign up for composting and electronics recycling in your building and much more at an Earth Day Forum. What will your Earth Day resolution be?

Sincerely,

Ben Kallos
Council Member

P.S. I hope we will see you in my office this Friday, April 1st at First Friday. This is not a joke, but bring a good joke if you've got one.

Specials Events:

April 7: Bike Safety for Commercial Cyclists

Free safety vests, bells & lights for participants

Free bags, onsite composting and e-recycling

Free mammograms at no cost

Monthly Events:
Top Headlines
Education and Children's Health
Elections and Voting
Governmental Operations and Technology
Community
Office Updates
Events and Community Resources
Decide How to Spend $1 Million in Our Community
Join over 2,000 residents who have already voted on how we spend $1 Million on community projects in Participatory Budgeting. From March 26 through April 3, residents of Council District 5, who are 14 or older, can vote on which projects get the $1 Million. This year, projects competing for capital funds include libraries, schools, parks and senior housing. View the ballot: http://benkallos.com/pb/ballot
Voting is easy! Come to our office, visit mobile voting sites or sign up to vote online, deadline tonight!
District Office, 244 East 93rd Street:
Monday - Friday 9 am to 5 pm
Saturday - Sunday 11am - 5pm
Wednesday, 3/30/2016:
10:00AM – 1:00PM, 411 East 76th Street, Eleanor Roosevelt High School, RSVP
4:00PM – 7:00PM, Tramway Plaza at E59th Street, RSVP
Thursday, 3/31/2016:
7:30AM – 10:30AM, 645 Main Street, P.S. /I.S. 217, Roosevelt Island, RSVP
4:00PM – 7:00PM, East 96th Street Subway Station, RSVP
Friday, 4/1/2016:7:00AM – 9:00AM, M72 Bus at First Avenue, RSVP
Saturday, 4/2/2016:
10:00AM – 2:00PM, East 67th Street Greenmarket, RSVP
Learn more at BenKallos.com/PB
MIH and ZQA Plan Amended to Serve and Protect All New Yorkers
Mandatory Inclusionary Housing and Zoning for Housing Affordability (MIH and ZQA) as amended and passed by the City Council will bring sweeping reforms that require new affordable housing to be built whenever developers are given additional height or density to build in Manhattan.
I have spent the past year fighting alongside Manhattan Borough President Gale Brewer and Community Boards 6, 8 and 11 to improve MIH-ZQA to build housing for all New Yorkers while protecting light and air by limiting building heights.
Last year, I joined Borough President Brewer and many Manhattan elected officials in calling for changes to ZQA that resulted in the removal of height increases in R8B zoning districts, thereby protecting the quiet midblock of side streets on the East Side.
As Chair of the Committee on Governmental Operations with oversight over the Board of Standards and Appeals (BSA), I fought for financial hardship review by the Department of Housing Preservation and Development with all application materials posted online. These are the first of many BSA reforms to come.
I am proud to have worked with my colleagues to win these final changes:
Zoning for Quality and Affordability:
Reduced height increases in contextual districts, including bringing the maximum R10A increase from 50 feet to 25 feet with different heights for narrow and wide streets.

Tying additional heights in contextual districts in Manhattan to affordable housing.

Protecting seniors from being squeezed into 275 square foot micro units, with a new minimum of 325 square feet.

NYCHA tenants who would have been walled in by new construction 40 feet from their windows will continue to be protected by 60 feet between buildings.

The Sliver Law has been protected and will remain intact.
Mandatory Inclusionary Housing:
Provide housing for lower income New Yorkers at 40% of Area Median Income (AMI) an average family income of $24K for singles or $31,000 for a family of three.

Provide an option for 20% at 40% of AMI in addition to other options.

HPD will be required to track, register, and monitor the new affordable units created as would be required by

Introduction 1015

, legislation I authored and co-prime sponsored by Housing Chair Jumaane Williams and Council Member Rosie Mendez.

HPD projects will provide funding and incentives for local outreach and hiring.

Department of Buildings will impose requirements and fines that will make construction safer.
After a year of hard work, these zoning changes offer affordable housing to as many New Yorkers as possible while at the same time protecting light and air by limiting building heights. New Yorkers should be proud to finally have one of the strongest housing laws anywhere in the country.
Under the Mandatory Inclusionary Housing program, any neighborhood that is "upzoned" will have the choice to require one of these four options for all new development:
Option 1: 25% of new buildings to be provided for families making an average of 60% AMI (household family income of $46K for a family of 3), with a Council amendment to require 10% of the affordable units for families making 40% AMI
Option 2: 30% of new buildings to be provided for families making an average of 80% AMI ($62K for a family of 3)
Workforce Option: 30% of new buildings for families making 115% AMI ($90K for a family of 3, as amended by the Council). Within this set-aside, require 5% of the building for families making 90% AMI and 5% for families making 70% AMI
Deep Affordability Option (added by the Council): 20% of the building for families making 40% AMI ($31K for a family of 3)
Read my full statement on this vote and see my previous advocacy at the Borough Board, City Planning Commission, and with the Progressive Caucus and Real Affordability for All coalition.
Fighting the Marine Transfer Station and Remembering Jodi McGrath
I joined dozens of friends and neighbors at a vigil after the traffic death of Upper East Side NYCHA resident Jodi McGrath, 55. McGrath was killed after being struck by a garbage truck on 92nd street and First Avenue. This death proves our concerns about the Marine Transfer Station were correct. Each day the station will force hundreds of garbage trucks down narrow side streets in the densest residential neighborhood in the country, at the same time as we are trying to eliminate traffic deaths through Vision Zero. Read more about this tragic tragedy at DNAinfo and join the petition against the (MTS) at http://benkallos.com/mts
Following this tragic death, I questioned Sanitation Commissioner Kathryn Garcia "how many people need to get injured, how many lives need to be lost, before you say people … children, seniors, and NYCHA residents cannot be in the same place as a 300 truck a day route" to the MTS. Watch the exchange.
We continue to work with the community to address the trash problem on East 86th street by creating a Business Improvement District (BID) that will provide a sustainable solution. The City can and must do more, which is why I pressed Sanitation Commissioner Garcia to make two daily trash pickups at East 86th, one of the most heavily trafficked thoroughfares in the City. Watch the exchange and support the BID at BenKallos.com/BID
Superscraper Slowdown and "Too Tall for the Fifties" Video
The plans to build a superscraper at 58th Street and Sutton Place, which we have been fighting against for nearly a year, began to further fall apart this March as the Bauhouse Group filed for bankruptcy following the foreclosure on the loans it took out to fund the project. As reported by Curbed, Bauhouse's lender said our proposal to rezone the area was part of the reason it foreclosed on the loans.
I have been proud to lead the effort to rezone this neighborhood and stop the superscraper with the East River Fifties Alliance, with co-applications to the Department of City Planning by Council Member Daniel Garodnick, Manhattan Borough President Gale Brewer, and State Senator Liz Krueger. The new zoning plan for the Manhattan area between 52nd and 59th streets, east of 1st Avenue, will restrict supertowers and over-development in the neighborhood with a contextual height cap of up to 260 feet, incentives for schools, and a requirement for mandatory inclusionary housing. Sign the petition to stop the superscrapers now at benkallos.com/petition/stopsuperscrapers
Also check out: This video from the East River Fifties Alliance, "Too Tall for the Fifties," lays out why this issue is important for New Yorkers: http://erfa.nyc/video-too-tall-stop-megatowers/
Mayor de Blasio's $82.1 billion preliminary budget for fiscal year 2017 has been introduced. Last year, I secured a $500 million increase to the Capital Stabilization Reserve and this year I again urged Dean Fuleihan, Director of Office of Management and Budget (OMB) to allocate funds so that in future economic downturn, these funds are available to help stabilize our city's future. Director Fuleihan agreed to my request to tie agency funding to management goals so that the Council can evaluate our return on investment in compliance with the City Charter.
Lastly, I identified the Mayor's plan to accumulate $84.6 billion in debt by 2020, just $200 million short of the City's constitutional debt limit of $84.8 billion. This would leave each and every New Yorker more than $10,000 in debt, leading me to ask "What will the next administration do when the this Mayor has borrowed all the money that there is to borrow?" Watch the exchange here.
Crain's New York Business and The Real Deal recently covered my legislative package to improve quality of life and ensure that if the City issues a fine it gets paid, and businesses that repeatedly flaunt the rules would see their licenses and permits revoked. Thousands of quality of life violations, such as not cleaning or shoveling sidewalks, excessive trash, or noisy construction before or after hours are issued every year. But many of these fines go unpaid to the tune of $1.6 billion. Read more in Crain's New York Business and The Real Deal.
EDUCATION AND CHILDREN'S HEALTH
Ending Child Hunger in New York City
Lunch for Learning: No New York City child should have go hungry in school because they cannot afford lunch. Since I was elected I have been leading the push with the "Lunch 4 Learning" campaign to make free lunch for all children a reality. This March I took part in a rally with Manhattan Borough President Gale Brewer and Council Member Margaret Chin calling on the Administration to fulfill a core campaign promise by providing Universal Free Lunch across all New York City public schools. This expansion would only cost the City $3.6 million, would eliminate the stigma surrounding reduced price lunch, and would ensure that no public school child has to struggle through the school day on an empty stomach. Watch the press conference and my questioning of Chancellor Fariña at the Committee Hearing.
Breakfast After the Bell: The Daily News covered my questioning of the Department of Education Chancellor Carmen Fariña on our project to improve breakfast participation rates by serving it in the classrooms. The program was launched last year, with my advocacy, as a $92.6 million pilot program. I am pushing to expand the program citywide as quickly as possible so 1.1 million children won't have to worry about hunger.
Watch my questioning of Chancellor Fariña at the Committee Hearing.
The deadline to apply for Pre-K was this March. My office is grateful to everyone who reached out and applied for seats. We will continue our work to get even more seats for next year and hope that everyone who needed access to Pre-K has it. Following reporting by WNYC in 2014 that Yorkville, Lenox Hill and Roosevelt Island had 2,118 four-year-olds and only 123 pre-K seats, we've been working with parents to pressure the Department of Education to open more seats in my Council District. We successfully doubled the number of seats at P.S./I.S. 217 on Roosevelt Island last year and as of this year have nearly quadrupled the number of seats that were originally reported by WNYC. Thank you to Eva Bosbach along with the Roosevelt Island Parents Network as well as Ariel Chesler and Jack Moran on the East Side who we are working with to open new seats in the Council District. I urge parents with young children who will be eligible to apply next year to start making plans now and to reach out to my office at upk
benkallos [dot] com.
The Daily News covered my proposal to Chancellor Fariña to having mock elections in New York City schools. My proposal would help build a habit by voting every year starting in the first grade. After these children have voted 12 times, a quarter million public schools graduates will be more likely to vote, potentially improving voter turnout by 25%. To my surprise Chancellor Fariña responded with worries that mock elections might lead to bullying due to the nasty tone the current presidential election has taken. Education requires tackling bullying head on, and in the context of elections this could help build a more civil political discourse. Watch my questions and Fariña's answers.
Building Schools at Closed Church Sites
Since last year, I have joined community members in fighting the closing of Catholic churches in our neighborhood. Despite an appeal to our Archdiocese and the Vatican, the planned closures are moving forward. If the churches are closing, the sites should be used in a way that continues to benefit the community. As the New York Post reported, I formally requested that the Department of Education (DOE) and the School Construction Authority (SCA) consider turning church locations set to close into public schools or Universal Pre-K locations. I was disappointed to read in the article that DOE is not at this time considering my proposal to alleviate school overcrowding. I will continue to push DOE and SCA to reconsider and I await their official response on this matter.
P.S. 290 Students Push to Ban Toxic Pesticides
At P.S. 290, kindergarten, first, and second grade students are learning a real life lesson in civics. With the support of their teacher, Paula Rogovin, the students are advocating to the ban toxic chemicals found in pesticides used in our City's parks. This March I joined them to discuss how an idea becomes legislation and legislation becomes law. Last year, at a rally at P.S. 290, I introduced legislation on behalf of these students to ban toxic chemicals from City parks in favor of EPA-preferred natural pesticides. Watch the rally and help save the environment and protect our health by emailing policy
benkallos [dot] com (policy
benkallos [dot] com).
Topping Out of the Bridge at Cornell Tech
I was proud to join building trades union members at a topping off of The Bridge at Cornell Tech that will provide valuable incubator space for academics to turn their new ideas into startups that will grow jobs right here in the district and in the city.
ELECTIONS AND VOTING
Empowering Small Dollars over Special Interests
The Daily News covered legislation I authored with Council Members Cabrera and Lander to incentivize small dollars from residents like you over the big dollars of special interests. The legislation would increase the amount that is matched with public dollars at 6 to 1 from $175 to $250 and would increase the public match from 55% to 85% of the total spending cap. This eliminates the gap between publicly matched dollars and the spending limit, which is currently closed with millions of dollars of big money donations which takes over the system. Under this legislation, candidates could run for office relying solely on small dollar contributions from residents. Learn more about the legislation in the release.
In the 2013 mayoral race, maximum contributions of $4,950 accounted for less than 5% of all contributions. However, these big dollar contributions accounted for nearly than half of all funds raised ($23.9 million out of the total $48.9 million). The Daily News referenced this legislation as it investigated current fundraising by Mayor de Blasio, who has raised more than 60% of his million in re-election funds from just 148 people, many of whom came from families in the real estate industry. Read more in the Daily News.
Ballot Access Reform to Give Voters Choice at Polls
The Daily News covered legislation I introduced with Council Members Cabrera and Reynoso to give New Yorkers more choices at the polls through automatically granting ballot access to candidates who qualify for public dollars under the campaign finance system. Ballot access reform is more than a century overdue. Democracy must mean giving voters more than one "choice" on the ballot.
Local elections in New York City often leave voters perplexed with only one choice, in part because of archaic ballot access laws dating back to the 1800s. New York is one of only 13 states where the only means to get on the ballot is by gathering between 450 and 3,750 signatures, depending on the office being sought. According to Gotham Gazette, this process has given rise to "Ballot Bumping" by political clubs and a cottage industry of lawyers hired by campaigns to knock their opponents off the ballot, often on technicalities like forgetting to include a zip code along with an address or the date at the top of signature page. Mayor de Blasio was temporarily removed the ballot in 2009 due to a petition signature challenge, despite qualifying for matching funds and demonstrating public support. Read more in the release or in the Daily News.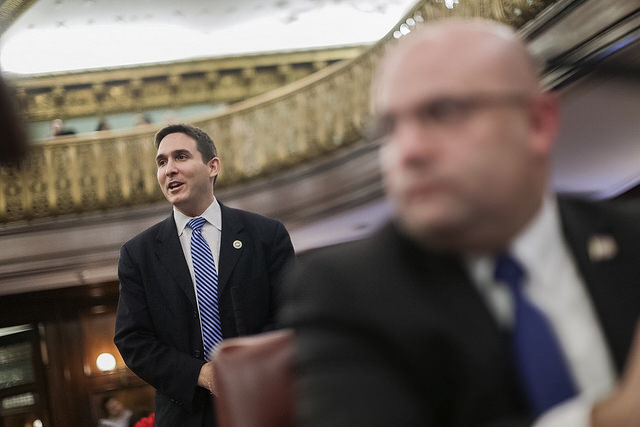 Preventing Long Lines at the Polls
Long lines should not be part of democracy. Gotham Gazette covered my concern over the Board of Election's budget being slashed from over $140 million down to $88.4 million, leading me to question their admission that with budgeted funds they could not run a smooth election. I will continue to advocate for sufficient funding for smooth elections and am actively seeking residents who can serve as paid poll workers on Election Day. Read more in the Gotham Gazette.
New York ranked 49th in the nation for voter participation in 2014, which is something I am trying to change as Chair of the Committee on Governmental Operations. In March, I chaired a hearing on 11 bills and resolutions aimed at improving elections in New York City, including improving voter information, language access, and improving election administration. Read more in the release or watch the hearing.
Student Voter Registration Rally and Day
If we want a public that is involved and politically active, we have to register our kids to vote as they approach voting age. That is why on March 15 I joined Chancellor Fariña, The League of Women Voters (LWV), and the New York Public Interest Research Group (NYPIRG) on the steps of City Hall to rally for Student Voter Registration Day. Getting New York City high school students registered to vote has been a project of mine since before I became a Council Member and, once in office, I introduced a modernized version of the Young Adult Voter Registration Act (YAVRA), which mandates our schools track the distribution of voter registration forms they are currently required to give students on graduation day and instead hand them out during the school day. Watch the video.
I spent this year's Student Voter Registration Day at Eleanor Roosevelt High School where, with the help of NYPIRG organizers and school administrators, I educated 150 high school seniors on the importance of voting. Any citizen turning 18 or older this year can register to vote by downloading the form at the Board of Elections or if they have New York State driver's license register electronically at the DMV.
GOVERNMENTAL OPERATIONS AND TECHNOLOGY
Single Sign On: New York City Agencies Online in One Place
Government may be big, but it should not feel that way. Politico covered legislation I introduced this March to tame New York City's vast bureaucracy by centralizing city government websites into one place. Single Sign On would only require one username and password to log into agencies like Housing Connect, the Civil Service Application System, SNAP, Small Business License Applications, and even Notify NYC. It would also give users the ability to pay taxes, tickets, and utility payments online in one place. Learn more in Politico.
The Governmental Operations Budget
On March 14, the Committee on Governmental Operations held a hearing on the 2017 Preliminary Budget. As I cross examined the 12 agencies under the committee's jurisdiction, I focused on streamlining city services and pushing each agency to improve its operations and identify efficiencies. Of particular focus this year were the Board of Elections, mentioned above, and the Department of Citywide Administrative Services.
In addition to BOE and DCAS, the Committee also discussed:
For the first time, the Board of Standards and Appeals (BSA) was called in at my request to discuss its $3 million dollar budget and how it can work with the Council to develop performance metrics and bring transparency to a powerful, but little-known part of City government.

The Law Department's $730,000 plan to restructure the Juvenile Justice Unit, housed within the Family Court Division. 12 new positions will be hired to investigate and prosecute matters involving youth aged 7-15.

Why the Law Department is projecting a $160 million increase in the judgment and claims budget (lawsuits against the City) over the next four years.

Why the Law Department's increased its Judgment and Claims budget to $895 million, up 15% from last year's.

The Financial Information Services Agency's (FISA) successful reduction in outside contractors for the once-disastrous Citytime program.

The Department of Records and Information Services's (DORIS) rollout of an Open FOIL platform, which aims to streamline and improve the Freedom of Information Law request process and information response system.

Whether the City is adequately funding its 59 community boards. Each board is planned to receive an additional $8500 in FY17. As the on-the-ground representatives of the people, community boards must have the resources they need to evaluate complex land use proposals like ZQA and MIH, liquor and sidewalk cafe proposals, and be responsive to district needs.
I remain committed to holding every agency accountable and look forward to working with Mayor de Blasio on finalizing the budget in the coming months. Watch the hearing.
Protecting City Workers While Ensuring Merit Based Hiring
The Chief Leader covered my ongoing fight against the use of provisional employees who are appointed at the discretion of the Administration -which can include patronage appointments- in favor of the civil service system, which uses fair exams to hire based on what you know instead of whom you know. The Department of Citywide Administrative Services (DCAS) has increased the number of provisional employees being hired by the City, despite the Department's five year plan to lower this number. I continue to press the Administration to offer more exams and speed the hiring process. Read more in The Chief Leader or visit DCAS to learn more about jobs in the civil service.
Organizing 2.0: Digital Organizing to Change the World
Please join me April 29th and 30th at the 7th Annual Organizing 2.0 Conference as we bring organizers together for workshops and trainings, hear from visionary speakers, and engage in thoughtful debates about our strategies and practices. Join hundreds of people who will come together to learn about online and offline organizing, digital strategy on a budget, member engagement, and grassroots fundraising. The event is absolutely FREE for the two full-days at The Murphy Institute for Worker Education (CUNY) courtesy of the New York State AFL-CIO, New York City Central Labor Council, and the New York Civic Engagement Table. Register now.
The New York City School of Data is a collaborative conference hosted at Civic Hall that aims to improve the city's data networks to enrich our lives and communities through technology, data, & design. I presented on the Drupal technology I use for civic engagement and opportunities created through the City Record Online legislation that I authored to improve public notifications for communities to engage in government decision making. Watch the presentation.
Rallying with Nancy Pelosi and Governor Cuomo for Paid Family Leave
Governor Cuomo's push for Paid Family Leave gained an exciting ally this March as we were joined at a rally by House Minority Leader Nancy Pelosi. Governor Cuomo's plan would provide 12 full weeks of job-protected leave and cover all workers regardless of business size. I was honored to join the Governor, Minority Leader Pelosi, Congresswoman Carolyn Maloney, Manhattan Borough President Gale Brewer, Council Member Dan Garodnick, Assembly Member Rebecca Seawright and many more elected officials, activists, and local labor unions including the Hotel Trades Council. The Fight For $15 and the Fight for Family Leave are essential steps forward for justice and equality in New York.
COMMUNITY
Proposed Expansion of the Marymount School
My office is closely following the Marymount School's application for a zoning variance from the Board of Standards and Appeals (BSA) to build a 13 story, 260 foot tower in the middle of 98th Street between Lexington and Park. One of the multiple variances sought would eliminate a public space that is required to be open to residents of East Harlem with tennis courts that have been closed to the community. We have brought the full resources of our office and the Borough President to support Community Board 11 in reviewing the BSA proposal. Special thanks to Board Chair Diane Collier for her strong leadership as well as the Board's urban planners at George M. Janes & Associates funded by a grant from Council Member Inez Dickens, the Carnegie Hill Neighbors, and the 97th and 98th Streets / Lexington and Park Avenue Neighbors for their advocacy and expertise. After finding irregularities in the application, the Board voted against the applications in March with a resolution to follow in April. Read about their proposal in DNAinfo.
Bike Safety and Proposed Crosstown Bike Lanes
My Bike Safety Program continues in partnership with the Department of Transportation, the NYPD, Bike New York and Citi Bike, as we get ready to:
Educate bike riders as we distribute leaflets and free safety equipment such as helmets, bells, lights, and safety vests.

Train bike riders on safe practices and rules of the road on the streets, in public schools, public parks and bike stores, and even in my office.

Fight against unsafe cyclist behavior by increasing traffic calming and enforcement by uniformed officers.
Last year we got results. The Bike Safety Program lead to the NYPD's 19th precinct stepping up enforcement by 52% and distributing safety materials to over 8,000 cyclists. This resulted in 18% fewer bike and vehicle collisions and 15% fewer bike and pedestrian collisions.
Discussion of proposed crosstown bike lanes continues at Community Board 8. If you would like to share your opinion or hear more about the proposal, please attend the Transportation Committee meeting Tuesday April 5.
Prioritized for Landmarking: 412 East 85th Street
Last year, I testified alongside FRIENDS of the Upper East Side Historic Districts at the the Landmarks Preservation Commission backlog hearing, where I supported the landmarking of 412 E 85th Street House. Recently, the Commission issued its decision and we were excited to learn that 412 East 85th Street has been prioritized for designation as a landmark by the end of 2016. The house is an amazing reminder of Yorkville's agrarian past and its wood frame structure is something that should be preserved. Learn more from the FRIENDS of the Upper East Side Historic Districts.
I was proud to cut the ribbon on the re-launching DeWitt Rehabilitation and Nursing Center with Congress Member Carolyn Maloney. The center has been a fixture of the East Side for decades and for months has been undergoing millions of dollars worth of upgrades and improvements. The new state-of-the-art equipment will be used to help patients from all over Manhattan, especially the East Side. DeWitt has served our community with compassion and professionalism and I look forward to continuing our partnership.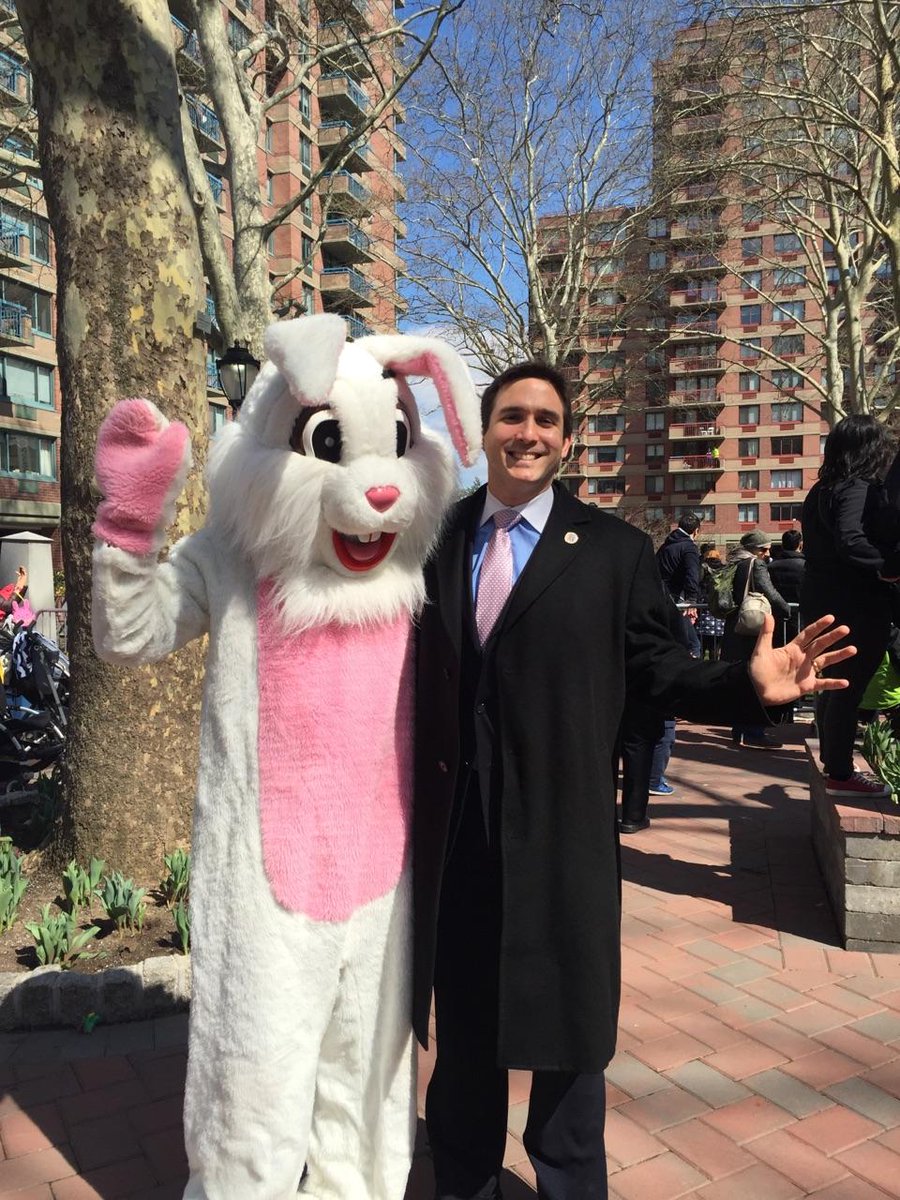 CBS covered the Sutton Area Community's (SAC) Annual Easter Egg Hunt, which I joined, with hundreds of children and over 1,500 Easter Eggs. Thank you to SAC President Dieter Seelig and all the volunteers who make this event a reality. I was also happy to join Lynne Strong-Shinozaki and the Roosevelt Island Residents Association (RIRA) for the annual East Egg Hunt in Manhattan Park on Roosevelt Island. Thank you to everyone who came out and had fun with us, especially the Easter Bunny!
Friends of the Upper East Side Historic Districts Honors
I had the opportunity to present the Pops Award to Cynthia Rosenthal and Dennis Brady at the Friends of the Upper East Side Historic Districts annual awards. The award was given in recognition of their commitment to maintaining the Privately Owned Public Space (POPS) on 401 East 80th street known and Steel Park. Designed by Cynthia's late husband Tony Rosenthal and maintained by Dennis Brady, the park has been a fixture of our community since 1980. It was a pleasure recognizing these two individuals for their service.
CIVITAS Proclamation Presented
CIVITAS celebrated its 35th anniversary this March, and I had the pleasure of presenting the outgoing and incoming executive directors with a proclamation thanking the organization for 35 years of community service. CIVITAS' dedication to fostering and coordinating civic engagement for the Upper East Side and East Harlem are appreciated by everybody who cares about our living environment. CIVITAS works hard to protect residential neighborhoods in our area so they remain livable in the face of constant development, and we are lucky to look forward to 35 more years of their hard work.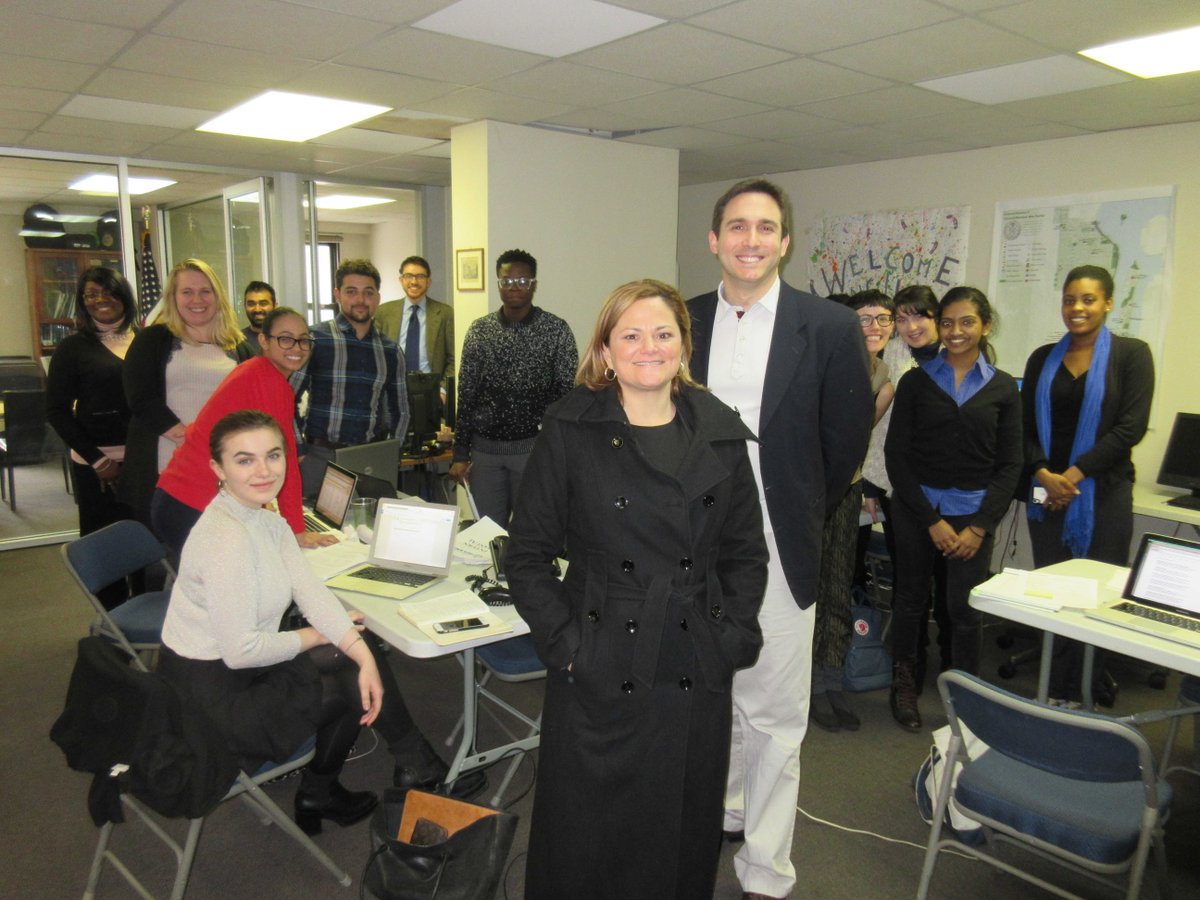 Visit from Speaker Melissa Mark-Viverito
My office was delighted with an impromptu visit from City Council Speaker Melissa Mark Viverito. Staff and interns were excited to meet our Speaker, who has brought greater equality and openness to the City Council. Building upon historic rules reforms two years ago that empowered members to better represent their districts and have a greater role in the business of the Council, Speaker Mark-Viverito also passed the most sweeping ethics reforms in twenty five years into law last month, including two bills I was proud to sponsor.
OFFICE UPDATES
This March, I cosponsored two bills that became law. Local Law 38/2016, prohibits landlords and other real estate professionals from refusing to sell, rent, or lease housing accommodations solely because someone was a victim of domestic violence. These individuals suffered an injustice through no fault of their own and in the spirit of fairness and new beginnings, this law will help individuals get out of dangerous situations and into safer accommodations.
Local Law 36/2016 allows the Human Rights Commission to award attorneys fees in complaints brought before it. Currently, the inability of the Commission to award attorneys fees to successful cases brought before it discourages private attorneys from representing clients before the Commission. The ability to earn attorneys fees, a standard practice in other courts, will encourage private attorneys to represent individuals with cases before the Commission and ensure it can be a viable venue for justice.
March was another busy and fun month in the neighborhood. A few events I attended include CB8 Transportation and Full Board, CB6 Full Board, CB11 Full Board, East 79th Street Neighborhood Association, Hungarian House 50th Anniversary, Carl Schurz Park Volunteer Luncheon, Museum of the City of New York History Day Awards Ceremony, OTTY Awards,the 16th Annual Leadership Awards hosted by the J Luce Foundation, PS 183's Spring Benefit, Holmes Towers Tenants Association, and SAC's Wine Tasting and Cocktail Party.
Family Law and Domestic Violence Clinic
Second Monday, 2-6pm, District Office
The Urban Justice Center will hold a free family law and domestic violence clinic. Call my office in advance to reserve an appointment.
Housing Clinics (New schedule!)
First and third Monday, second and fourth Thursday, 3-6pm, District Office
Eviction Intervention Services and CUNY School of Law provide free housing law consultations. Call for your appointment.
Get assistance wherever in the district you are when we bring our office to you. Please join us at monthly mobile district hours from 2-5pm:
Stanley Isaacs Neighborhood Center, 415 East 93rd Street, 2nd Tuesday
Carter Burden Center for the Aging, 351 East 74th Street, 3rd Wednesday
Lenox Hill Neighborhood House, 331 East 70th Street, 4th Tuesday
Roosevelt Island Senior Center, 546 Main Street, 4th Wednesday
The "Ben in Your Building Program" is a chance to discuss issues of importance to you and your neighbors in person, in your home. If you gather 10 or more friends, I will come to you. Over the past year, I have visited several buildings to discuss matters of importance in the neighborhood, including efforts to fight the marine transfer station, sanitation and condo owner issues. Please call 212-860-1950 or email Scheduler
BenKallos [dot] com in order to schedule a "Ben in Your Building" event.
EVENTS AND COMMUNITY RESOURCES
4/7: Commercial Cyclist Forum
5pm, 67th Street Library,328 East 67th Street
NYC DOT will present a forum for business owners about the commercial bicyclist law. This interactive workshop will teach you how to comply with the law and keep your employees safe. Participants will receive free accessories sponsored by CM Kallos.
4/21: Earth Day Forum
6:30pm, Lenox Hill Neighborhood House, 331 East 70th Street
Join us to kick off Earth Day and receive information on recycling, fresh food, alternative modes of transportation and much more, as well as giveaways! RSVP.
4/27: No Cost Digital Mammograms & Clinical Breast Exams
10am - 4:30pm, Carter Burden Luncheon Club, 351 East 74th Street
The American Italian Cancer Foundation's Mobile Care Clinic will be located outside of Carter Burden Center. Women aged 40 and older who are NYC residents and have not had a mammogram in the past 12 months are eligible. Please contact my office at 212-860-1950 or call 877-628-9090 to make an appointment by April 6th.
4/28: CitiBike Skills Class
6:30pm, Office of Council Member Kallos, 244 East 93rd Street
CitiBike members will receive an extra month on their annual membership and non-members will receive a free day pass or $25 off an annual membership. Please RSVP.
.
5/6: Info Session on Life Planning
1-2pm, Stanley Isaacs Neighborhood Center, 415 East 93rd Street
Volunteers for Legal Service will present on healthcare advance directives, powers of attorney, last wills and testaments, and burial planning. RSVP.
5/14: Free Bicycle Helmet Fitting and Distribution Event
11am - 2:30pm, St Catherine's Park, 1245 1st Avenue (Rain Site: 67th Street Library, 328 East 67th Street)
To receive a free helmet you must be present, learn how to fit it, and sign a waiver (parents must be present for children under 18). Please RSVP.
4/8: Lunchtime Lecture-Join us for: Elections-Then and Now
12:30pm, Mount Vernon Hotel Museum & Garden, 421 E 61st St
Boot Camp Gold uses an incredible array of age appropriate boot camp activities to help the participants improve balance, strength, and agility. These conditioning activities are designed to minimize stress on your joints. Participants will leave this class psyched and energized!
4/11: Preservation School, Reading Architectural Drawings Class
6pm, Neighborhood Preservation Center, 232 East 11th Street
Architectural drawings and renderings illustrate the often complicated design and construction plans for proposed building projects. Join architect Brendan Coburn to learn how to understand and evaluate the information that these documents present.
4/25 to 4/29: Spring Break-Crafts and Games
11am-4pm, Mount Vernon Hotel Museum & Garden, 421 E 61st St
For children, parents and caregivers: drop in for 19th century crafts, historic games and old fashioned toys in the garden.
Every Tuesday: Reading Aloud
4pm, Webster Library,1465 York Ave
A librarian will share favorite picture books, providing children with the wonder of books, and the joy of reading.
Every Wednesday: Toddler Time
11am, Webster Library,1465 York Ave
Toddlers from birth to 3 years and their parents/caregivers can enjoy interactive stories, action songs, fingerplays, and spend time with other toddlers in the neighborhood. There is a limit of 15 children and their caregivers. First come, first served.
Wednesdays: Preschool Program
10:30 and 11:15 am respectively, 96th Street Library
Stories and films for preschoolers.
Thursdays: Computer Lab Tutoring Session (Except April 14th Cancelled)
12pm, 96th street library,
Tech volunteers can assist you with almost any computer topic you want to learn. Topics include computer basics, Microsoft Word, online shopping, email, downloading eBooks, resume assistance, Facebook, phone apps and more! Students are encouraged to bring their own laptop or tablet device. If you can't bring yours, we will lend you one for the duration of the class. Register by phone or in-person - Sign-up starts 2 weeks before each class. Please call 212-289-0908 or sign up in person at the earliest.
Thursdays: Knitting & Crocheting
11:30am – 12:30pm, Roosevelt Island Library
Bring your current project, your questions, your needles, and your yarn to the Knitters' Table every Thursday morning at 11:30 a.m. Beginners and experienced knitters and crocheters are all welcome!
Fridays: We Are New York (WANY) English Conversation Groups
10:30am – 12:30 pm, Roosevelt Island Library
Intermediate Level English for Speakers of Other Languages (ESOL) learners will have the opportunity to learn English by watching We Are New York videos. Come to the library and meet other people who are practicing English, just like you.
This program works best for people who speak a little English already and want to practice. For more information, call or visit the branches listed below.
Saturday: Computer Tutoring Sessions
12/2pm, 67th Street Library, 328 East 67th St
Call or sign up to receive one-on-one tutoring. Registration required.
4/1: Book Talk and Signing with Author Sharona Hoffman
1pm, Lenox Hill Neighborhood House, 311 East 70th Street
Join us for a talk and signing with Sharona Hoffman on her new book, Aging with a Plan: How a Little Thought Today Can Vastly Improve Your Tomorrow. The book offers a concise and comprehensive resource for people who are middle-aged and beyond on planning for their own aging and for caring for elderly loved ones. Professor Hoffman will address some of the social, financial, legal, and medical challenges that we face as we grow older. In this engaging talk, she will offer a wealth of practical advice backed by research studies and illustrated by personal anecdotes.
4/2: 2016 Carnegie Hill Neighbors Spring Tree Care Outing
9am - 10:30am, 1292 Madison Ave, Meet outside Yura
The team shares with neighbors tips on tree care, ways to obtain a new tree, how to sponsor a tree guard, and what plants are best for urban tree beds.
4/2: English Conversation Group
11am, 67th Street Library, 328 East 67th St
Talk with native speakers about the culture of New York City. 16 years and up.
4/2: FDR Four Freedoms Park Volunteer Open House
11am - 3pm, 1 FDR Four Freedoms Park, Roosevelt Island
Join us at one of two Volunteer Open Houses and become part of the dedicated and enthusiastic group who has helped us welcome more than 450,000 visitors from around the world. No registration required.
4/2, 4/16, 4/30: Kid's Coloring Club
10am, Yorkville Library, 222 East 79th St
Children of all ages welcome.
4/2, 4/6, 4/16, 4/20, 4/27, and 4/30: New York Therapy Dogs R.E.A.D. Program with Fritz and Chucky
11am, Yorkville Library, 222 East 79th St
Pre-registration is required for each 15-minute slot and opens 1 week in advance. Available every Saturday in the children's story-time room.
1pm, 67th Street Library, 328 East 67th St
Learn the basics of working with spreadsheets using Microsoft Excel 2010. First come, first served.
4/4: Stanley M Isaacs Neighborhood Center Annual Gala
6pm, The New York Racquet and Tennis Club, 370 Park Avenue
4/5: Map Your World
3:30 pm, 67th Street Library, 328 East 67th St
Explore map making as a tool for telling stories and imagining new worlds! For ages 12-18.
4/5: The Seated Stage: Play Reading
5-6:30pm, 67th Street Library, 328 East 67th St
A Midsummer Night's Dream by William Shakespeare. Texts supplied. Call or sign up. Registration required.
4/5: Brain Health is a Team Sport: Understanding and Managing Pediatric Concussion
6:30 - 8pm, Weill Cornell Medicine, Uris Auditorium, 1300 York Avenue
4/5, 4/19, and 4/26: Baby Lap Sit for Pre-Walkers/Toddler Story Time
10:15/10:45am, Yorkville Library, 222 East 79th St
Each programs is first come, first served and limited to 15 children and their caregivers.
4/6: AARP Tax Prep
9am-1pm, Lenox Hill Neighborhood House, 311 East 70th Street
AARP will provide free tax preparation for low and middle income New Yorkers of all ages. First come, first served. Bring all documents.
4/6: "I Hate the Dallas Cowboys" with Thomas R. Pryor
5:30pm, 67th Street Library, 328 East 67th St
Reading from Mr. Pryor's book as well as a Q&A discussion period.
4/6 - 4/7: Performance of Hairspray
Various Times, Julia Richman Auditorium, 317 East 67th Street
1960s Baltimore serves as the setting for this bright and spirited musical celebration of one young girl's unbridled love of dance and how it leads her to fame, romance and a platform to initiate racial tolerance and social change. The play is being presented by juniors and seniors at Talent Unlimited High School. Performances will be held at 3:30pm and 7pm on April 6, and 4pm and 7:30pm on April 7 and 8. Tickets are $10 for presale admission and $12 for general admission at the door. Reservations for general admission may be made by emailing name, quantity and show date/time to TUHSTix
gmail [dot] com (TUHSTix
gmail [dot] com).
4/7: Film - SUSAN SLEPT HERE, 1954
2pm, 96th Street Library, 328 East 67th Street.
Screenwriter Mark Christopher gets a Christmas present that isn't on his Santa list: a 17-year-old delinquent named Susan. For Adults.
4/7: Women's Writing Group
4:15pm, 67th Street Library, 328 East 67th St
Informal writing & discussion group.
4/9: English Conversation Group
11am, 67th Street Library, 328 East 67th St
Talk with native speakers about the culture of New York City. 16 years and up.
4/9: Career Transition: Job Search with Barbara Phillips
2pm, 67th Street Library, 328 East 67th St
Speaker, trainer, and certified professional coach, Barbara Phillips, will help participants get greater clarity on key elements of the job search process and explain key tools for finding a "best fit" job.
4/10: FDR Four Freedoms Park Volunteer Open House
11am - 3pm, 1 FDR Four Freedoms Park, Roosevelt Island
Join us at one of two Volunteer Open Houses and become part of the dedicated and enthusiastic group who has helped us welcome more than 450,000 visitors from around the world. No registration required.
4/11: Preschool STEAM: Color
4pm, Yorkville Library, 222 East 79th St
This month's theme is color! For children ages 3-6 and their caregivers. Registration required; limited to 12 children. Please register in person or by calling 212-744-5824.
4/12: CHILDBIRTH IN 19TH CENTURY AMERICA: THE ROLE OF CHARITY HOSPITAL
6 pm, Roosevelt Island Library
For centuries, childbirth was a dangerous experience, for both women and their babies. In the 19th century, midwives, nurses and doctors at Charity Hospital, which operated on Roosevelt Island until 1957, were recognized as leaders in making childbirth a safe experience. Janet Brickman, Professor of History at the United States Merchant Marine Academy in Kings Point, will describe some of their practices.
4/12: Arthritis and Pain Management: Don't Let the Pain Get in Your Way
6:30 - 8pm, Weill Cornell Medicine, Uris Auditorium, 1300 York Avenue
4/12: Cancer Smart Talk: Breast Health - Do You Know the Facts
6 - 7:30pm, Rockefeller Research Laboratories, 420 East 67th Street
Memorial Sloan Kettering invites community residents to attend a free Cancer Smart talk: Breast Health – Do You Know the Facts. You can also watch via webcast. Please call 212-639-3074 or visit www.cancersmart.org to register for the program and to sign up to receive webcast details.
4/13: AARP Tax Prep
9am-1pm, Lenox Hill Neighborhood House, 311 East 70th Street
AARP will provide free tax preparation for low and middle income New Yorkers of all ages. First come, first served. Bring all documents.
4/13: Sisters in Crime present: Mystery Writers Jam
5:30pm, 67th Street Library, 328 East 67th St
Laura Joh Rowland will moderate a panel discussion of mystery writers from the Sisters in Crime writing group.
4/14: Free Head and Neck Cancer Screening
9am- 12pm, 16 East 60th Street, 4th Floor, Suite 405
Memorial Sloan Kettering will provide free head and neck cancer screening on Thursday, April 14 from 9:00 AM - 12:00 Noon at 16 East 60th Street, 4th Floor, Suite 405. The screening will include a ten-minute exam to look for signs of head and neck cancer, counseling on how to quit smoking and nutritional advice on cancer-preventive diets. No appointment is necessary. For further information, call 646-497-9161.
4/14: Film - CHAIN LIGHTNING, 1950
2pm, 96th Street Library
After World War II, Matt Brennan become a test pilot for a jet manufacturer, and an old flame re-enters his life.
4/14: The Most Common English Language…And how to avoid them?
3pm, 67th Street Library, 328 East 67th St
The presentation will improve both your writing and speaking skills.
4/14: Story Songs
4pm, Yorkville Library, 222 East 79th St
Join Bob "Bob-a-Loo" Basey with his flute and drums. Recommended for children of all ages and their families.
4/16: New York Cares Day Spring
9:30am-2pm, Park of Choice
Transform 70 city parks and gardens in a single day. Create a team for the event!
4/16: English Conversation Group
11am, 67th Street Library, 328 East 67th St
Talk with native speakers about the culture of New York City. 16 years and up.
4/16: Grand Victorian Banquet and Ball
7pm-1am, Mount Vernon Hotel Museum & Garden, 421 E 61st St
Join us for a garden reception, historically accurate multiple course dinner in the Museum, and music and dancing in the ballroom. For tickets and additional details, visit http://victorianball.brownpapertickets.com
4/17: Carnegie Hill Neighbors Annual Spring Benefit
6:30pm - 9pm,1 East 91st Street,
The Otto Kahn Mansion This function is our most important fundraising event of the year and is widely publicized. Proceeds from our annual benefit help defray the costs of keeping our streets clean, our buildings, lampposts and mailboxes graffiti-free, our trees pruned, and our architectural heritage intact.
4/18: Google Series: Google Drive/ Docs
1pm, 67th Street Library, 328 East 67th St
Learn how to create, edit and share documents online using Google's cloud storage and web app platform. First come, first served.
4/19: From Reflux to Esophageal Cancer: Knowing York Risks and Prevention Tips
6:30 - 8pm, Weill Cornell Medicine, Uris Auditorium, 1300 York Avenue
4/21: Film - AIR FORCE, 1943
2pm, 96th street library
The Flying Fortress Mary-Ann and its crew leave San Francisco for Honolulu on a routine training flight the day before Jap
an's sneak attack on Pearl Harbor.
4/21: Music at NYPL presents Enrico Granafei
5:45pm, Webster Library,1465 York Ave
Music @ NYPL Presents: Enrico Granafei Webster Library Thursday 4/21/2016 5:45 p.m. Celebrate Italian heritage in an afternoon of traditional Italian music.
4/22: Tai Chi for All
3pm, 67th Street Library, 328 East 67th St
Learn the system of exercises practiced at a steady meditative pace.
4/22: April Craft Time
3pm, Yorkville Library, 222 East 79th St
Bring your creativity and make something special to take home. Ages 3 and up.
4/25: Microsoft PowerPoint For Beginners
1pm, 67th Street Library, 328 East 67th St
Learn how to create a slideshow presentation using Microsoft PowerPoint 2010.
4/25: Animals, Authors, and Art
3:30pm, 67th Street Library, 328 East 67th St
Join the staff of the New Canaan Nature Center as we blend together literature, natural sciences and artistic expression. For ages 5-12 years.
Early Childhood Literacy Resources
City's First Readers is a City Council sponsored collaboration of nonprofit organizations that provides programs and services to build literacy skills for young children. The organization operates in all five boroughs fostering the literacy development of NYC children, ages 0-5. You can learn more about City's First Readers and find a program near you by visiting http://www.citysfirstreaders.com/
Volunteers of Legal Service (VOLS) Elderly Project Legal Clinic
Volunteers of Legal Service, Inc. Elderly Project Legal Clinics on the Upper East Side are held at the Carter Burden Center for the Aging (351 East 74th Street) on the second Friday at 2pm and at the Stanley Isaacs Senior Center (415 East 93rd Street) on the 3rd Friday at 10am. Contact information is as follows:
At Carter Burden: Velda Murad, LMSW at 212-879-7400 (fax 212-879-9864)
At Stanley Isaacs: Amy Loewenberg, LCSW, ACSW at 212-360-7620 ext. 112 (fax 212-360-7629)
El Museo del Barrio Group Visits for Schools
El Museo offers a variety of free guided visits facilitated by museum educators for grades Pre-K – 12. All of their programs are offered in English, Spanish, or as bilingual programs. K-12 Guided visits and hands-on workshops align with NYS Learning Standards, NYC Blueprint for the Arts, National Visual Arts Standards, and Common Core State Standards.
During their inquiry-based guided visits, museum educators facilitate interactive discussions while encouraging observation and discovery, analysis and interpretation as well as the sharing of individual perspectives. Groups have the option of a sixty-minute art making workshop to enhance their guided visit. Hands-on workshops can include a variety of materials and forms such as printmaking, painting, collage, drawing, creative writing, and movement.
For additional information and to book a visit please visit their website.
Metropolitan Coordinating Council on Jewish Poverty (Met Council) Hotline
Met Council provides immediate aid to people in crisis and creates pathways to self-sufficiency through: the largest kosher food pantry system in America, emergency financial assistance, domestic violence intervention, home repairs, homecare, benefits enrollment and affordable housing.
You can call their hotline at 212-453-9539 to receive information and referrals, case management, and if necessary financial assistance to mitigate pending eviction or utility shut off.
DOROT – Serving Older Adults for 40 Years
Interested in participating in a lively discussion from the comfort of your own home? Join us on DOROT's University Without Walls, our teleconference program that offers hundreds of classes and conversations each year on the arts, history, current events, wellness and more. Experts facilitate lively discussions and classes are always kept small so everyone can participate.
DOROT offers a diverse range of programs for older adults, including our Door To Door program, where specially-trained travel companions escort seniors to medical appointments. To learn more, please visit our website at www.dorotusa.org or call 212-769-2850.
New York Foundation for Senior Citizens' Home Sharing Program
New York Foundation for Senior Citizens' Home Sharing Program is a free service that matches compatible persons throughout New York City's five boroughs in shared living arrangements in dwellings rented or owned by one of the participants. One of the persons participating in the match must be age 60 or older. Prospective "hosts", who have a private bedroom available, are matched with responsible, compatible "guests" seeking suitable, affordable housing. Guests contribute toward household expenses and in some cases may provide household services in exchange for free or reduced household contributions. For more information, call 212-962-7559.
Respite Care Program
New York Foundation for Senior Citizens' Respite Care Program provides affordable ($9.00 per hour), short-term home care by certified home attendants for frail elderly, 60 years of age or older, who live alone or whose caregivers require relief from their care-giving responsibilities. Services include personal care, meal preparation, shopping, escorting, light housekeeping and laundry. For more information, call 212-962-7559.